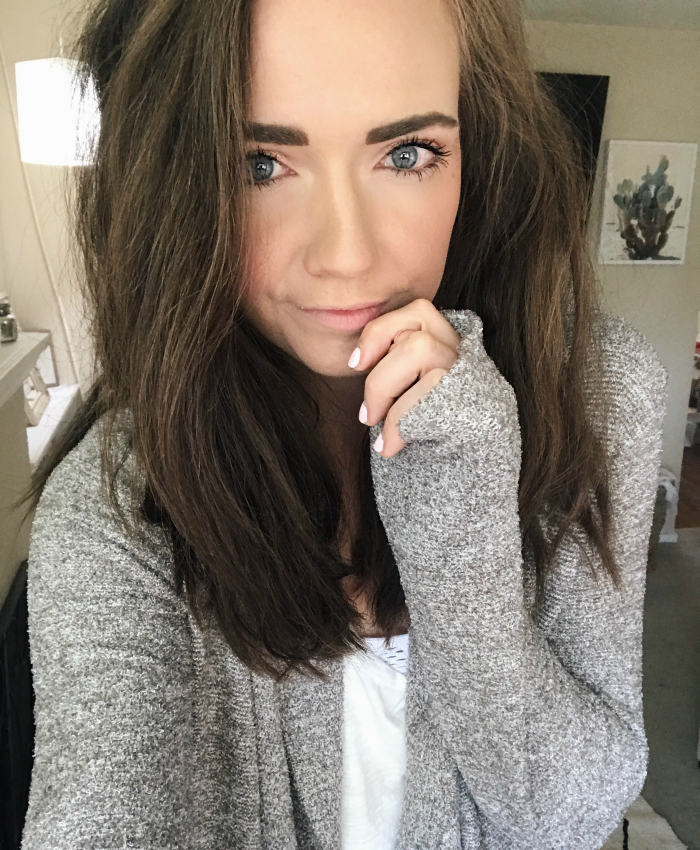 BEST CARDIGAN EVER HERE (in cocoa/pearl heather)
Okay, so today I'm sharing something I get asked a lot: my everyday makeup. It takes me 10 minutes each morning, and it makes it so that I feel somewhat put together while I'm dropping Sam off at preschool, going on play dates, grabbing coffee with friends and running errands. This is what I wear 90% of my days. It makes it so that I feel my best, because I like to look good but I don't have a lot of time to put on a ton of makeup each day (obviously). Mom life doesn't allow that. And that's fine! It's to be expected!
So here's an easy everyday makeup look- so people don't have to question how much sleep you might have gotten last night (answer: not much) or how much dry shampoo is in your hair (answer: a lot).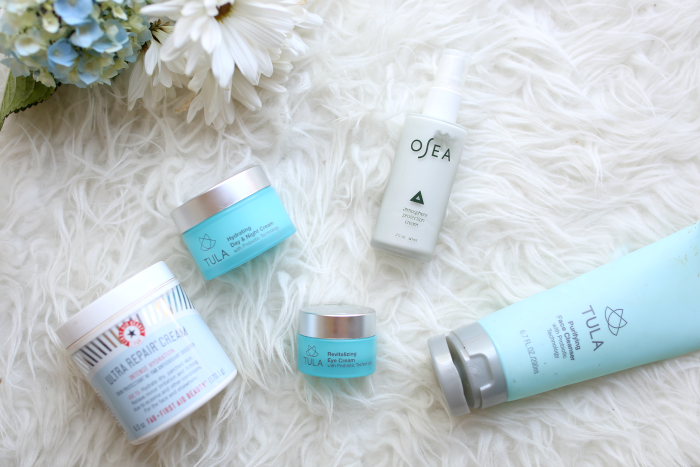 FIRST AID BEAUTY MOISTURIZER | TULA MOISTURIZER | TULA EYE CREAM | OSEA ATMOSPHERE PROTECTION CREAM | TULA CLEANSER
STEP ONE: CLEANSE
Obviously, gotta start with washing your face and adding hydration! I am a big fan of Tula products, and use the cleanser both day and night, followed by moisturizer (I switch between Tula and First Aid Beauty) and then I apply Osea Atmosphere Protection Cream as a primer, or in place of my moisturizer.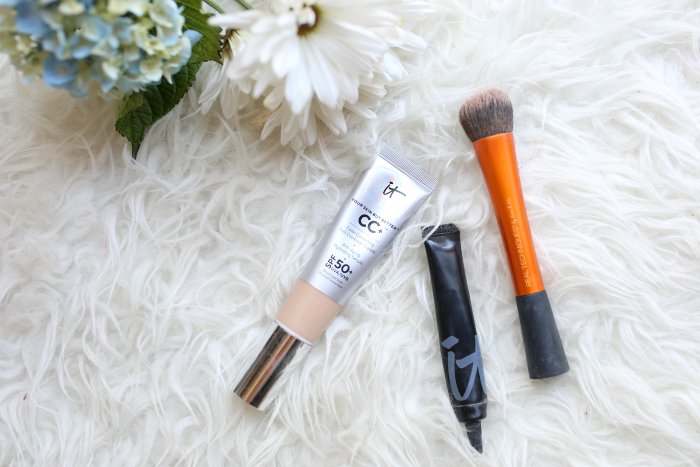 IT COSMETICS CC CREAM | IT COSMETICS CONCEALER | REAL TECHNIQUES BRUSH
STEP TWO: FACE
After moisturizing, I apply my fave cc cream (I've tried a few and this one's the best!) with a brush, then concealer to cover any dark circles (#momlife) very lightly with my ring finger (dabbing, never ever rubbing!).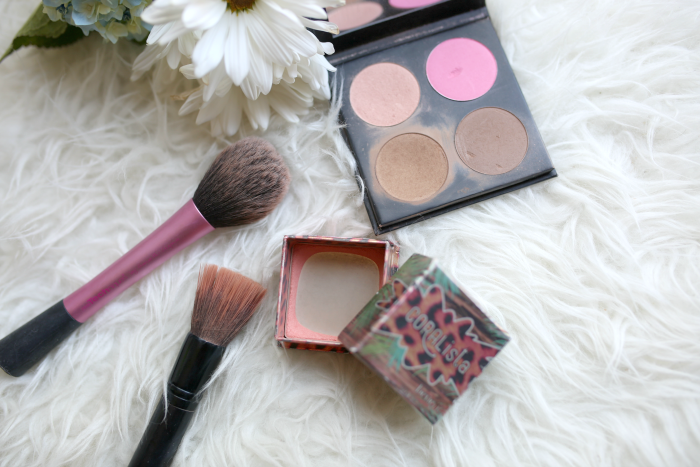 ISH CONTOUR KIT | BENEFIT CORALISTA BLUSH | REAL TECHNIQUES BRUSH
STEP THREE: ADD COLOR
Then with a fat brush, I suck in the cheeks (fish face!) and apply some bronzer (I loooove the bronzer in this palette– so natural and not at all orangey!). I also love this bronzer by elf! I apply the bronzer in a "3" shape, starting at the temple and then sweeping into the cheekbones and down the jaw- I also brush some around the hairline. You know, "contouring" or whatever. I just kinda wing it. It's whatever. Then follow that up with a little blush lightly brushed onto the apples of the cheeks!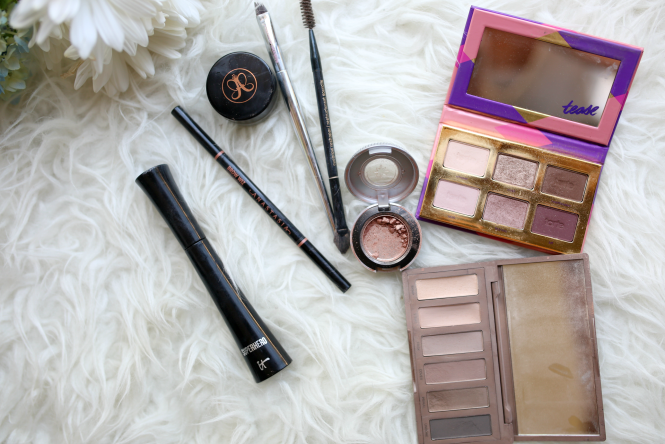 IT COSMETICS SUPERHERO MASCARA | ANASTASIA BEVERLY HILLS BROW WIZ | ANASTASIA BEVERLY HILLS POMADE | URBAN DECAY EYESHADOW | URBAN DECAY NAKED2 BASICS | TARTE PALETTE
STEP FOUR: EYES
My favorite part, always. For the daytime and my everyday look, I like to keep it as natural as possible. Sometimes I'll do no eyeshadow, or just a nude shadow (my favorite from the Urban Decay Naked Basics2 palette), but my current favorite is to do just one eyeshadow all over the lid in a shimmery bronze or rose gold color. I'm obsessed with Urban Decay "Blaze" and "Half Baked" (and clearly need to get a new pot, since mine is broken and almost gone ha! Just a testament to how much I love it!) and I love Tarte eyeshadows, especially this Tartelette Tease palette. I'm kind of an eyeshadow junkie, just give me alllll of the eyeshadows! Then I apply a few coats of It Cosmetics Superhero mascara (or Lancome Hypnose– my other absolute favorite!) and fill in my brows with Anastasia Beverley Hills Brow Wiz pencil in medium brown. I love the pencil more than the pomade for every day, as I find it to be more natural.
For lips, it's chapstick all the way, baby. EOS is my fave. Easy, peasy, done.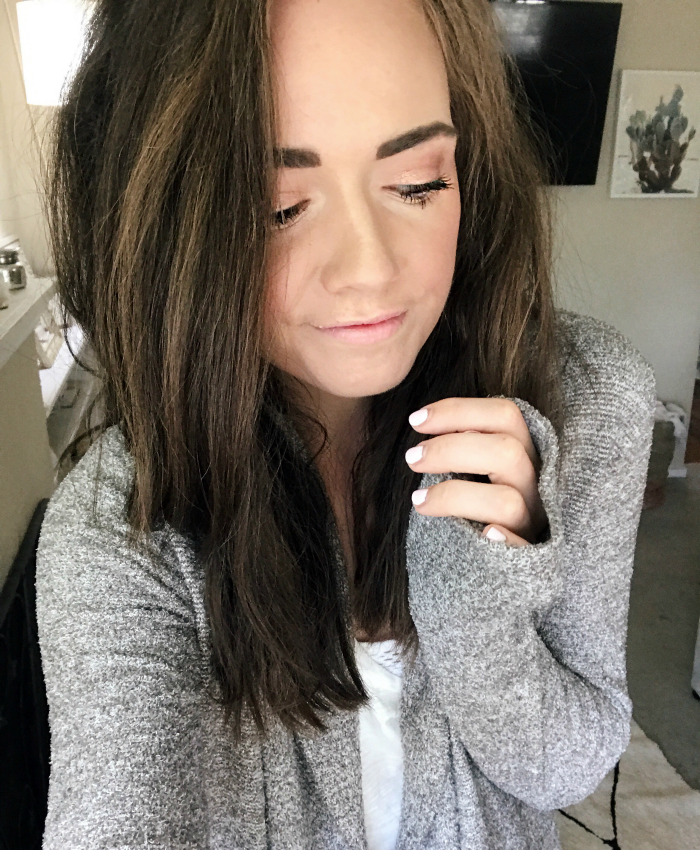 I'll be filming a video tutorial coming to my Youtube channel soon!!! Promise! For all you visual learners out there, I got you. Just bear with me. ;)
What are some products you swear by? Any holy grails I'm missing? I'm always wanting to try out new products!
xo