Hey friends!! Happy Wednesday! This week has been SO FULL already, I can't decide if I'm like, "YES, we're already halfway through!" or "Wait, what, it's only Wednesday…?!" I'm thinking more of the latter just because we've done so much already, but it's fine because it's all good things and I'm LOVING it!!! On to our goodness as of late!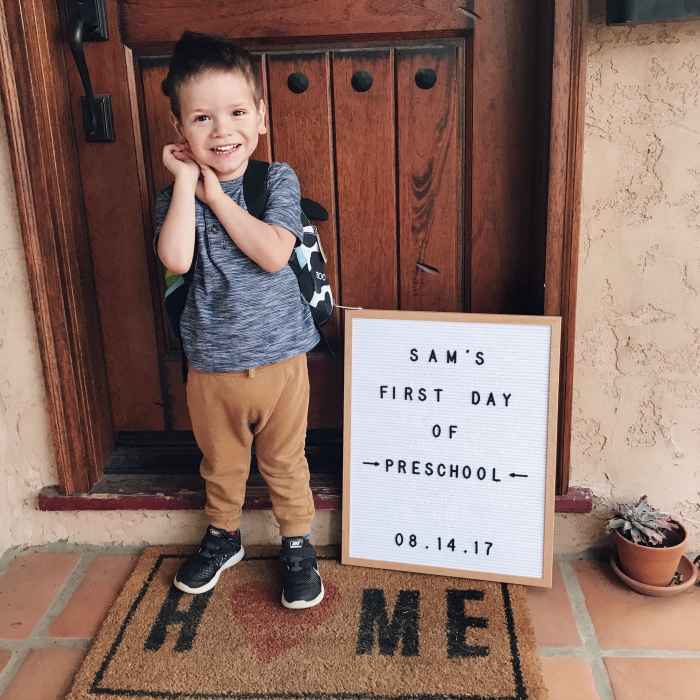 LETTERBOARD
First off, duh, the most obvious if you've been reading my blog for the past, ohhhh I don't know, like month? Ha! Sam started preschool on Monday!!! And he. Did. AMAZING!!! He LOVES it and is just beaming and so happy when we pick him up. It's kind of the best thing ever. One of his friends goes to the same school, and they were playing on the playground together, so that's pretty much the best.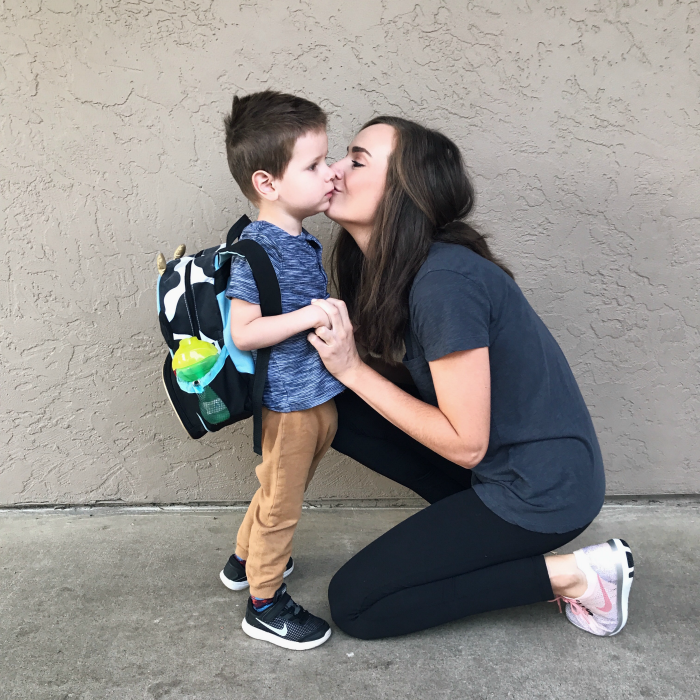 TEE | LEGGINGS | SHOES
I'm so excited for all this school year has in store for our little Sam Sam!!! And I am SO proud of how brave he is!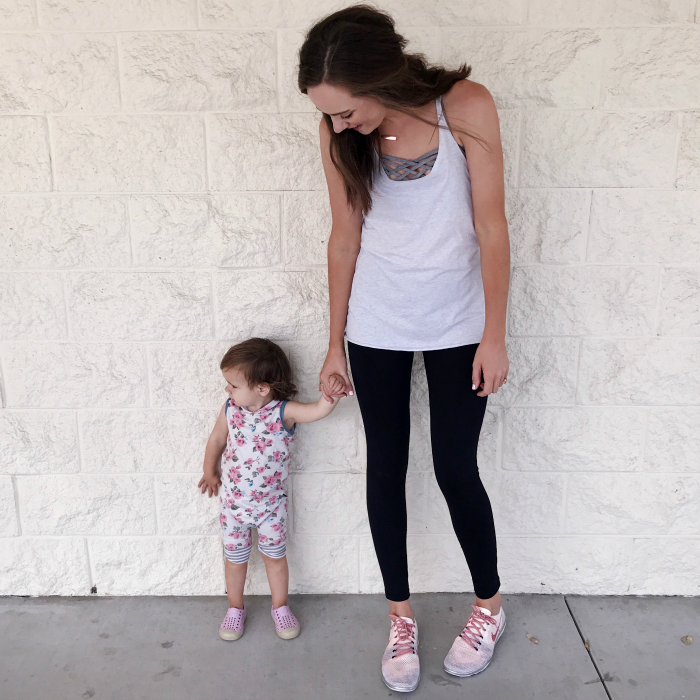 BRA | SIMILAR TANK (and HERE) | LEGGINGS | SHOES (ALSO HERE) | TODDLER SHOES | TODDLER ROMPER
Meanwhile, little miss got a full day of going to Target (and getting a new toy of course) and the playground and Chipotle for lunch, because I COULD NOT sit around and do nothing, otherwise I would have gone CRAZY thinking about mister Sam. I already was. It's so weird!! I felt like an emptiness because he wasn't here with us! Not as crazy as the beginning of this summer when we started him at his transition class (that was more like the first day for us), but still, knowing this was his first day of ACTUAL preschool still brought all of the jitters and emotions along with it. And Sophie kept asking every 5 minutes for "Bubba?" with her hands up, like where is he? Melt my heart!!!
P.S. Cutest workout bra from my Wantable box this month! It's a monthly subscription box for workout clothes and my stylist (Kati) totally nails it every time! This month's was no exception. I'll share more of what I got, it's all so dang cute. And it's really fun getting a mystery box each month- it's like Christmas. And who doesn't like Christmas?! This bra has the CUTEST detailing- love!!! If you want to try out Wantable, you can sign up through THIS LINK!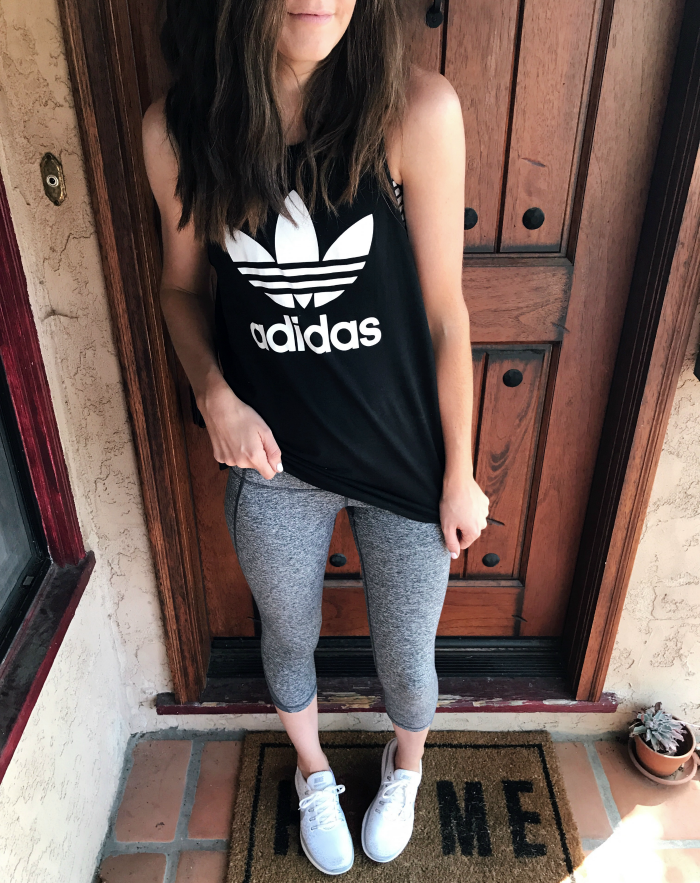 TANK | LEGGINGS | SHOES
Been working out a lot. It just makes my soul (and mind and body!!) feel so so good. Not stopping anytime soon. ;)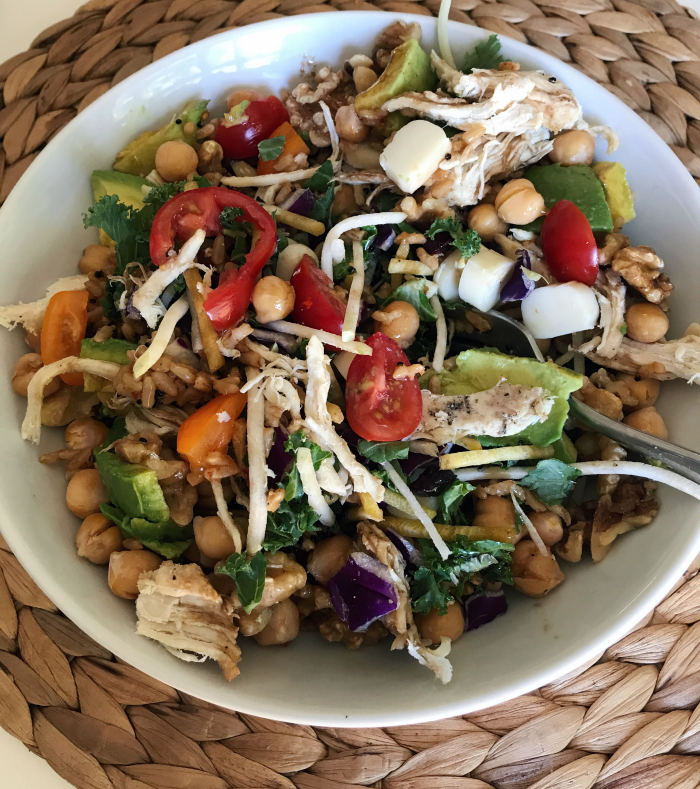 This salad was realllll good. Just sayin'. Throw everything you have that could be good in a salad, into a salad, and you will not be disappointed.
And now here's to getting into our new groove…
xo