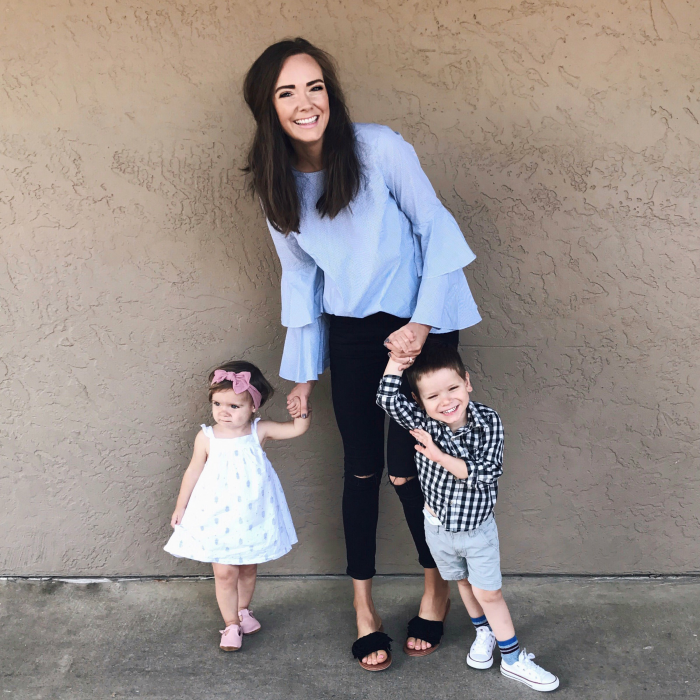 TOP | JEANS | SHOES (SIMILAR SHOES) | BOW | SOPHIE'S DRESS + SHOES | SAM'S SNEAKERS
Hey friends! How was your weekend? I hope you had a great one! Ours was pretty great. Sam had the literal best first week of school he possibly could have!
I just have to gush for a second about how PROUD of him I am!! He seriously blew us all away. That is a BIG transition, and it was made seamlessly and beautifully. Mind you, we definitely prepped him a LOT beforehand, and we had been doing a summer program in his current classroom, so he was already used to the room, the school, the teachers and a couple of the other kids. That definitely helped in making the transition not as big of one, really, since he was familiar with all of it! I feel really fortunate that we were able to do that. But a few things were very new, like the entire flow of the day, the routine, the structure, the ALL DAY at one place! Yes, he is going all day. And it is really really good for him! I was so worried about what he'd do during mandatory nap/quiet time (it must last one hour at least), and he actually took a 2 hour nap on the second day!! And every other day (except the first one) he did so well and actually stayed quiet and on his mat the whole hour! GO, Sam, GO!!
We went to our very first Back to School Night as parents this week, and goodness was that a little surreal! But it was so great. His teachers are the sweetest people in the world, and I'm just so happy that he is in the best hands. Okay. Enough already! I just needed to write this all out, so I don't forget. How good this is. How brave he is. How proud we are!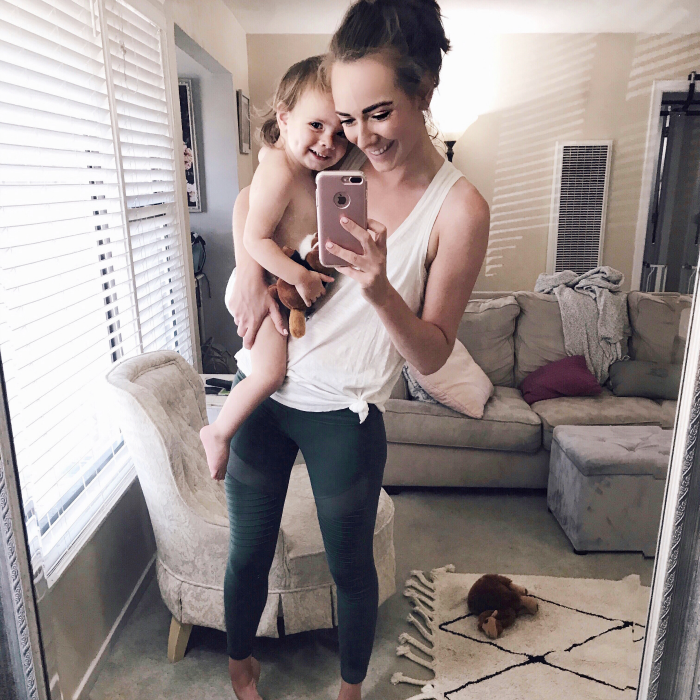 TANK TOP | LEGGINGS
So this weekend was super fun. Sophie and I went to work out in the park (like we do every day except Sunday!) and got in a great workout, then grabbed coffee with some mama friends after, which has become our little weekly Saturday ritual, and then the kids got to play on the playground. Everybody wins! ;)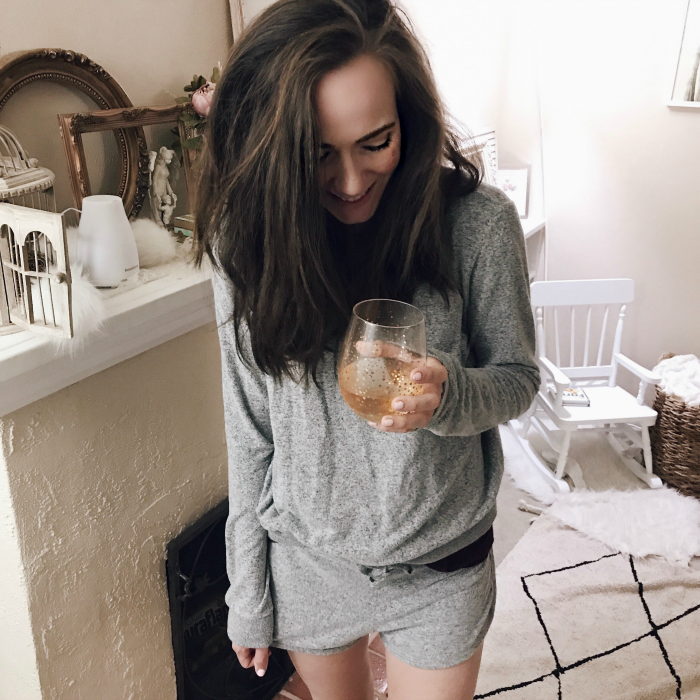 SWEATSHIRT | SHORTS | TEE | GLASS
Literally what both my Friday AND Saturday nights looked like. In my comfiest jogger set (seriously I've been living in this sweatshirt and these shorts!) and a few glasses of rosé! Just tried Whispering Angel rosé for the first time, thanks to my friend for gifting it to me for my birthday (my friends, they know me well!), it has now become my favorite rosé. Annnd rosé is my favorite, so that should tell you something!
We also finished Ozark on Netflix. WHOA, guys. Still not sure if I'm happy we watched it or not. But I do love Jason Bateman, and it definitely held our attention, but man. Really intense. Just a fair warning, if you're thinking of watching! Brace yourself, haha! So now we're on to the next show…
Thanks for all your great feedback on my everyday makeup look! I so loved reading your favorites, too and am planning on trying them out! In case you missed it, check it out HERE!
And now for something fun, I thought I'd share my recent purchases!
Since I'm loving these shorts so much (see above photo!), I had to snag this ruffle pair too- how stinking cute, right?! I got the pink because they're fun, but love the stripes too!
How amazing are these workout leggings?! Zellas are the best, we all know this, and now that they have a midi pair (my favorite length of leggings!) in this gorgeous pattern?! I cannot WAIT til they arrive! Obsessed!
Also picked up these super cute mules, because I keep seeing them and LOVE them and am so excited to style them! They will go with literally everything and are perfect for fall! And that's good because I just noticed they're backorderd until October… Oy vey… :(
Annnnd this little striped peplum! I went with a medium, because it was in stock (small is backorderd until December, what is this?!) so I'm hoping it fits!! I'll keep you guys posted!
Alright, here's to Sam's second week of school and surpassing the first in awesomeness! And here's to a great week ahead, come what may…
xo