Thank you Frette for sponsoring this post.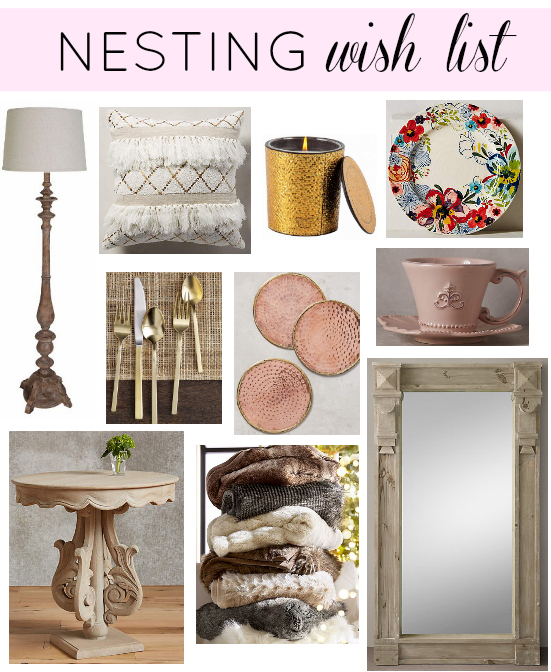 lamp // pillow // candle // plate // gold flatware // coasters // tea cup // side table // faux fur throw // leaner mirror
Just sharing a little wish list of things I've been eying for the home lately. Because nesting is in full effect around these parts, guys. Some of these are more like, "Dream onnnn!" (as my mom would say) and others are going to be appearing very soon in our home. ;)
You can get a pretty good idea of my aesthetic and decorating style from this wish list, I think. Lots of pale pinks (love this tea cup!), soft distressed whites (this mirror though! Total dream! And I'm dying over the details on this gorgeous side table), gold accents in the form of a winter candle like this gold Frette one– so pretty, and some gold flatware is a great addition for the upcoming holidays, and a warm cozy faux fur throw, please!
I feel like I'm always nesting, to be honest. Like, even when I'm not pregnant, I'm constantly shopping for the home and dreaming of new ways to decorate and rearrange everything in my house. Keeps things interesting, right? ;)
What's on your home wish list?
Anddddd this weekend we are off to a wedding! Yay! Although, I cried listening to "I Like You" by Ben Rector because it's so sweet. Literally, that was the reason. Oh, pregnancy hormones, ha! Soooo I should be a hot mess at the wedding. A good, happy hot mess, but still. I need to remember to bring tissues. Follow along on Instagram (@katie_did_what) and Snapchat (username: katiedid_what) for the festivities!
xo
Read More on Katie Did What