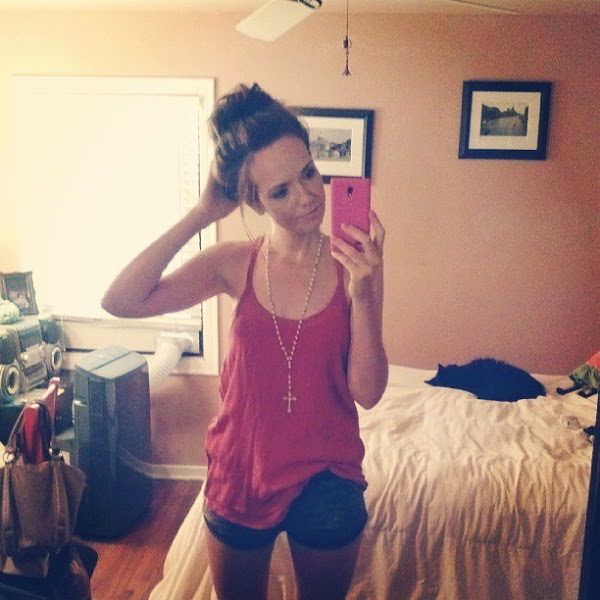 {can you spot the kitty?}
top: anthropologie
necklace: forever 21
shorts: american apparel (
here
)

Dear Zack, thanks for putting up with me when I get in my super hyper/insane/hilarious (at least to me?)/acting-drunk-but-totally-not-drunk moods. Which, coincidentally, have been occuring quite frequently this week? I like to make up songs and dance around and basically act drunk- but I'm totally not drunk, I swear. I like to remind you that you married me and are thus stuck with me. You like to remind me that you are fully aware of that and love it. :)
Dear DMV, this week I fiiiiinally got my name changed on my driver's license, holla! Apparently, I like to take my time with these things (as in the time I fiiiiinally got my name changed on my social security card). You know what was awesome? It took literally less than 10 minutes to do so. Lesson learned? Appointments, kids. Make them.
Dear sushi date, you were so much fun. I love those guys and I love our sushi dates. It had been like two months since I had my beloved sushi (I only eat the cooked stuff though- no raw fish for me thanksss) and it was like heaven in my mouth. Also, sake bombs happened, which, well, I also love. So there's that.
What's your favourite kind of sushi? Do you like the raw stuff?
Any fun DMV stories?
If you're married, how long did you wait to change your name, if you did?
Do you ever get in silly moods where everybody thinks you're intoxicated, or is it just me?
HAPPY FRIDAY!!! We're headed up the hill tonight to party with my dad!
xo