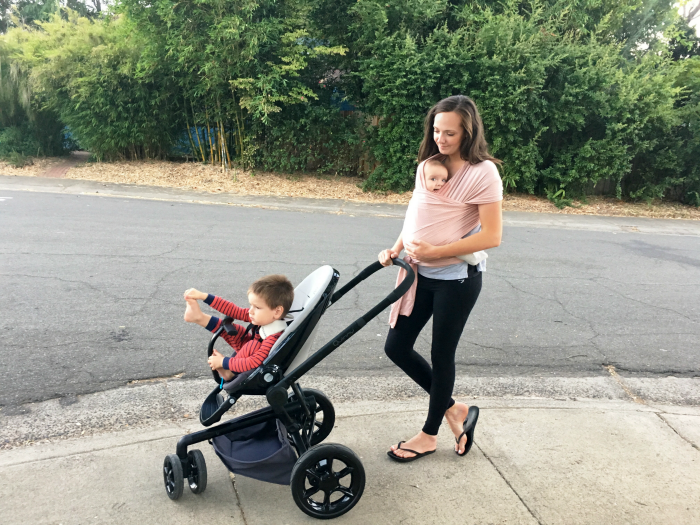 stroller: quinny
I've been thinking lately about being a mom.
Ooh boy, I know. Brace yourself.
It's challenging and can be overwhelming sometimes. There is so much out there, telling you to do this, to not do this, you should be doing this, you should never do that. And as a first time mom, while pregnant, everyone is so quick to tell you all of this advice. Even as a second time mom, or third time, or whatever it may be. It seems that pregnant belly really welcomes a whole lot of unsolicited advice.
Well, you want to know my number one piece of advice? One that I would give to any and all pregnant women? Don't listen to all of the advice! ;)
My best friend told me this while I was pregnant with Sam, and it has since stuck with me, and especially now that I'm on the other side of pregnancy, two times over, I see just how true it is:
Listen to your instincts.
There is SO MUCH INFORMATION out there, all of it contradicting itself, and when it boils down to it, the most important thing you can do as a mother is to do what you think is right. And yeah, you may fail sometimes. And yeah, it may not work out. But then you regroup and you try something else.
See, the thing about babies is they're resilient. They can handle it. Plus, honestly, they're not going to remember any of this, so if you do fail at something (as long as it isn't anything majorly damaging) it's really not a big deal in the grand scheme of things.
I don't really know what I'm getting at here, except to say that I've been feeling all sorts of overwhelmed lately. And it's all just so damaging and soul-crushing and, ugh. But you know what? Here's the thing. It's not the end of the world. I am NOT a failure. I am an incredible mother and what's more is I am the perfect mother for my babies. And that is all that matters.
So here's my advice, that I am taking from here on out. Trust your instincts. Stop reading so much. Never ever compare yourself to others. They say it because it's true: Comparison truly is the thief of joy. You are doing an incredible job, and don't let anybody tell you otherwise. :)
xo