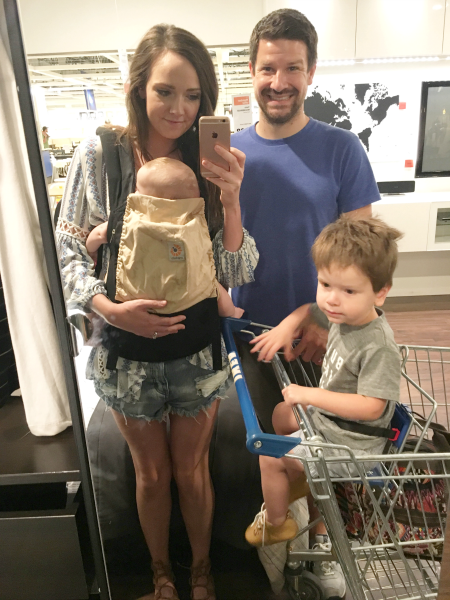 …Because online shopping is way easier. ;)
You guys, today is Prime Day!!! A day of amazing deals and sales on Amazon! So, yes, it's basically better than Black Friday. The deals are only available to Amazon Prime members, but don't worry! You can get a free 30 day trial here!
And in case you need some convincing as to why Amazon Prime is the besttttt and everybody needs it (can you tell we're a little obsessed with it over here?!), my reasons are the following:
1. Free 2-day shipping on all Prime items, which is the vast majority. Two days!! FREE! Let me just tell you how much I despise paying for shipping (Anthro, I'm looking at you… Grrr) so this is HUGE.
2. Prime Now in select areas (including Sacramento, yay!). One day, last winter, we were both sick, I was extremely pregnant, it was raining, and we had ONE diaper left. If you're a parent, you know how terrible this is. Within 90 minutes of our Prime Now order, a pack of diapers was dropped off on our doorstep. HOW COOL IS THAT?! It was absolutely priceless, let me tell you.
3. Amazon Family, which gives Prime Members up to 20% off diapers, exclusive coupons and more!
4. Prime video. A ton of shows and movies for free! This is how I caught up on Downton Abbey, so it is near and dear to my heart.
5. Prime music. Access to thousands of songs and even entire albums for free! I'm particularly fond of the Ed Sheeran playlist. All day every dayyyy.
Last year I got my beloved Asics running shoes and my Kate Spade purse in this post on super deal, and am so excited to share some of my favorite deals that I've found this year! They're also updating new sales every 5 minutes all day long, sooooo don't go to far from your computer. ;)
MY PICKS:
Up to 60% off Athletic Shoes! Loving these Asics and these Adidas running shoes!
Amazon Echo for $129.99! We have this and LOVE it. I use it every day to play music (you can stream from the Amazon library, which is free with Prime membership, and you can even play your Pandora stations through it!), ask the weather forecast and play Jeopardy. ;) With two kids it is such a time saver to just ask her to start playing music, no hands needed!
Kindle Fire $33.33- this one's a really good one to give to the kids, and at this price you won't stress out too much about it being in the hands of your toddler. You can fill it with lots of learning apps, and use it in an emergency for a quiet car ride! ;) Get the kids edition for $69.99 (but we just use our regular one as a kids one).
Toys from major name brands up to 50% off all day– new deals every few minutes!
KitchenAid Professional 6-quart mixer $248.99! I loooove my mixer- a must have!
35% off Pampers Swaddlers diapers! Such a good deal!
Buy $50+ in Amazon gift cards and get a $10 promo credit! We shop at Amazon so often, this is like a free $10!
I'll try to update my Facebook and Twitter as much as I can throughout the day, so check those! And I'll be updating this post, too, as I find awesome deals! :)
What are you planning on getting?
xo
p.s. If you haven't yet, be sure to enter the awesome giveaway happening over on my Instagram! I've teamed up with my fellow Sac blogger friend, Mel ( from Ella Brooks Blog), to give away two $100 Nordstrom gift cards!!! Just in time for the Anniversary Pre-Sale which starts this Thursday and is only for card holders. Not a card holder? You can apply to either the credit or debit card (yay!) HERE!