Another multi-month update! Now that he's officially one, I thought I should catch up on the months I've missed first. ;) One year update coming up next! But first…
9 MONTHS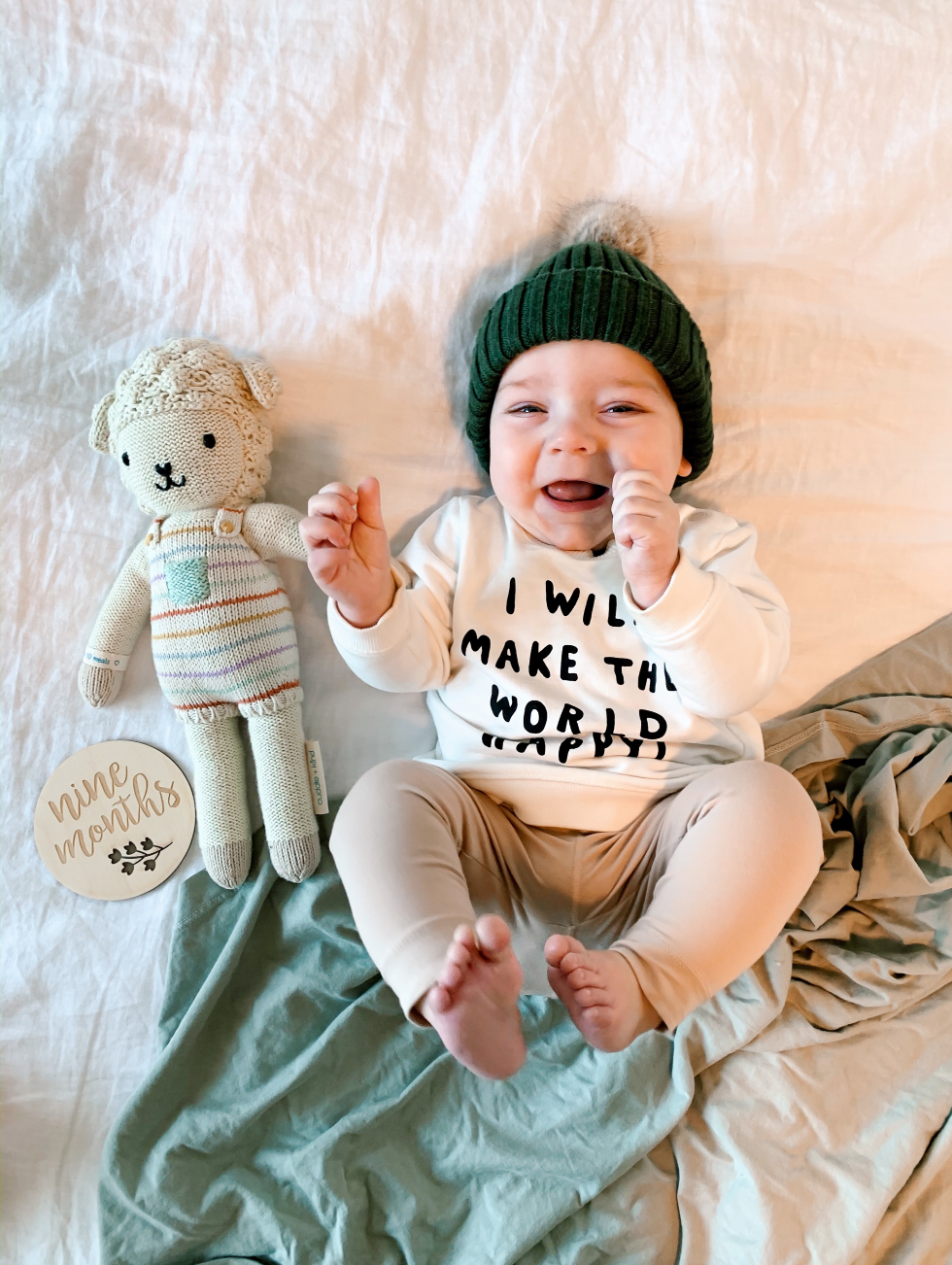 He is officially army crawling alllll over the place. Pulled himself up to stand for the first time this week! Smiles all the time and is such a cheery happy little guy- but he makes you work for the giggles! Looooooves to eat (peanut butter sandwich, snapea crisps and bananas are his favorites), is on a good nap schedule (and even does well when we have to skip his nap or prolong it… #3rdbabyprobs). Still has the best cheeks, chunky thighs and irresistible blue eyes. Says "dada" all day long, and loves to growl back and forth with us. His favorite toys are blocks, the shape sorter and he loves his "Baby Faces" book.
10 MONTHS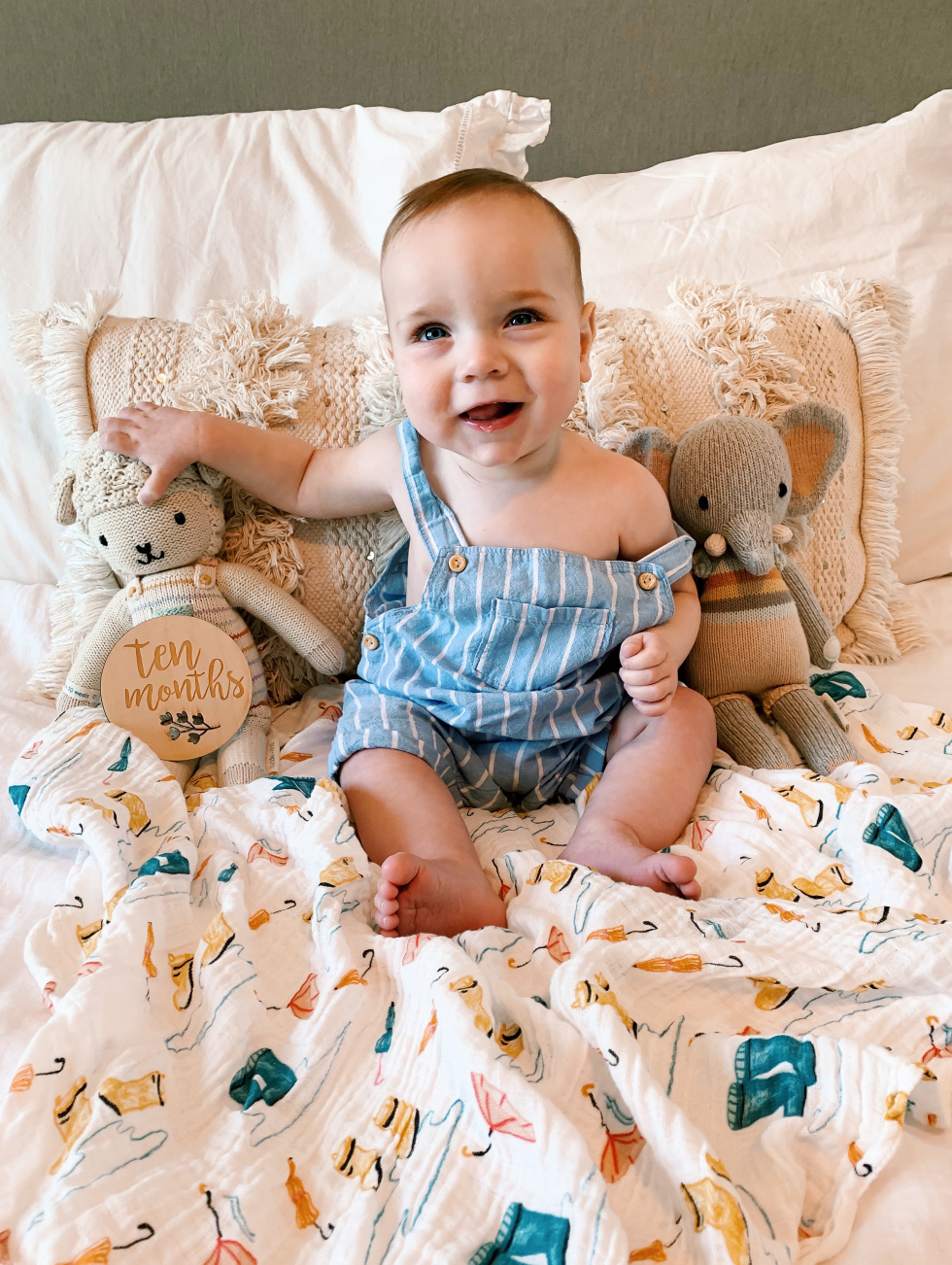 H&M Overalls | Red Rover Swaddle
Loves to eat (all of the things) and legit gets MAD if he can't eat what we are eating. 8 teeth, almost 19 pounds. New trick is pulling himself up to stand on everything, and cruising the furniture! Still army crawls like a maniac- soooo fast! Loves to babble, wave "hi" and shows us everything he holds like he's soooo proud, it's the cutest.
11 MONTHS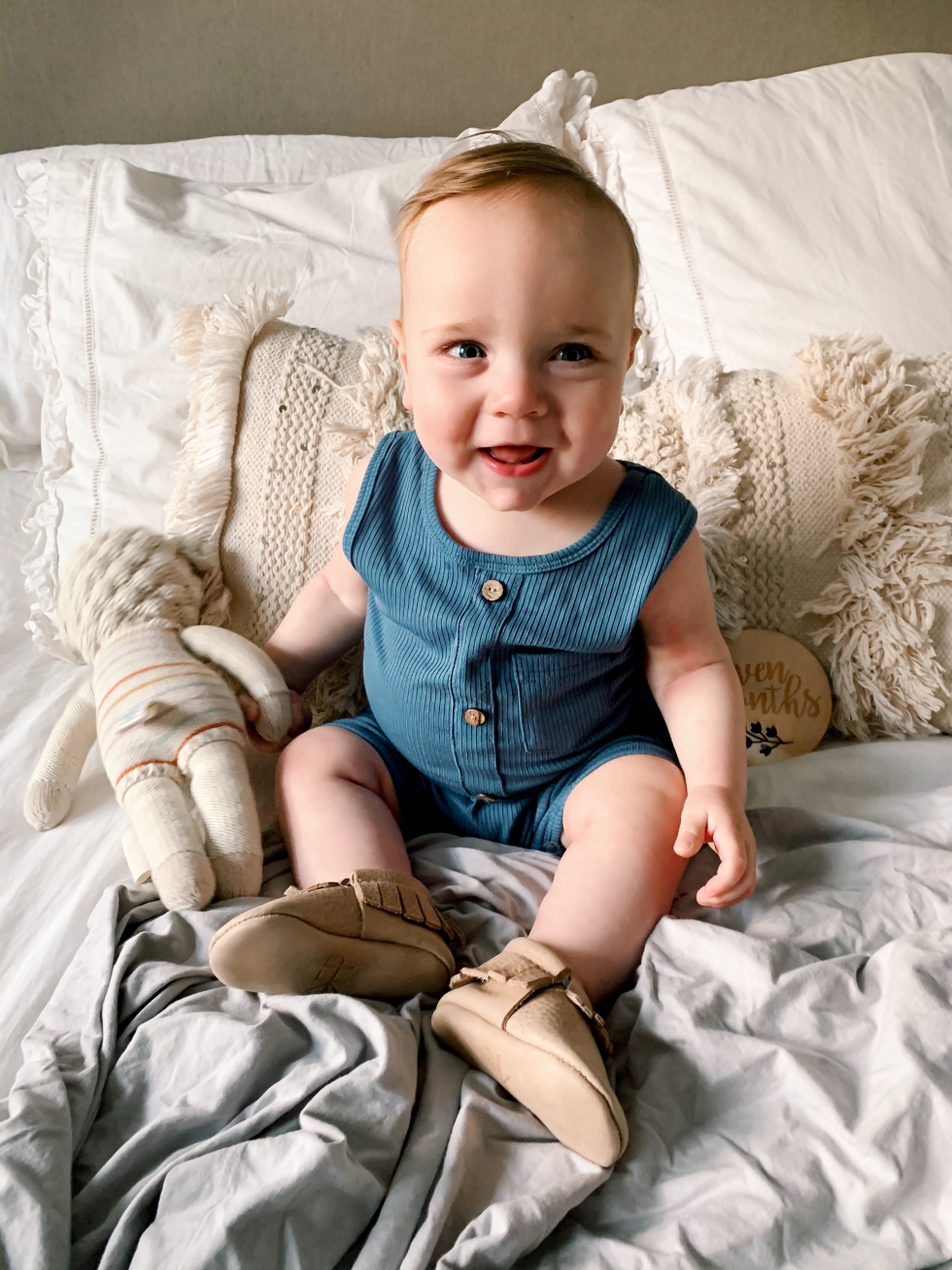 Amazon Romper| Freshly Picked Moccasins | Cuddle & Kind Doll
He's the happiest baby. You smile at him and he smiles back instantly. We love his chubby cheeks and happy little growls. He prefers to stand as much as possible, holding onto anything he can, and is so strong! He's cruising along furniture too! And has officially graduated to knees and hands crawling, not much army crawling anymore. But mostly prefers to stand haha. He loves to wave "hi," and says "dada" all the time, "mama" occasionally, "uh" (uh oh, every time he drops something), "t" for cat and "nana" (banana). Loves his siblings so much and food is a close second.
SLEEP SCHEDULE
6:30-7: wake and nurse and breakfast (cheerios, banana, pancakes, yogurt, blueberries, scrambled eggs are favorites)
9:30- nap (about 1.5 hours)
11- wake and nurse (bottle at 11 months)
12- lunch (peanut butter sandwich, yogurt, pea crisps, )
1:45- nap (2.5-ish hours)
4- (we don't let him sleep past 4) wake and nurse (bottle at 11 months)
5- dinner (beans, rice, sweet potato, avocado, quesadilla are his favorites!)
6:30- bedtime routine (bath every other night, jammies, book, nurse, sleep sack, white noise)
7- bed
NOTE: At about 11 months, we naturally went down to two nursing sessions, in the morning when he woke up and at night right before bed. We introduced a bottle with formula (we use Enfamil Enspire) so he was getting two nursing sessions and a 6 oz bottle of formula at each nap wake up (twice) a day.
There you have it! One year update (!!!) coming soon, along with all of this favorite things and also a birthday recap, because those are fun. Stay tuned!
ICYMI: Oliver at 5, 6, 7, 8 months
Oliver at 4 months
Oliver at 3 months
Oliver at 2 months
Oliver at 1 month!
xo