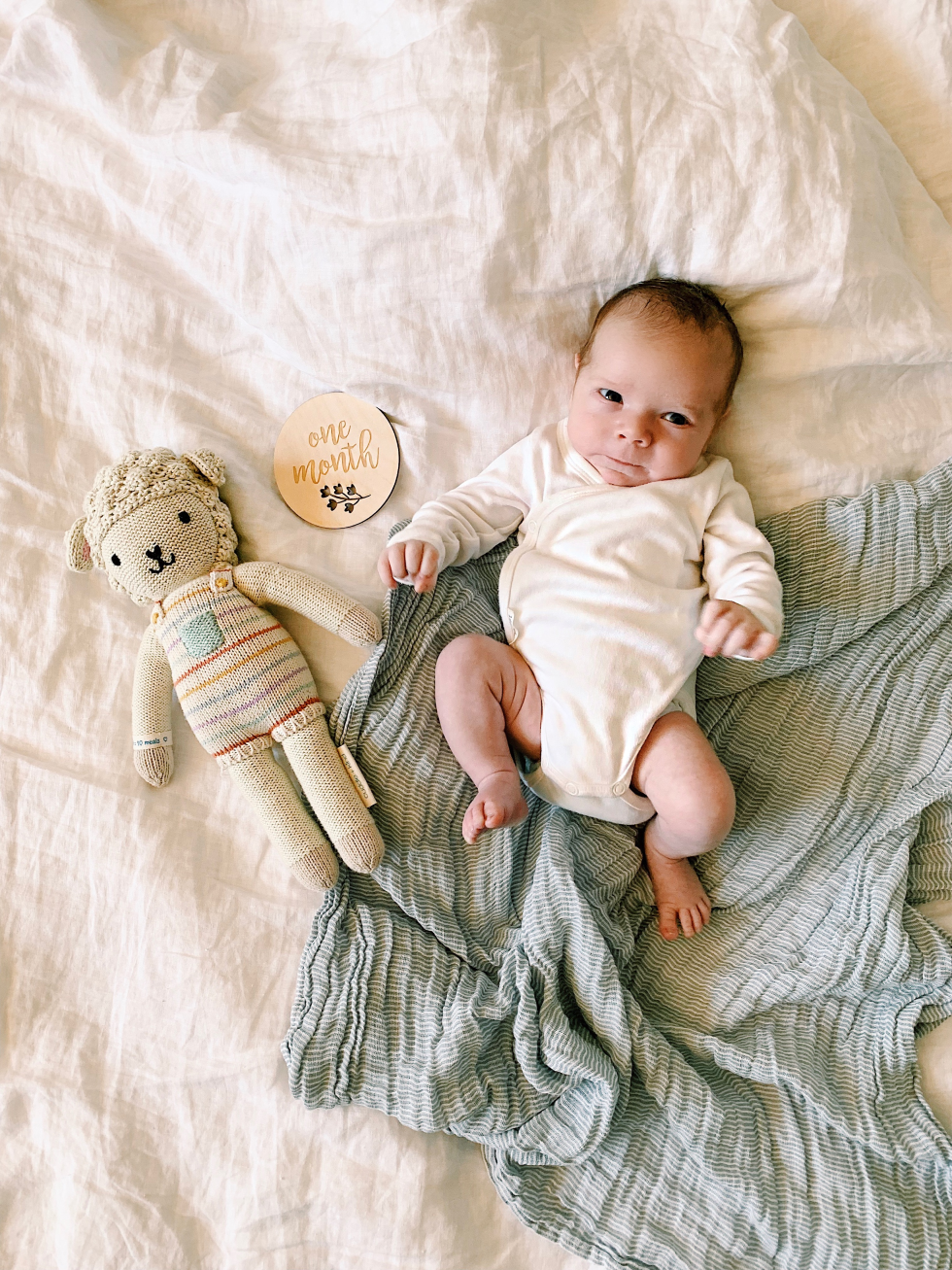 Well, one month just FLEW by! Yes, we are almost 2 months actually, and I'm super late on this… #thirdbabyprobs He is the sweetest little addition and I can't believe that he's ours! The transition from 2 to 3 kids has actually been the smoothest one, surprisingly! Here I was, so scared and nervous about adding another into our circus, but I think because it was already a circus, the general thought was, "What's another?!" ;) It's been so beautiful (thanks a lot to my outlook, I believe, and my incredible 4th trimester- read about that here!)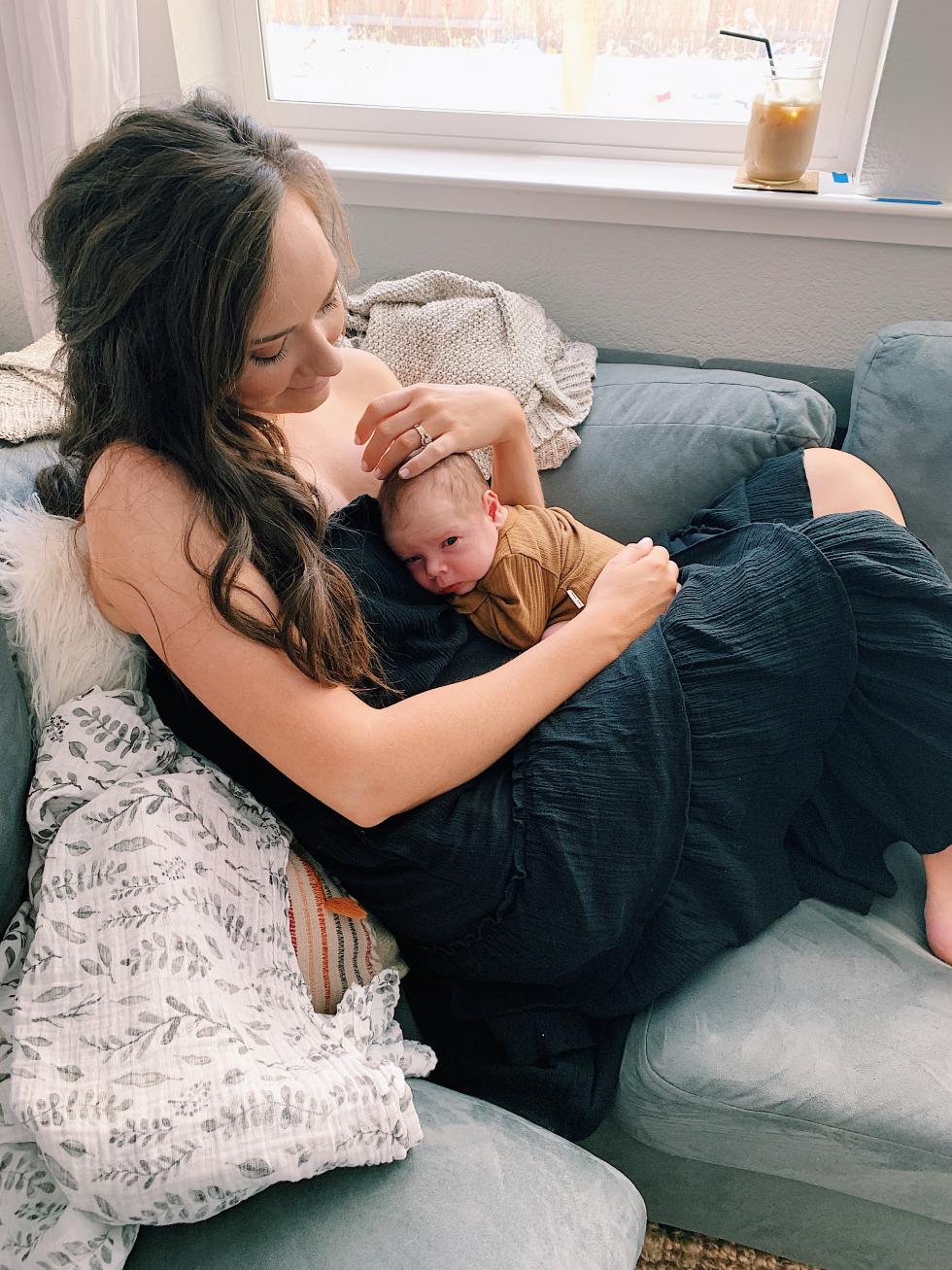 Not too many hobbies yet, but he loves to sleep, so we have that in common! Although, he's definitely getting a lot more than any of the rest of us. At one month, he prefers to sleep in our arms more than anywhere else. He also loves to eat. All of the time! He's up to 10 lbs, so I'm doing something right! ;) He absolutely loves his sister and brother, who are both so sweet with him! Sophie is the biggest helper, and is always wanting to "see the baby" and give him kisses, sings to him, and declares about a million times a day, "OH, he's sooooo tiny and cute!" in her highest pitch voice. The sweetest.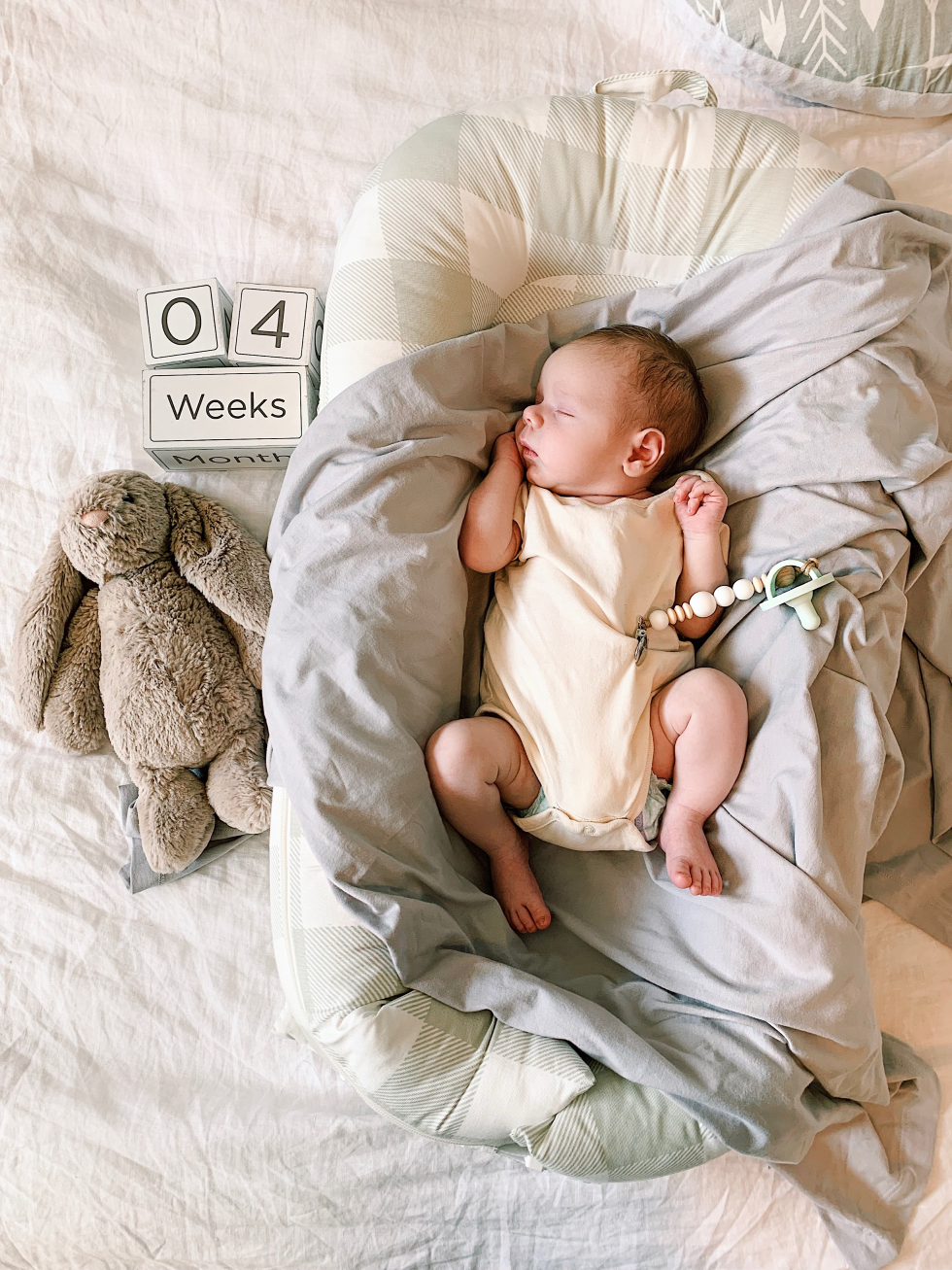 SLEEP SCHEDULE:
As far as sleeping goes, this first month we've just been following his cues and snuggling a LOT, letting him sleep in our arms (his preferred spot, let's be real) or the dockatot (life saver!) and so on. This second month is when I start to introduce more of a routine, and we follow a loose eat/play/sleep. After he's been awake for about 1 hour, we'll put him down for a nap, with his pacifier, swaddled up tight, and in his bassinet with white noise– his cue that it's time to sleep! Now, this is not at all perfect, sometimes we'll try and try to no avail, and end up rocking him to sleep or I'll nurse him to sleep. He's still so young, I'm not at all worried that this will create any sort of negative sleep "crutches" or anything, and we're just enjoying this sweet time that goes way too fast!
That being said, sleep is something I love and makes me a better person (lol) so I'm excited for a more structured and consistent routine! At home, he'll sleep in his bassinet (which we loooove!) but a lot of the times (especially mornings) we'll be on the go (to the playground, my workout group that I've just started to get back into, the farmer's market, etc) and he'll nap in his car seat or the carrier with the infant insert. He is a GREAT sleeper on the go- we joke that his car seat has magic sleep dust!
Sweet boy, one month just flew by! We love you to the moon!
I also want to share our 1 month baby favorites!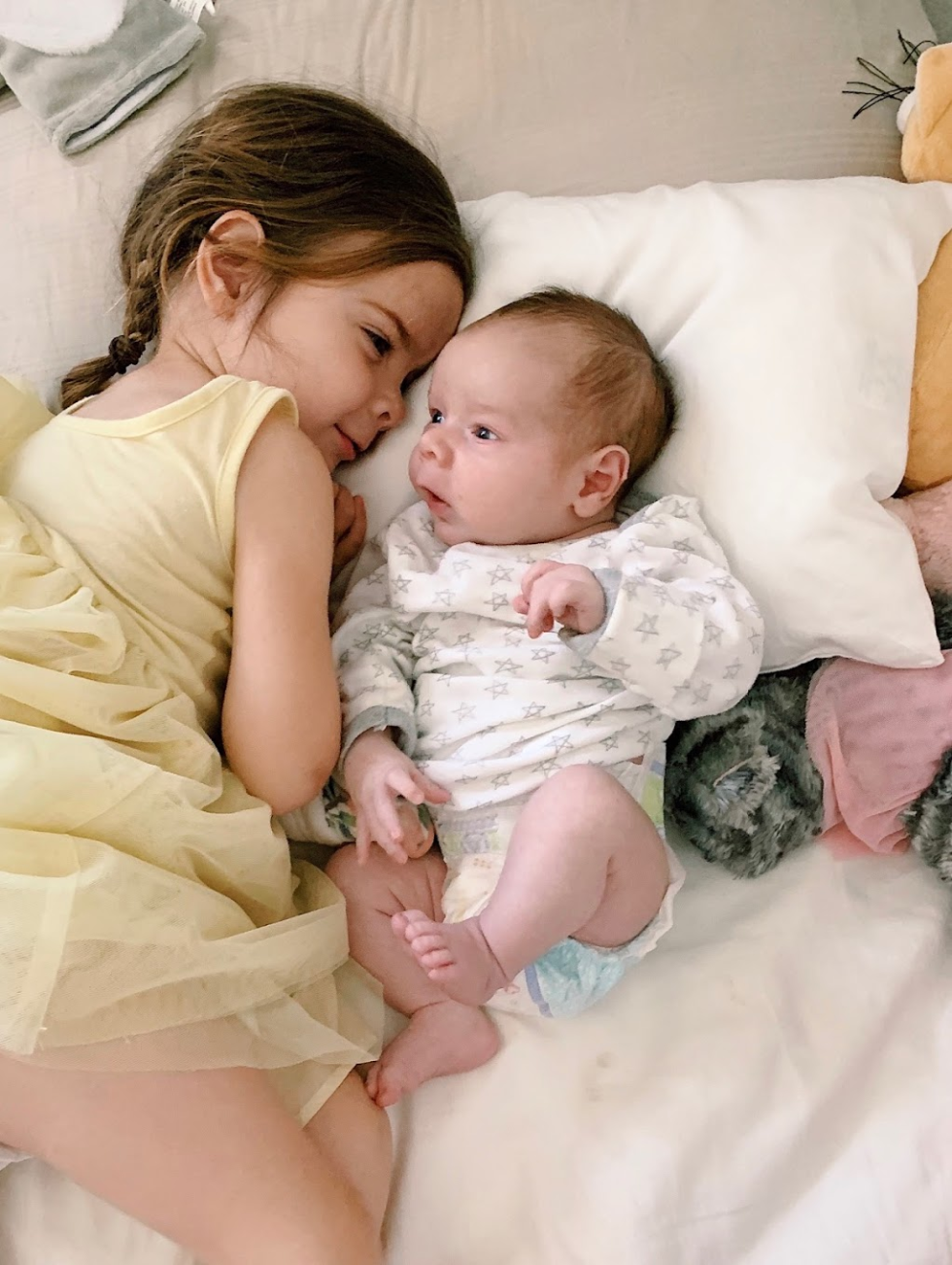 SLEEP:
We've been using the Halo Bassinest right next to our bed, just like we did with Sophie, and LOVE it. I can't recommend it enough! The swivel function is amazing for those multiple-times-a-night feedings! And boy has been on a growth spurt lately, sooooo I've been using it a lot. ;) #sendallthecoffee
Favorite swaddle is the miracle blanket! We used this with all three kids now, and it's the BEST! We also love these by Swaddle Me (the velcro is super simple!) and these by Embe Baby.
Favorite swaddle blankets (that I use for swaddling in the first month, but also for EVERYTHING- car seat cover, tummy time blanket, nursing cover, to wrap him up to be cozy, etc) are THESE from Max + Moose– they are SUCH great quality and come in the prettiest colors!
Favorite pacifiers are these simple ones from the hospital, these natursutten and these by itzy ritzy! We pretty much only use pacifiers for sleeping, as a correlation that it's time to sleep now. Hoping this will pay off soon!
[Also, a question I've gotten a few times: no problem at all with nipple confusion. Sophie got a pacifier in the hospital (since she had a short stint in the NICU) and no problems with her either! Just an FYI- I feel like people like to scare new moms, and it's unnecessary, in my opinion. :)]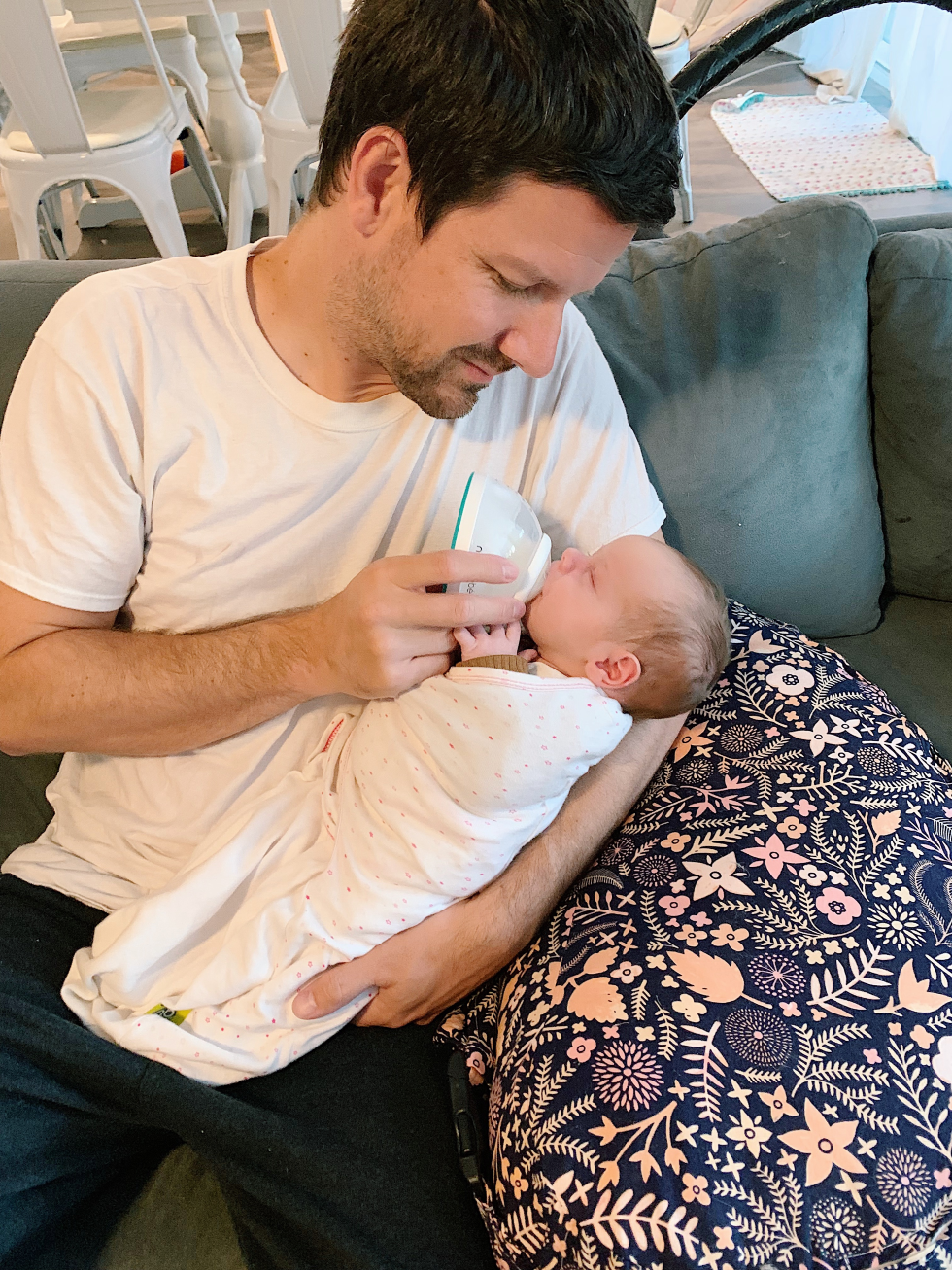 EAT:
Favorite bottles are
these from Nanobébé
– they look just like a boob, and when Zack feeds him his bottle at night (he feeds him a bottle once a night! Nice bonding time for them and a little break for me!) he seems to prefer this bottle!
I'm still OBSESSED with the Haakaa! I highly highly recommend to all nursing mamas! You use it on the boob you're not feeding on to catch the letdown- I built up my supply in the beginning (before I started pumping at all) with this alone! Now I still use at all feedings that I do at home and it's amazing!
I've been using this Motif Luna breast pump that I was so generously sent, and absolutely LOVE it! It's efficient (I only have to pump for 10 minutes at a time!) and super quiet! I used Medela before and much prefer this one!
Love this nursing pillow! And of course the Boppy as well. I keep one in our bed and one downstairs on the couch!
As far as nursing on the go, I am much more comfortable this time than I was the first, or even second! I do still like to cover if I'm not wearing a shirt that's super discreet, and I just use any swaddle blanket (these bebe au lait blankets are our favorites- soooo super soft! We also love these from max + moose– they're so sturdy and come in gorgeous colors!) and it does the trick. :) When Baby is hungry, he eats! No biggie, and I've never experienced any negativity for it, thank goodness!
WEAR:
These little night gowns
are all he sleeps in, for quick and easy diaper changes at night (plus they're super soft and adorable)!
This
is my favorite little onesie of his, still. :)
Seafoam
is the prettiest color!
I also love
these sleepers
that we were sent from Modern Burlap!
PLAY:
I love setting him down on his
activity gym
to let him stretch out his limbs and also do some tummy time (although our preferred method of tummy time is lying him on my tummy!). He also looooves the little dangling monkeys on
his bouncer
!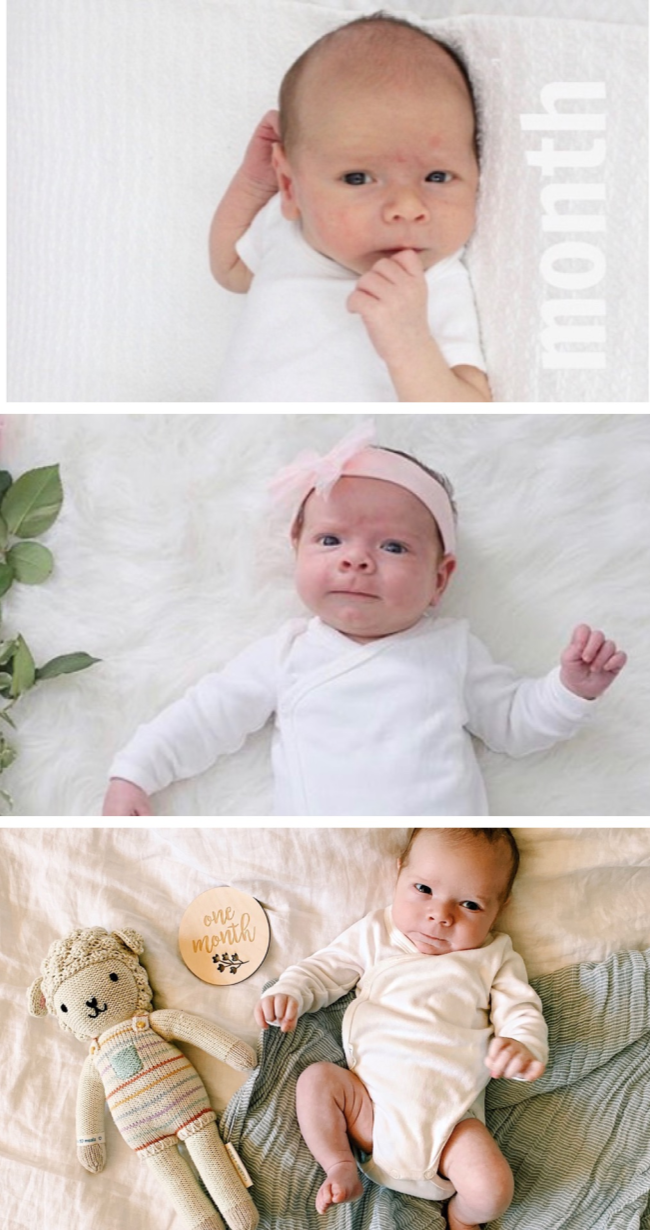 And for fun, let's compare, shall we? First is Sam at 1 month, second is Sophie at 1 month, and then Oliver at 1 month. :) Yes, we clone babies. ;)
And since he's literally 2 months in two days…. Another update coming soon from the 2nd month! ;)
SHOP THIS POST:


xo