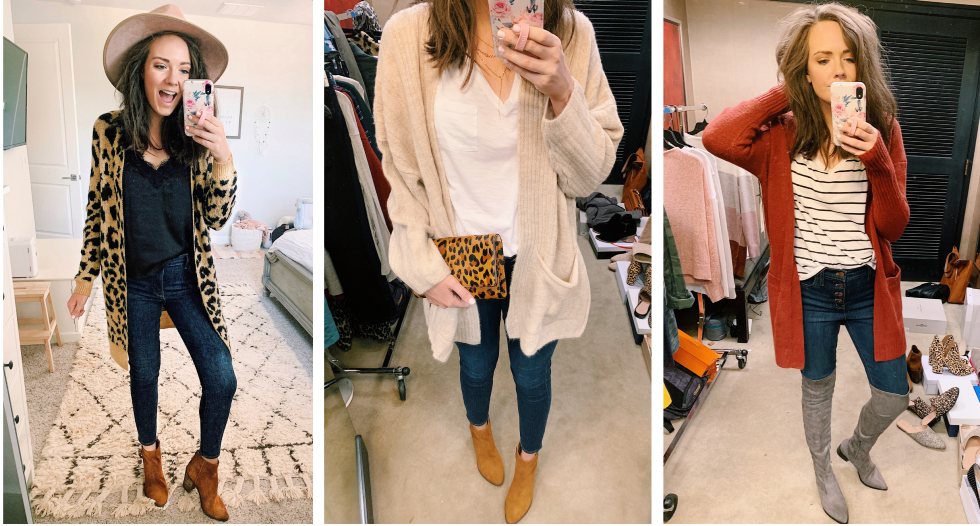 LEFT: Cardigan | Cami | Hat | Booties | Jeans – MIDDLE: Cardi | Jeans | Clutch | Tee | Booties – RIGHT: Cardi | Jeans | Boots | Tee
It's that time of year again! The Nordstrom Anniversary sale is here! Here are over 350 of my top picks from the sale! The best thing about this sale is that there's a TON of new items available at reduced prices AND a ton of returning favorites on sale too!
Your best strategy would be to consider getting the card if you haven't already (approval can be instant) and shop asap! Order two sizes if you're not sure and return the one that doesn't work out! Order pieces that you're considering and decide at home when you put them on and see them with other items in your wardrobe. If they don't work out- send them back!
Also, through July 14th, you will get a $10 reward when you buy online and pick up in store!
If you've shopped the Nordstrom Anniversary sale before, you know things go in and out of stock for the duration of the sale, so keep checking back if something you want isn't available the first time you look!
Free shipping and free returns on every order!
We tried to make this post as easy as possible to navigate. Scroll to browse everything or use the links below to jump to the section of your choice!

JEANS | TOPS | SHOES | BEAUTY | BOOTS/BOOTIES | SANDALS | LEGGINGS | COATS/JACKETS | SWEATERS/SWEATSHIRTS | DRESSES | UNDERWEAR/BRAS | BAGS | ACCESSORIES | JEWELRY | KIDS | BABY GEAR | HOME | MEN
MOST POPULAR PICKS- Updated to include as many IN STOCK items as possible