HAPPY FRIDAY!!! What a nice, short week that was, eh? Somehow it still felt long, buuuut eh. It's fine. Here we are, it's Friday, time to get down get down.
But really, it's time to go to the park some more and try to figure out what we're eating for dinner this weekend and probably binge watch something on Netflix once the kids go to bed.
#momlife.
BUT. Some photos from our week before we start this crazy party weekend! ;)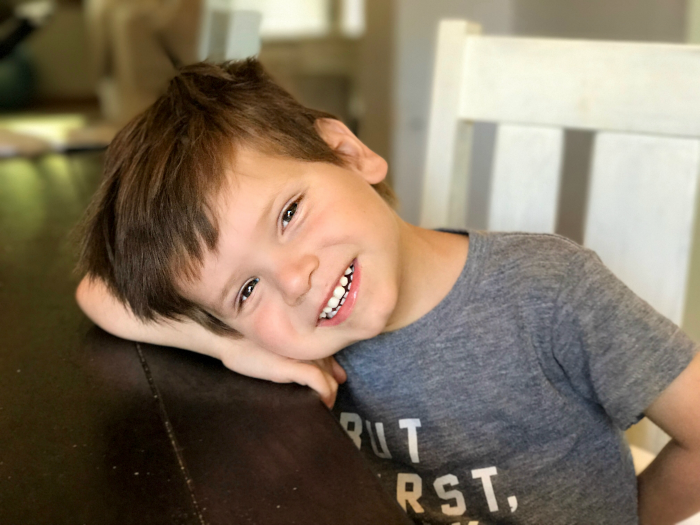 First || My new absolute favorite photo of my Samuel, of all time. That smile of his! Those eyes! UGH. It isn't the easiest to get a picture of him smiling at the camera, so when I do get one, it just makes my heart flutter. Love this little boy oh so much- he has no idea how loved and sweet and special he is!!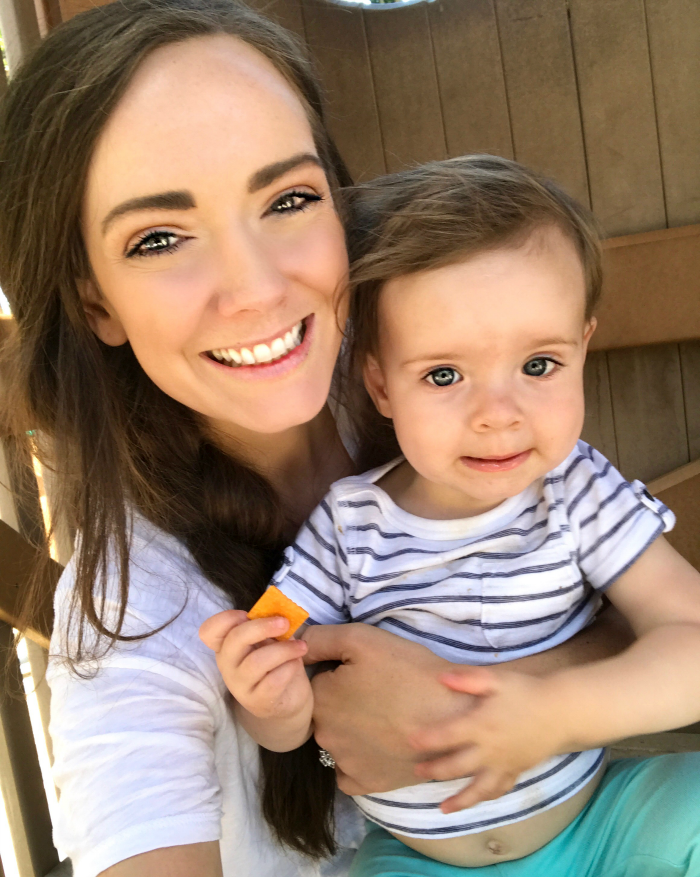 two || A picture of me and my favorite girl, at the playground. Please notice the Cheez-it in her hand. No, we do not feed our children organic everything and only fruits and veggies all of the time. They also get a lot of Cheez-It's and Pop Chips and fruit snacks.
Well, to be fair, the fruit snacks ARE organic.
So yeah. Don't be hard on yourself for what your kids eat. Just remember: you can breastfeed them, you can bottle feed them, you can give them formula, you can buy organic everything and then one day they will eat French fries off the floor of your car.
Something like that. I think I butchered it. It's fine. I'm leaving it. You get the point!
But REALLY, the point is that she's my little mini me and I'm obsessed with her. Also, girl can eat. And it's the best thing. Gotta keep that sweet squishy belly of hers. Bless her.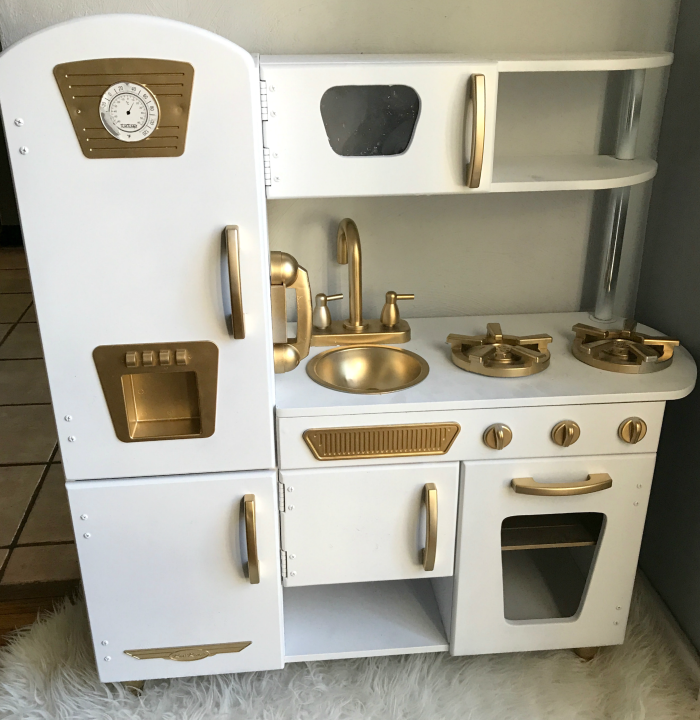 three || My little kitchen DIY project is complete!!! I am SO happy with how it turned out! Except, I just realized I still need to paint the silver parts right there gold… BUT. IGNORE THAT. It's mostly done! And gosh, it was a helluva project, let me tell you. I'm actually going to be doing a whole blog post on the process (coming next week, stay tuned!), so you can maybe do it yourself! Or realize it's too much work, and don't. ;) I kid, I kid. It was only a lot of work, not quite "too much." And plus, it was SO worth it. Heart eyes emoji.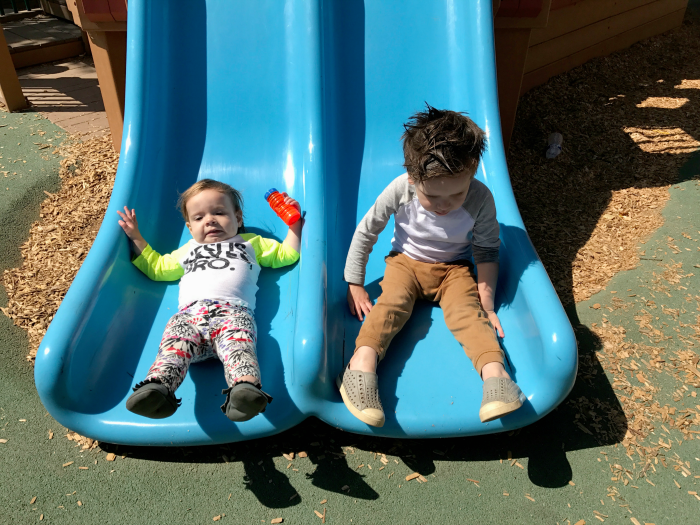 four || SOPHIE'S FACE. I CAN'T. It's just too perfect.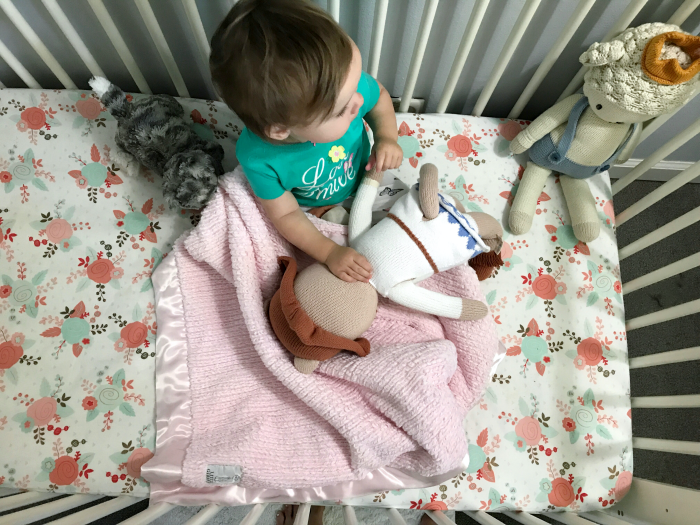 five || Sophie got herself a cozy new blanket, from Little Giraffe. It is the softest blankie, and it's safe to say she is LOVING it! …Alright, alright, so is mama. ;) I may or may not have stolen it a few times this week to snuggle in. I can't help it, guys, it is SO soft!!! Use code KATIEDIDWHAT to get 20% off site-wide on full-priced items!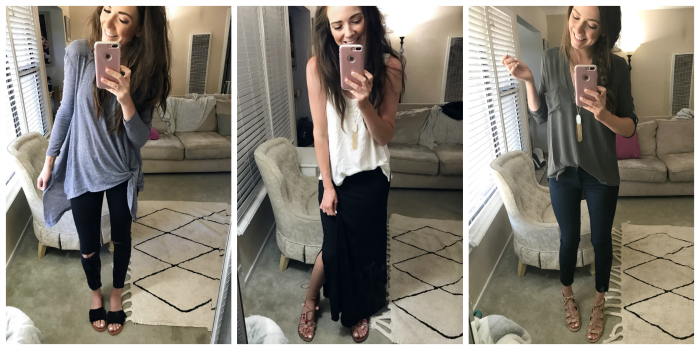 top + jeans + shoes || top + skirt + sandals || top + necklace + jeans + shoes
six || The N Sale ends this Sunday!!! Snag those pieces you've had sitting in your cart before they're gone! See all my favorite picks HERE and some try-on pictures HERE!
OKAY. Enough of me. Tell me something fun you have planned this weekend!
xo