Ooooookay. So. I realize I haven't done a monthly recap here for Ollie boy since his 4 month one! Ack, totally third child problems. Also, holiday season/busiest time of the year problems. SO. I'm just gonna do a nice round-up, and combine months 5-8 right here. Let's get a quick rundown on these glorious past months, shall we? ;)
5 MONTHS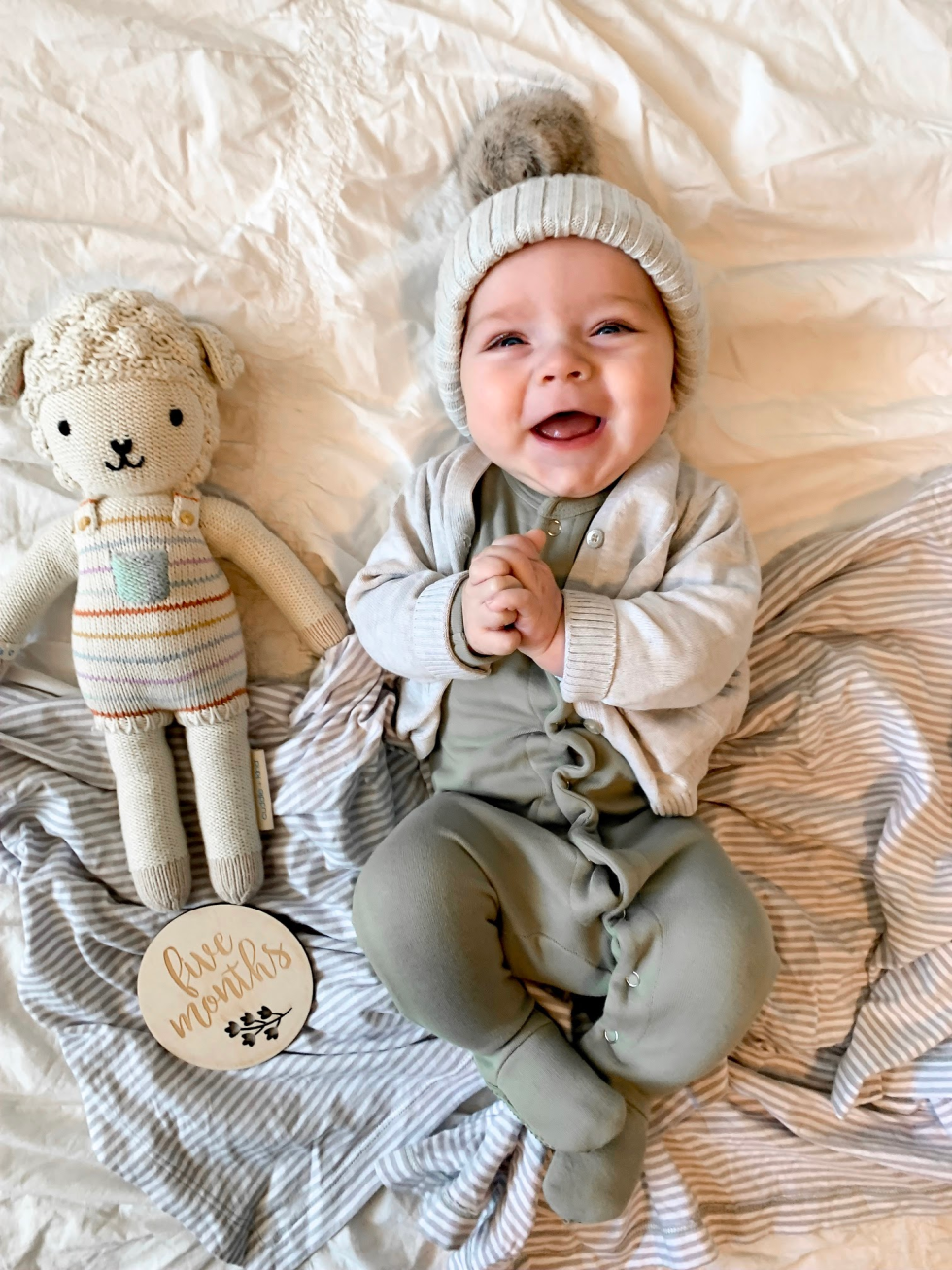 LOVED BABY ONESIE | BEANIE | LAMB DOLL (ANOTHER VERSION HERE) | SWADDLE BLANKET
Smiles at everyone- the biggest cheeks you've ever seen. Loves being held, seeing the world, playing with his big siblings, nursing (still going strong!) He loves tummy time and will instantly roll right over to his tummy when put down, happily as can be. Grabs for everything- a favorite being Mama's hair ;) (which, yes, is falling out so the grabbing really helps things…) He is on a great schedule and naps like clockwork most days, is super content during bath time and is generally such a happy easygoing baby. We love you so, our little
Ollie Ollie Ollie Elephant
! (Sissy's favorite song to sing to you, totally made up by yours truly).
6 MONTHS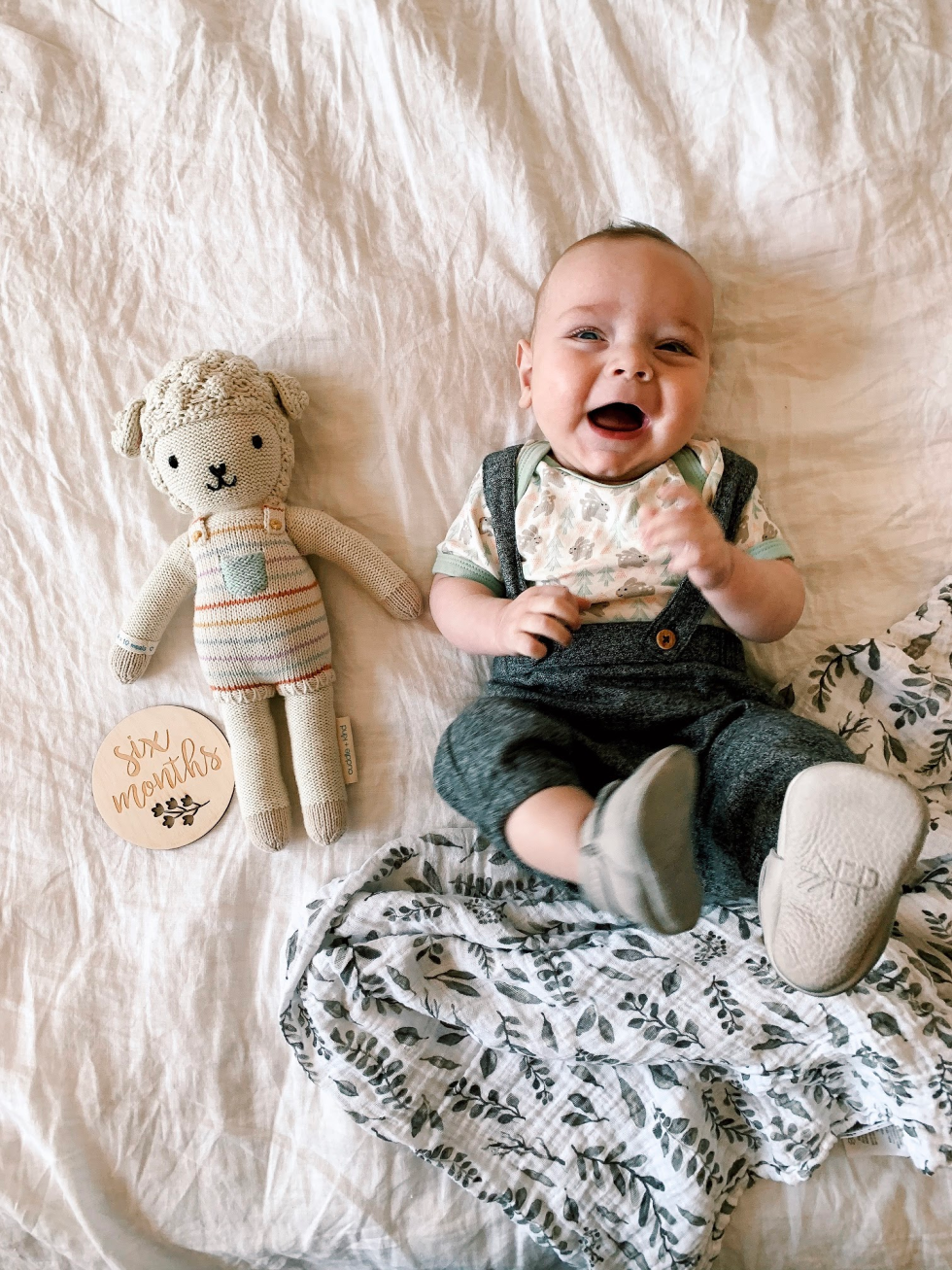 OVERALLS | SHOES | SWADDLE BLANKET
Officially can sit up on his own, but with a time limit before he slowly topples over.Tried his first taste of something other than breastmilk- some of my yogurt- and LOVED it. I think he's gonna be a good eater! Loves tummy time, tickles, reading books, and anything his big siblings do. Has the biggest blue eyes, smiles with his whole face and is still a scrumptious little croissant. Currently cutting his first two teeth, so everything goes into his mouth. He loves to suck his thumb and his two fingers. Goes with the flow and just loves being with us, wherever we go and whatever we do. Happy half birthday, Ollie boy!
7 MONTHS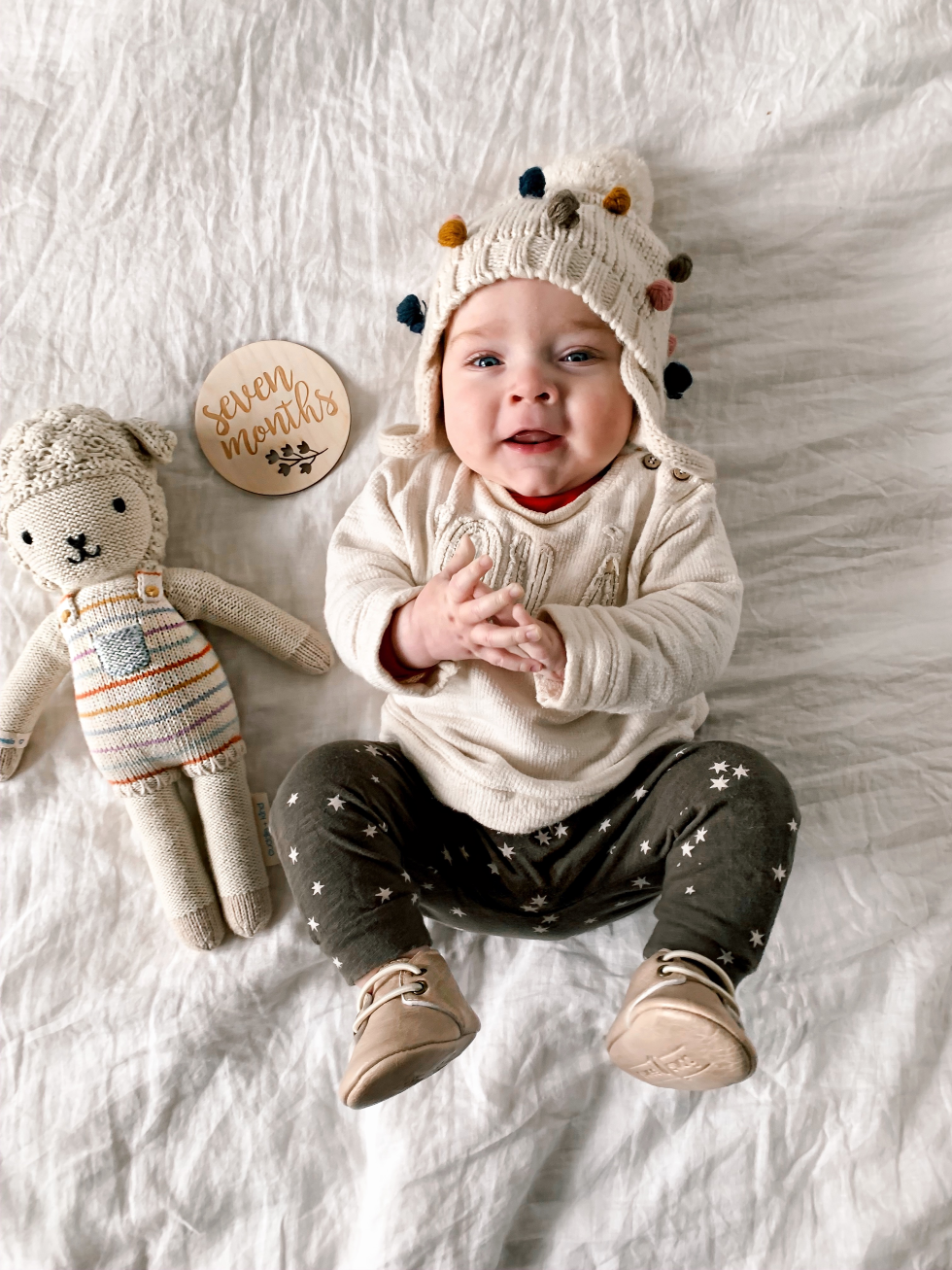 You are so easy-going, mellow and content just to be wherever we are. Daddy can get the best giggles out of you, Mama is your "off switch" if you're fussy, Sam loves to randomly give you kisses, and Sophie is still as obsessed with you as always and constantly makes sure you're okay and have a toy to chew on. Speaking of, teething has been incessant- you've got 3 teeth now! The two bottom middles and one fang on top. It's pretty adorable when you smile and those teeth show through! You love to eat, but aren't a fan of purées or baby food. Bananas, broccoli and crackers are your favorites! You no longer stay put and prefer to roll from place to place. Sitting up is getting more steady, too! You are so aware of the world around you, and you love watching everything and exploring! We are all so obsessed with those big cheeks of yours, and swear you're storing something in them for later. ;)
8 MONTHS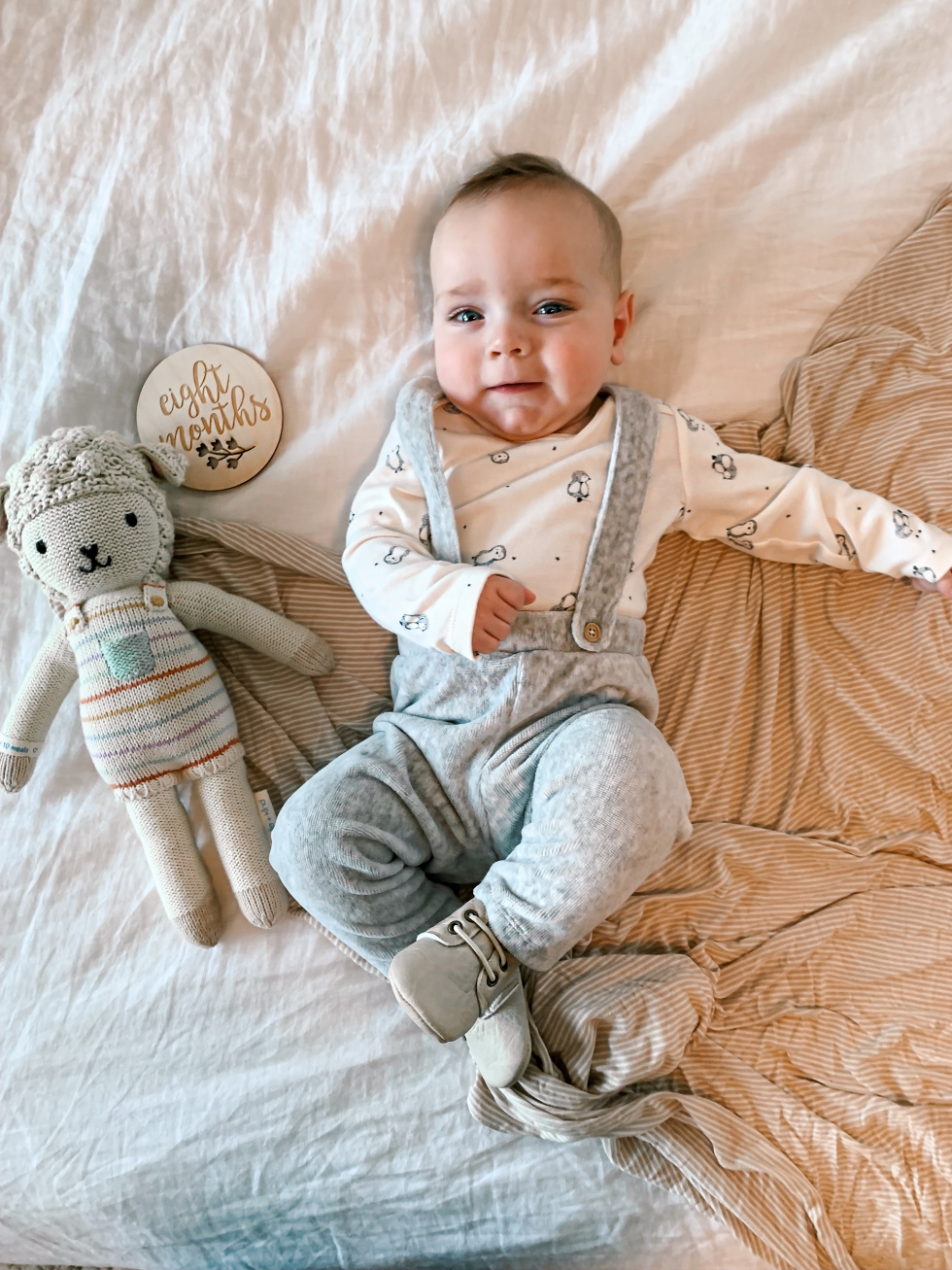 OVERALLS + ONESIE | SHOES | SWADDLE BLANKET
And now here we are. 8 months of Oliver Lucca. Our dream boy. You LOVE to eat and being on mama's hip is your favorite place. Daddy can make you giggle the most, and Sophie and Sam both make you smile so big. You love to nurse and you suck your thumb (we're 3 for 3 on thumb suckers!) and you still have the biggest cheeks and blue eyes I've seen. You are a mover, and do the cutest little army crawl/drag to get around. Sleep is so much better now (yay!) and you are up to 16.5 lbs! You've got 4 teeth now, with 3 more breaking through. You've started to babble, saying lots of "dadada" and "yeahs" so basically, you're going to be speaking in sentences in no time. We love you we love you we love you! And this was the hardest photoshoot yet. You were much more interested in rolling over and eating that milestone card! ;)
SLEEP SCHEDULES
5-7 Months:
(2 hour wake time. We also introduced solids at 6 months, so little snacks started throughout the day)
7- wake and nurse
9- nap (about 1 hour)
10- wake and nurse
12- nap (this one usually longer, about 2 hours)
2- wake and nurse
4- cat nap (30 minutes)
4:30- wake and nurse
6:30- bedtime routine (bath, jammies, book, jammies, nurse, sleep sack, white noise)
7- bed
Waking twice a night, around 2 and 5, where I nurse him and he goes right back to sleep.
8 Months:
(we gradually stretched his wake time the past few months, and now it's up to 3 hours. He's also eating more now, so he gets breakfast, lunch and dinner. Breastmilk is still his main source of nutrients)
6:30-7: wake and nurse and breakfast (cheerios and banana)
9:30- nap (about 1 hour)
10:45- wake and nurse
11:30- lunch (soft bread with peanut butter cut into little strips so he can hold and yogurt)
1:45- nap (2-3 hours)
4- wake and nurse
5- dinner (beans, rice, sweet potato, avocado are his favorites!)
6:30- bedtime routine (bath every other night, jammies, book, nurse, sleep sack, white noise)
7- bed
He's been waking 2-3 times a night, still nurses right back to sleep. Probably creating bad habits, but with his teething and the cold he's had, I honestly don't care. :) Yes, more solid sleep would be nice. It'll come. Generally he wakes up at 3am and 5 am, and then up for the day around 6:30. Could be much worse!
FAVORITE THINGS
At 8 months, he is moving like crazy! Always on the go. So we are in the market for some sort of play pen situation. ;) If you have one you love, lemme know!
FAVORITE BOTTLES, hands down. The first one we tried, and he's always loved it! Super easy for him to grab onto himself.
PACIFIERS– he doesn't really use a paci too much, mostly as a teether. But I'll keep one in his crib and he loves to play with it when he wakes up. Sometimes he'll use it to soothe, too, although he's a little thumb sucker, like his siblings!
ERGOBABY CARRIER– LOVE this thing. I use it all the time to wear him when he's fussy or when we're on the go. Wearing babies forever! I love how structured this one is, he feels super secure, and it's like magic baby dust. Instantly no more fussing, and he'll sleep in it too!
STROLLER– I love the Quinny Moodd for when I want to easily transfer his car seat from car to stroller (we have the MAXI COSI infant car seat and LOVE it!) and the BOB Revolution Jogger for runs/working out. I just use this Stroller Insert in it.
As far as toys, he loves stacking cups, ring stacker and shape sorter, this activity cube we got for Christmas, chilling in the ball pit (balls here), and all books.
xo