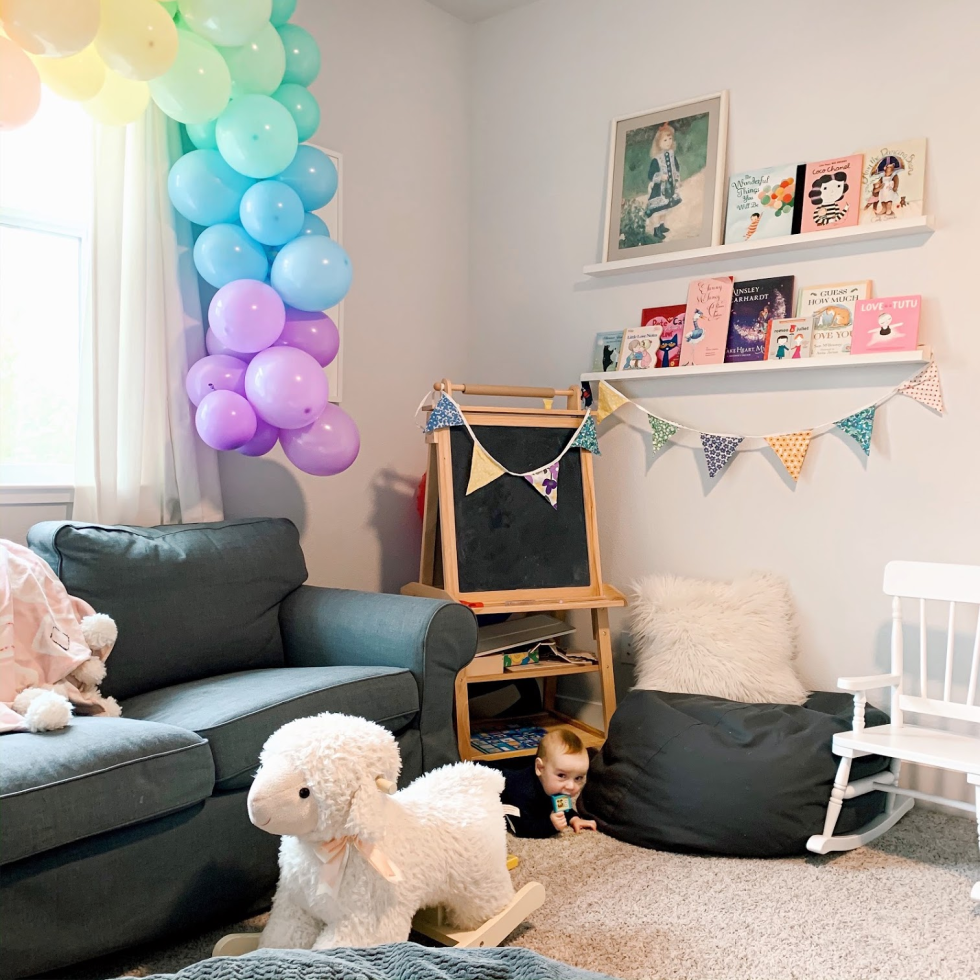 Shelves and couch are Ikea | Easel is Little Partners | Books are linked below | Balloon Garland tutorial HERE | Rocking Chair | Similar Lamb Rocker
This was originally a post about shelves. But then it grew into so much more than just shelves. It's about grief, it's about doing what you love and it's about LIFE.
Maybe it's the recent heartbreaking reminder of how short life is. Maybe it comes with growing older. Maybe it's these old wounds that I feel have been re-opened, of grief, of heartache and the need to live every day doing what you love with whom you love and not taking one single breath for granted.
I felt it so deeply when my mom died, and again it's come back. So deep. I think I didn't fully process and heal and grow from that experience- and really, I'm not sure if you ever really do. Can you? I mean, really? Sure, you learn from it. You start healing each day that passes. It's slow but things do get better. But you never stop grieving. The anniversary of her death is coming up in February- it'll be 7 years. And I think everything recently has boiled up inside of me and I'm so aware of the fragility of life itself.
ALL THIS TO SAY. I'm starting to change some things. I'm doing things I love. I just filled my library holds list with books that I want to read- for FUN. I can't tell you the last time I've picked up a book for fun. Not an autism book. Not a parenting book. Not a self-discovery book. And I'm excited for it. I'm listening to music that makes my soul soar. The good stuff that you feel deep in your bones. And I'm rearranging every room of our house. Because, it gives me joy. And good grief, life is way too short to wait and wait and wait and remain complacent. A fire is lit inside me, and I'm changing things. And damn, it feels GOOD.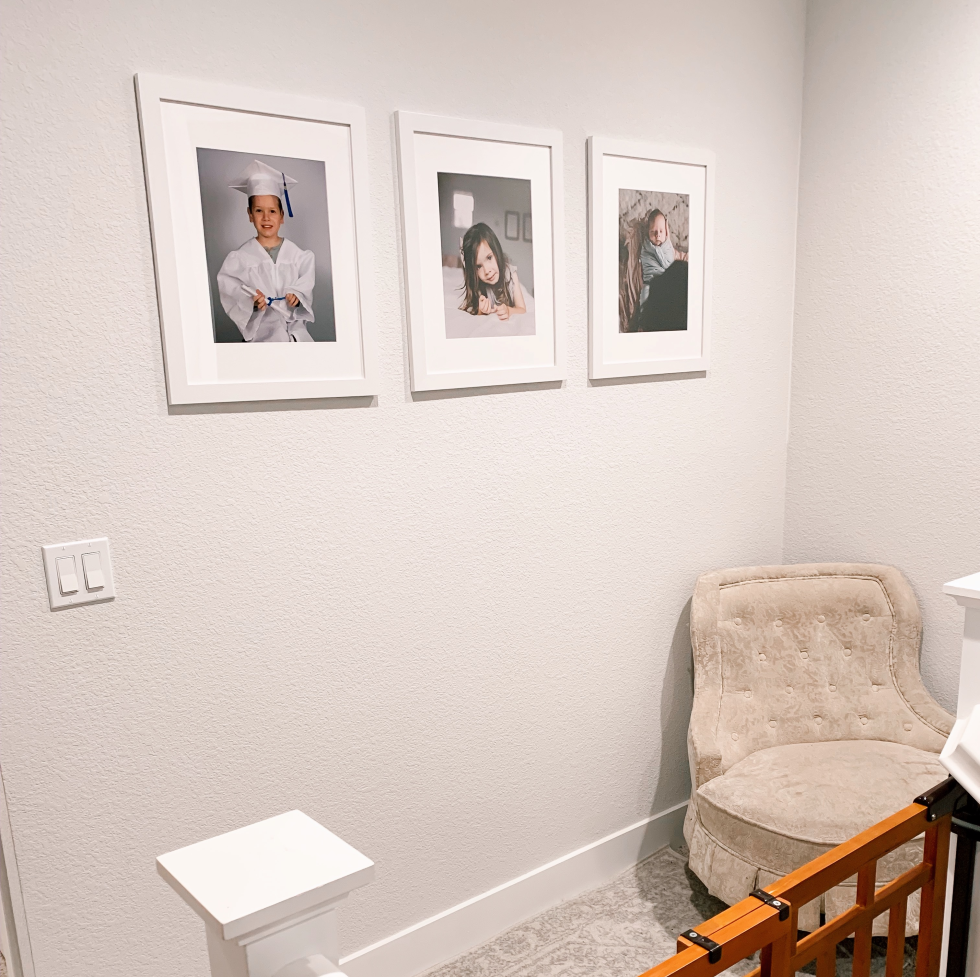 Basically this is what I want to say: I've been meaning to put these shelves up in the playroom for MONTHS, and I finally did. And I love it. I finally hung pictures of the kids on our walls, and it makes my heart happy every time I walk by. I'm making little changes and it's bringing me joy. So. If you have some things you've been wanting to do, can I light a little fire inside of you to DO IT? Today. Right now. I think it'll make you happy. And isn't that ultimately what it's all about?
So what it is that you've been putting off? What is that one thing you need to do to set YOUR soul on fire?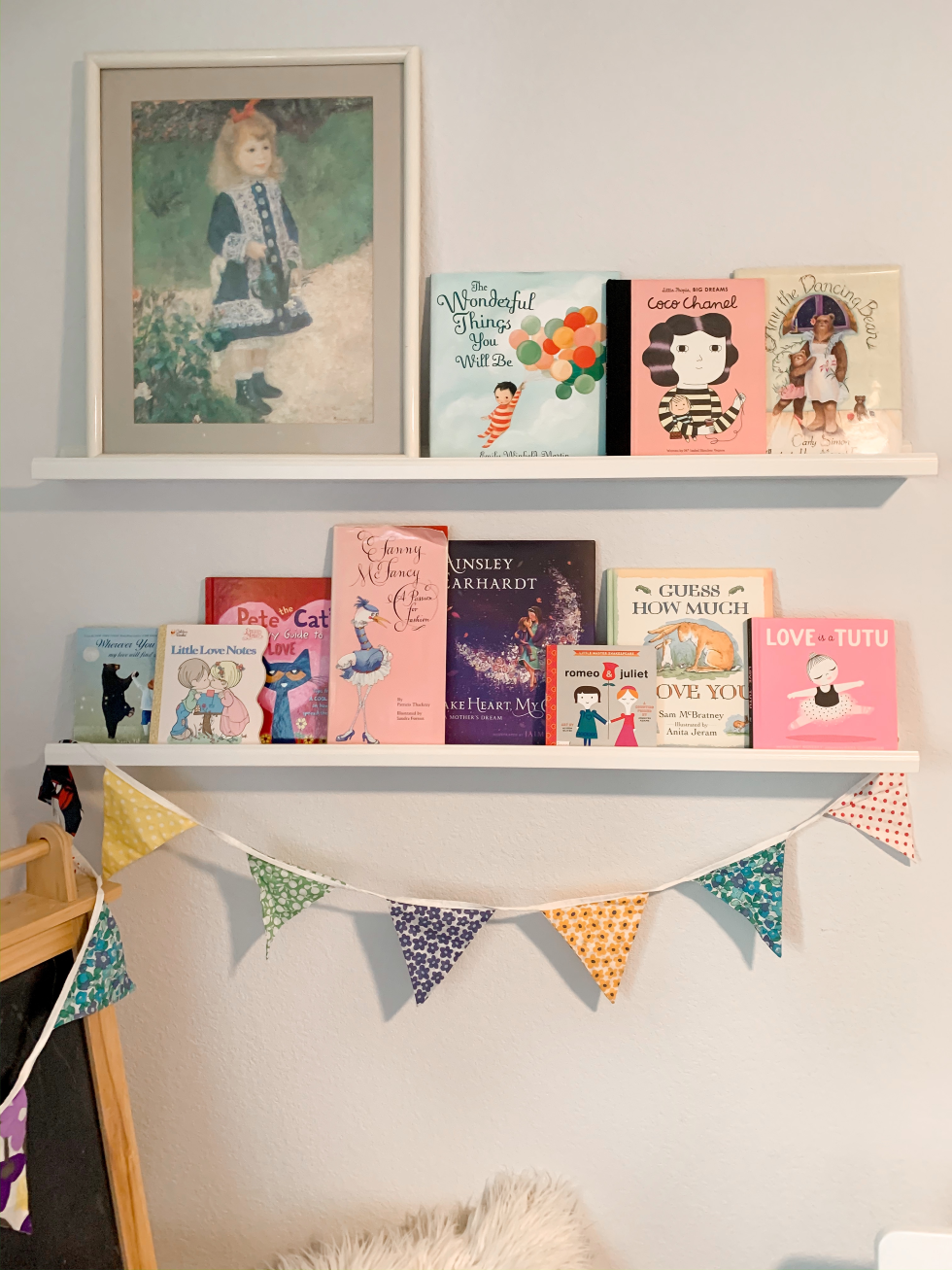 And on the topic of shelves…
I added Valentine's Day inspired books to the shelves (plan on switching out depending on the season/holiday!), and thought it'd be fun to share those.
The Wonderful Things You Will Be– the sweetest book that every child should have in their library.
Coco Chanel– Sophie looooves this one! And so do I ;)
Where You Are My Love Will Find You– As with all Nancy Tillman books, be prepared to cry. It's SO GOOD though.
Pete the Cat's Groovy Guide to Love– So cute. We love Pete the Cat!
Take Heart My Child– Another tear jerker. Beautifully illustrated!
Romeo + Juliet– Cute little book! We love all babylit!
Guess How Much I Love You– a story of the infinite bounds of love between a mama and baby bunny. So so sweet!
Love is a Tutu– We borrowed this from the library and loved it so much we bought it! One of Sophie's favorites! There's also Love is a Truck!
xo