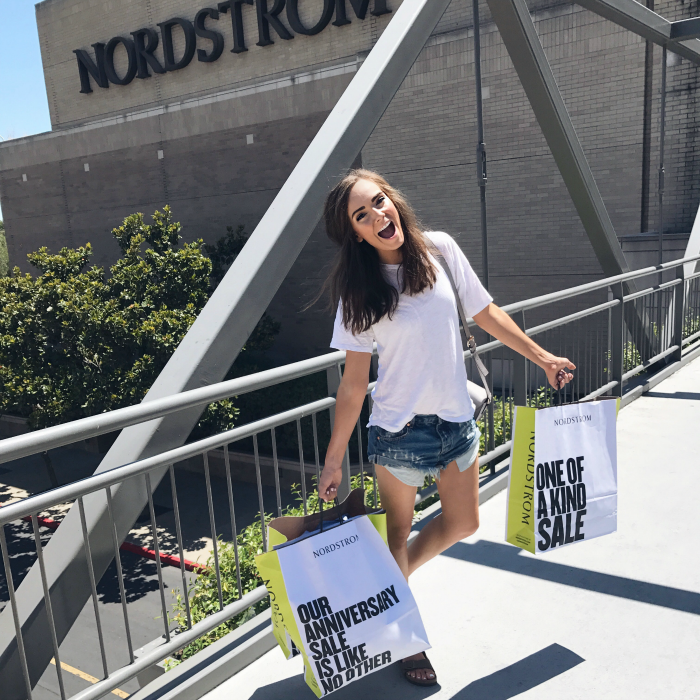 Updated: July 10, 2018
Can you believe the Nordstrom Anniversary Sale 2018 is almost here?! The catalog came out this week, and honestly it was good, but remember the catalog is ALWAYS so much more underwhelming than the actual sale! There is always SO MUCH cute stuff that isn't in the catalog at all, and I can't wait to share it all with you! Last year's sale was even bigger and better than the previous year and we expect this year to be amazing, too! Look at this post as your official Nordstrom Anniversary Sale 2018 guide and everything you need to know about the sale before it hits!


NORDSTROM ANNIVERSARY SALE 2018
The Nordstrom Anniversary Sale is Nordstrom's biggest sale of they year, with BRAND NEW pre-season styles on major sale! These are brand new items for fall/winter on major sale, and after the sale they go back to their regular price. It's kind of insane if you think about it, but also just basically absolutely awesome. There is a reason everyone goes crazy for this sale! Most sales happen on old items at the END of the season, but this one is unique in that these are PREseason items on sale for around 30% before hitting the stores at full price!


IMPORTANT DATES:
Early access for Nordstrom cardholders- July 12th, 2018 at 12:01 AM PST
Access to the sale for everyone- July 20th, 2018 at 12:01 AM PST
Last day- August 5th, 2018 at 11:59 PM PST
DO I NEED A NORDSTROM CREDIT CARD TO SHOP?
You do not need a card to shop, however you do need one to gain "Early Access" to the Nordstrom Anniversary Sale 2018. Now is a great time to sign up for a Nordstrom card if you haven't already! From past experience, each year the best stuff and most popular items are sold out by the time public access starts. It's free to sign up for a card, and if you'd like you can do that HERE and get Early Access, a week before the sale opens to everyone, plus a $40 Nordstsrom Note after your first purchase. You also earn rewards with the Nordstrom credit card, so I definitely recommend checking it out. You also earn 2x rewards points when you use your Nordstrom card!
WHAT YOU CAN EXPECT FROM ME
I will be sharing my top picks throughout the sale, starting from the very beginning of the sale. I will be posting on my Facebook page all day every day with sale updates and restock alerts! I will also be sharing dressing room diaries (and plan on heading to Nordstrom the very first day of the sale to scope it alllll out for you!), try-ons throughout the sale, and of course styling my picks tons of different ways throughout the sale!

THE MOST POPULAR ANNIVERSARY SALE ITEMS
Last year, we saw a few items that were so popular they sold out during the sale and never came back. Your best bet is to grab them while you can and while they're on sale!
Some of my favorites that are still available from last year:
Lush Tunic
AG jeans
Barefoot Dreams cardigan (this one was SO popular and kept selling out- definitely grab it! SO insanely comfortable)
Blank NYC moto jacket
Zella leggings
Lush raw edge tee
Boots and Booties
GET READY NOW!
To be ready for all of the sale alerts, be sure to click here to subscribe and get email notifications of the best content when it goes live! We'll even send some deals straight to your inbox! Also be sure to follow me on Facebook here and Instagram here. I'll be posting throughout the sale and you won't want to miss it!

WHAT THIS SALE MEANS TO US
Every time you make a purchase by clicking through our links, we get a little bit of commission for it (and it costs nothing extra for you)! This is one of the ways we support our family and make an income from this blog- our business!- and it truly means the WORLD that you choose us and support us daily. I seriously can't even put into words how grateful I am for each and every one of you! THANK YOU for helping us live our dream and support our family! And please let me know if there is anything I can help with- particular items you're on the hunt for, sizing info, you name it. I'm here to be YOUR #1 resource for all things Nordstrom Anniversary Sale!

I have an entire section of my blog set up specifically for all things Nordstrom Anniversary Sale 2018! Make sure to check back for sale alerts, styling tips and all the best deals you'll want to take advantage of!
xo