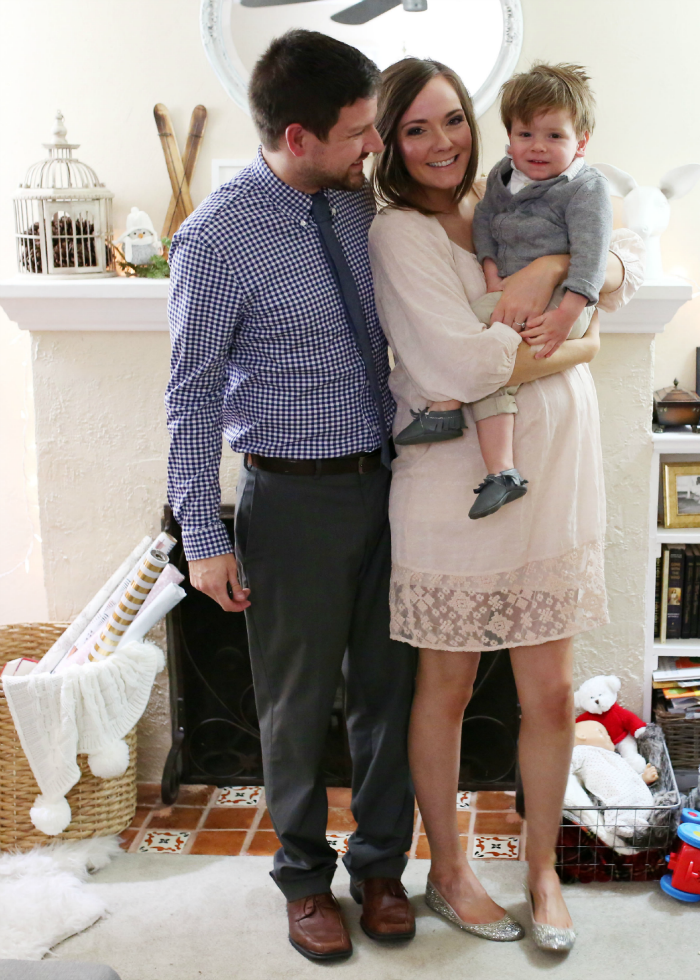 dress: shopbop
So, we did it. We took Sam to his first wedding, at the ripe old age of 20 months (YES HE IS 20 MONTHS, MORE ON THIS IN A LATER POST OMG). And the days and hours leading up to the wedding, we were getting more and more unsure of our decision to bring him. I mean, what kind of crazy person takes a toddler to a wedding?! RIGHT?! We do. That's who. That's the crazies. Us. So we stocked up on food and new toys and he got a good nap in and we made sure he was fed and off we went, with trepidation in our eyes and hope in our hearts and also a plan on who would take Sam out if X happened. Oh, we were prepared for the worst, people.
Really, my number one tip for doing life with a baby/toddler is to just keep your expectations extremely low. Because then? You will be blown away when things don't completely go to the shitter! ;)
But guess what happened? He didn't cry during the ceremony. Didn't even make a peep. He loved running around in between the ceremony and reception, climbing stairs and checking himself out in the mirror.
He also didn't cry during the reception. Actually, there were no tears at all. We had quite a few people come up to us all night, telling us how impressed they were with how he was behaving- a perfect little angel!! AND we stayed until well past his bedtime, with nary a complaint from him.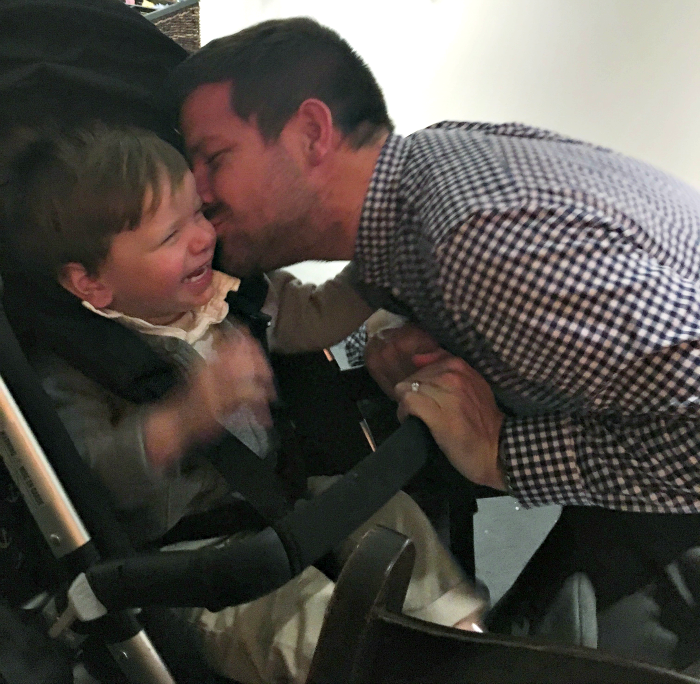 WHO IS THIS PERFECT CHILD?!
To say we were completely shocked and amazed would be an understatement. I mean, I honestly am so so so proud of him!!! And wanted to share a few little tips in case you find yourself in the same boat and are looking for any help you can get, like we were. Or just a glimmer of hope that you can do this.
TIPS FOR SURVIVING A WEDDING WITH A TODDLER:
1. Prepare yourself, mentally. Know that things could go terribly wrong or amazingly right. And set those expectations low. ;) Also, go into it with a positive outlook and remember to not allow yourself to get frustrated. Yes, a little pep talk is encouraged!
2. Have a game plan. Discuss with your husband beforehand (or whomever will be with you at the wedding) what you are going to do if X happens. For example, since this was his cousin's wedding, we had a plan that the second Sam makes any sort of outburst during the ceremony, I would quietly leave out the back. And when cocktail hour happened, since I'm pregnant and was starving, Zack let Sam run around outside while I ate some hors d'ouevres.
3. Sit in the far back. Because in case your kid does start crying or screaming, you can make a quick exit, without disturbing anyone's view. ;) We were positioned as close to the back door as possible. Just in case.
RELATED: How to Get Your Baby to Take a Bottle
4. Bring lots of food and snacks. We had an arsenal of goldfish and teddy grahams, both of which Sam hasn't had in a very long time, so not only were they yummy snacks that he loves and can easily eat himself, but they also aren't loud, don't make a bunch of crumbs and were new (ish) to him! He was loving those goldfish! And they kept him happy and occupied. And a fully belly equals a happy baby.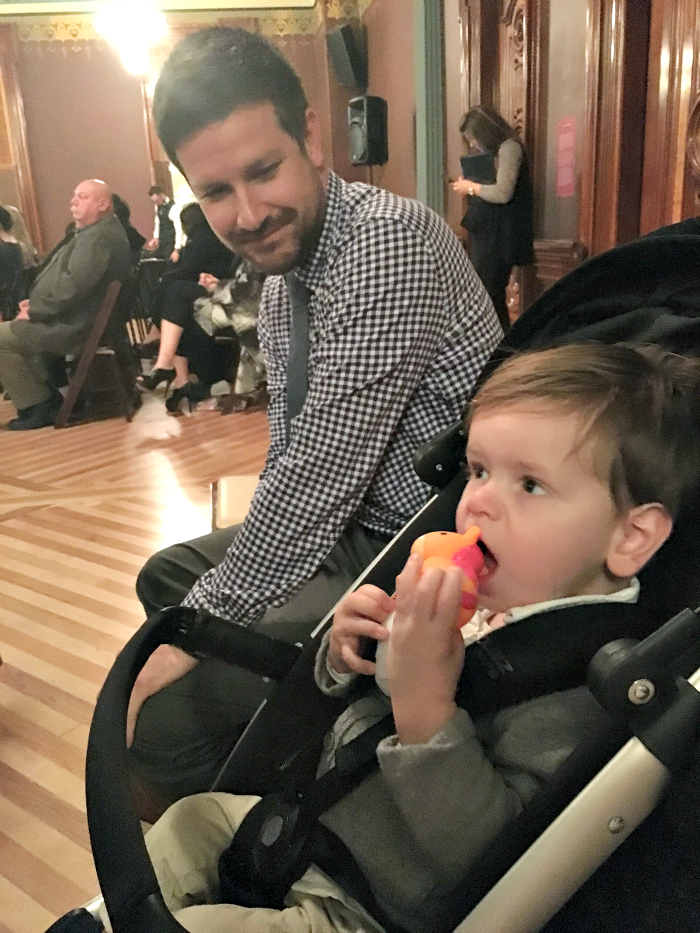 5. Get some new toys. We headed to Target before the wedding and picked up some brand new toys that Sam had never seen before. It was actually this little set of bath toys, which was perfect, as they are quiet, easily chewed on and there are 8 different ones so you can show your little one a new toy when the previous one's novelty wears off. ;) These were a huge hit with him! The key here is to get a toy or toys that are very similar to ones that your child already likes a lot. Sam loves smaller toys that he can chew on, so these were perfect. Also, one of Zack's cousins had her kindle with her and was playing a few videos (sans sound) and a fun little doodling app that Sam was totally mesmerized by. That helped a lottttt! He doesn't get much screentime, too, so this was a special treat for him!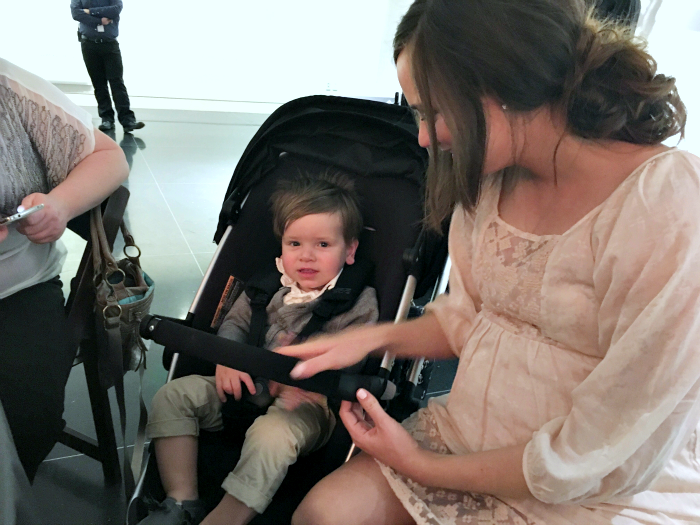 6. THE MAJOR SECRET THAT SAVED US: BRING THE STROLLER. And keep him in it. This really boils down to knowing your child, but for us, we have found that when we are out in public, keeping him strapped in the stroller for as long as possible is the best solution- it keeps him pacified and happy and he is perfectly content there. Now, I know some babies HATE their strollers, but Sam loves his (it's this one in case you're curious) so this worked! The instant he feels freedom (aka gets unstrapped from his stroller and can run around), it is OVER. So we knew we needed to keep him in it most of the night. The whole ceremony he was good, and then he got to run around in between and climb up and down the stairs (one of his favorite things to do!) and then he was back in the stroller for the reception. Now, he did throw quite a tantrum when being put back into the stroller, but Zack was outside with him, so no one even knew about it. Zack calmed him down with an iPhone game and he was good to go. Yes, this meant we missed out on having him in some pictures, but we had a happy boy, so I think it was worth it. ;) (…As difficult as that was for me, to be honest). Priorities, people.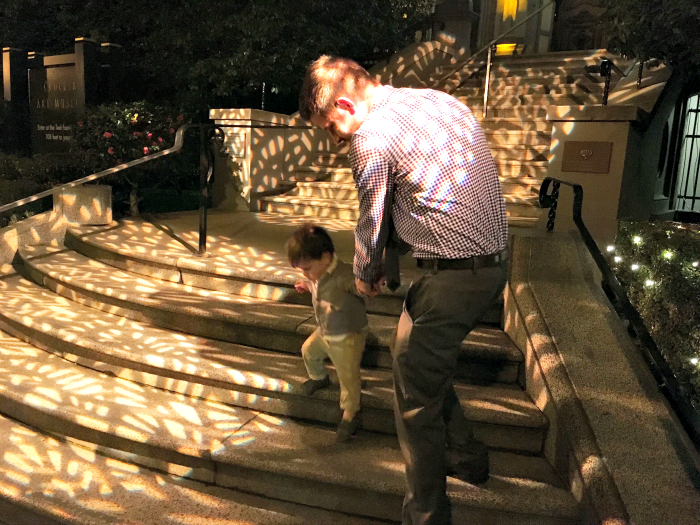 7. Get their wiggles out! Before we left, since we knew we were going to be keeping him in his stroller as long as possible, we went out back and he ran around for a good half hour. He got all that energy out and was ready to be in his stroller for a while.
RELATED: A Post on Baby Sleep
And there you have it! That is how we had a smooooth night. Yes, he got a bit delirious at bedtime and was rubbing his eyes and totally mellow at that point. But he had a good time! He got SO MUCH attention, which of course is his favorite, and he got a chocolate cupcake, which he LOVED. Ha! Then we got home and he passed out in about .5 seconds. Also a plus!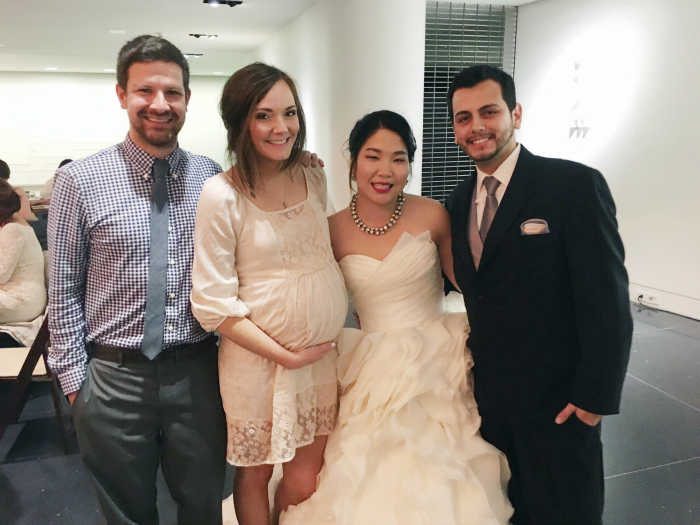 The wedding itself was absolutely beautiful! Zack's cousin, Katharine, got married and it was so nice catching up with so many family members that traveled from all over the country to be there, and she made the most beautiful bride. I mean, THAT DRESS!!! I die. And oh gosh, during the father/daughter dance, Zack looked over and was like, "I'm not sure I'll be able to do that." It melted my heart so much- he's already thinking about his own little girl! Ugh. I love that man so much.
What's the last wedding you went to?
Do you have any tips of your own for surviving a wedding with a baby/toddler?
xo