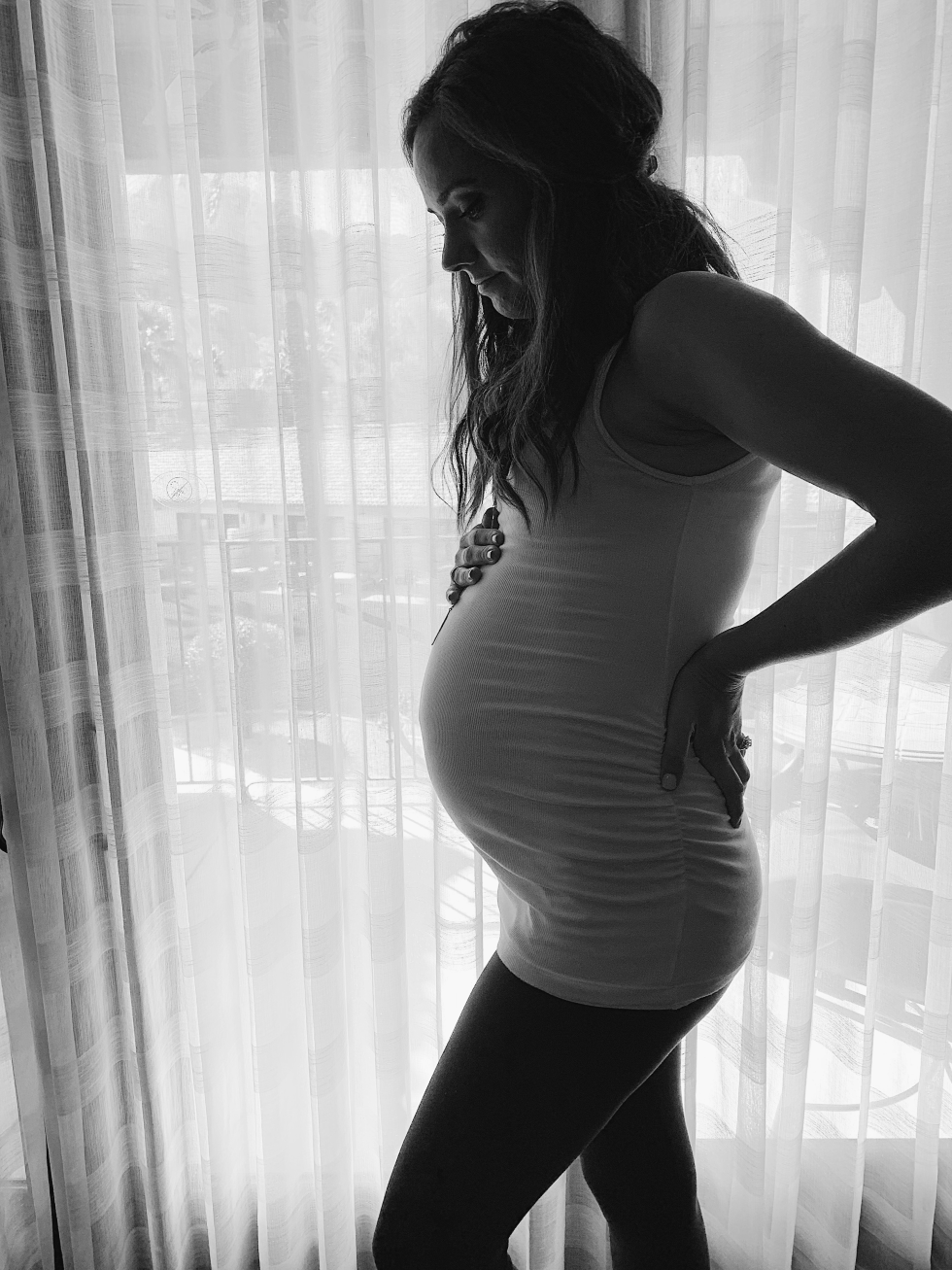 TANK TOP | LEGGINGS
27 weeks and feeling it. Exhausted, out of breath, feeling super large (definitely have gained more already than my first 2 pregnancies), having sinus problems, headaches, just an all around party. But I'm trying so so hard to enjoy this journey, as it's my last time carrying a life, and YES it is HARD, but it is also the biggest blessing and not something I take for granted at all. I know I'm blessed to even be able to do this. And guess what? That's just it: I CAN do this.
So I'm slowing down, I'm loving my growing body and I'm soaking up these sweet moments of carrying this boy on the inside.
How far along: 27 weeks
Gender: Boy
Maternity clothes: Living in my leggings- I've been switching between my Lululemons, Amazon leggings and Aerie leggings. All are SO good and comfy! I recommend them all! I also wore these jeans at the conference and they are SO comfy, too. Worth the splurge if you're pregnant! They fit so well! See my post on the BEST MATERNITY JEANS HERE!
I also recently got this cute lace bralette and LOVE IT. Sooooo comfy, and super pretty peaking out from underneath a top like this one, too.
Best moment this month: Our Babymoon! Lots of pictures and a post to come next week, but it was SO much fun and the best little vacation. It was a work conference that we turned into a babymoon, so business first and THEN the fun, but I'm just so grateful we got the opportunity to get away, just us two. :)
Worst moment this month: This stupid sinus infection that just LINGERS and I can't do anything about it except for Neti-Pot (which actually works pretty well, so yay for that!). I am getting really bad headaches that come along with it, and sinus headaches are literally the worst, so it's all just been a barrel of fun. ;)
Movement: SO MUCH! It feels constant now. And I am absolutely obsessed! He's still transverse, but I know it's still early to be have that be a worry at all.
Cravings: Chocolate. I have to have some dark chocolate every night. Not mad about it! ;)
Queasy or sick: Besides feeling sick from the sinus infection, no more nausea! Yay!
Looking forward to: Our follow-up ultrasound next week to check on my placenta previa and make sure everything is looking good. Prayers are greatly appreciated! I'm feeling good, so hoping that's a great sign!
RELATED:
Dressing the Bump (Maternity Style)
Dressing the Postpartum Body (lots of great options that also work for pregnancy!)
20 week bumpdate
xo
Read More on Katie Did What