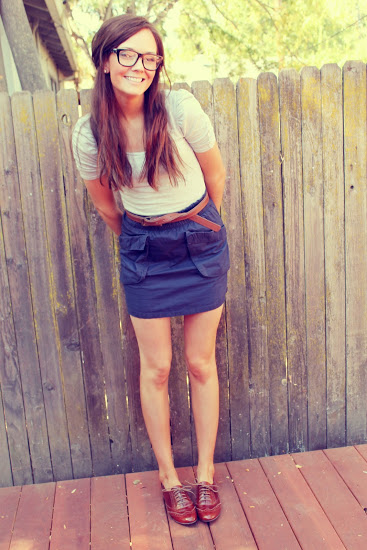 top, belt, skirt: h&m
shoes: steve madden (sold out!)
oh, hi there!  happy weekend!  hope it's treating you well.  mine started off really great.  it's been kind of cold and blustery lately, and i'm kind of liking it.  i'm thinking a fire in the fireplace is in order anyyyy day now, and i'm excited for that.
i finished "harry potter and the half-blood prince."  and, i don't know how i did it, but i managed to make it all the way up until now to find out…. well, see, now i don't want to spoil it for anyone who hasn't read the books yet (i say "yet" because if you haven't read harry potter, you really need to.)  so, yes, i won't spoil it for anyone, but let's just say, i am left extremely sad and pissed off.  and if you've read the books, i believe you should know why.  i know of four books that have actually made me cry- like real tears- "of mice and men," "the help," "gone with the wind," and now "the half-blood prince."  i was, no joke, UGLY crying.  like, sobbing.  it was terribly sad.  and then, after i was sad, i got mad (again, i will not spoil it for those who have not read it- seriously, go read them already.)  zack and i are watching the movie tonight, so i can start the last book.  i texted my little cousin and my sister in law (both huge hp fans) and vented about my sadness. and my sister in law (holla, christina!!) said she had to wait a WHOLE YEAR to find out what happens, and that made me feel a little better.  i mean, i get instant gratification here.  i can borrow the kindle book (for free! yay amazon prime!) right away!  so.  that soothed my heartache a little bit.
okay, i just devoted a post to harry potter.  i am an hp nerd, i admit (hence the glasses up there).  sorry if you aren't, and didn't get this like, at all.  if you did, any and all condolences will be greatly appreciated, thank you.
and that's my saturday!
xo