And for the last in my gift guide series this year (in case you missed them, for her, for the guys and for baby!), it's time for my very favorite part of all of Christmas gifting: the stocking stuffers!
There's just something so fun and special about stockings- growing up, we always got to open our stockings first thing, before breakfast, so it was always super exciting for us! We've carried on this tradition in our house, and now we get to do the stuffing! And of course, we play Santa for each other, too, which is super fun. I love how creative you can get with stockings- of course, there's the usual chapstick and socks (EVERY YEAR!), but then you can wrap up jewelry or movie tickets… the possibilities are endless. So I thought it'd be fun to share some stocking stuffer ideas for everybody in the family- her, him and of course the littles!
So, Santa baby…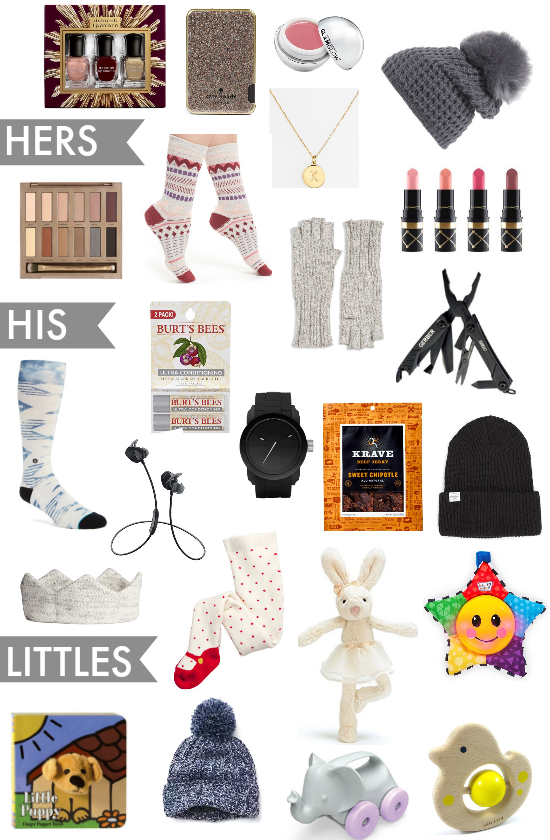 || FOR HER ||
nail polish | portable charger | lip balm | pom beanie | eyeshadow palette | socks | pendant necklace | gloves | lipstick minis
|| FOR HIM ||
chapstick | multi-use tool | socks | bluetooth headphones | watch | beef jerky | beanie
|| FOR THE LITTLES ||
headband | tights | stuffed bunny | Baby Einstein musical star | board book | pom beanie |
push toy | Wooden sensory toy
What are your favorite stocking stuffers?
xo