This is a fun twist on the holiday gift guides this year: what's on MY wish list! ;) Could also be substituted for Gift Guide for Her, or if you just need to send some ideas to anyone you love- easy peasy!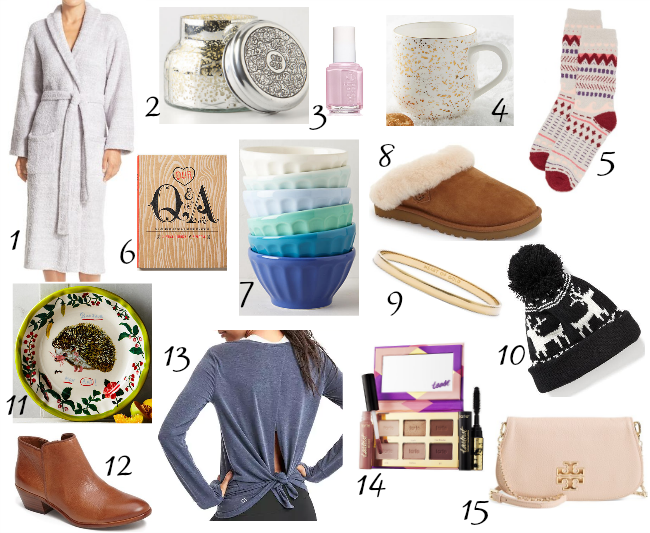 1. Comfy Robe (How cozy does this look?!)
2. Anthro candle (I got my first one last year for Christmas, and it was my favorite candle, and lasted all year! We just burnt through, so it's time for a new one- I have my eye on "volcano"- apparently smells like heaven. I'll take it.)
3. Nail Polish (The perfect stocking stuffer! This color is "French Affair" and is one of my faves!)
4. Coffee Mug (One can never have too many cute mugs!)
5. Socks! (My favorite stocking stuffer of all time. Every year. It's kind of mandatory.)
6. Our Q&A (my mother-in-law got me one of these and I love it! This couples book would be perfect for Zack and me to do together!)
7. Latte Bowls (I've had my eye on these for so long! Super cute!)
8. Cozy Ugg Slippers (These are a need, obviously! Gotta keep those winter toes warm!)
9. Kate Spade bracelet (So dainty and pretty!)
10. Pom Beanie (another perfect stocking stuffer! I can't get enough of pom beanies this season!)
11. Francophile Dinner Plates (These are so cute! I ordered two of them, but kind of need the collection! Love the mix and match aspect!)
12. Brown Booties (I have these in grey and they're my favorite of all time. Brown is clearly needed.)
13. Gap Workout Top (Workout clothes in general- give me allll of the workout clothes! I love the tie back on this one!)
14. Tarte makeup set (Their eyeshadow is my favorite, and this is a fun little holiday gift set!)
15. Tory Burch Clutch (I'm obsessed with the blush color! So pretty!)
There you go! What's on my wish list this Christams. :) So… What's on yours??
xo
Read More on Katie Did What