Raise your hand if you think guys are hard to shop for. Yeah. They can be kind of impossible, really. WELL. Fear not, my friends! I've got my hubby here with me today to help me share a fun little holiday gift guide for guys! Hopefully this makes your shopping for the men on your list just a taaaaad bit easier.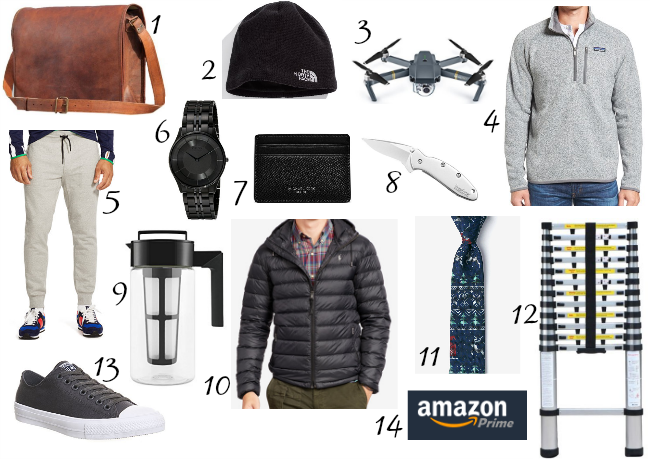 1. Laptop Bag. For the techy guys. It's a laptop bag. Not a man purse, k?
2. Beanie. Fact: All guys look good in beanies.
3. Drone. For the creative guy on your list, who has everything, and of course if you have the budget to buy it. Cus it ain't cheap!
4. Patagonia sweatshirt. Something to keep him warm. :) Besides your love, of course.
5. Joggers. Comfortable and stylish. Some fashion any guy can get behind.
6. Watch. Super classy all-black watch that he's sure to love! A little different from your standard watch. Male-approved.
7. Card case. Zack prefers this over a bulky wallet.
8. Kershaw knife. As Zack always says, you can never have too many knives. Must be a guy thing.
9. Cold Brew Coffee Maker. So he can make you… I mean, himself, delicious coffee drinks at home, of course.
10. Down coat. A nice classic look to keep your man warm.
11. Skinny ties. If he has a job where he has to wear ties, make it fun with some cute skinny ones. Loving this Christmas one!
12. Telescopic Ladder. Great for if you're tight on space! This ladder folds up super small. Seriously genius! Now he can get on that honey-do list! ;)
13. Converse 2. Some new sneakers is always a good idea!
14. Amazon Prime membership. A great gift if you're not sure what to give. Access to tons of music, videos, 2-day shipping on almost everything and much more!
I hope this gave you some ideas!
What are you getting the guys on your list?
xo
p.s. past guides for him HERE, HERE and HERE!
Read More on Katie Did What