This post sponsored by Walmart. All opinions are my own.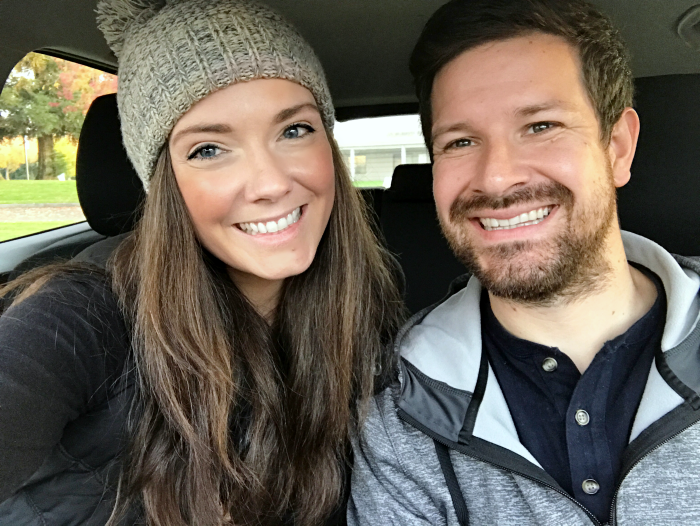 This is literally us, grocery shopping. Yes I'm serious. To be honest, I wasn't sure about this one until we tried it. I was skeptical about how smoothly this would all go. And I was proven blissfully wrong!
Let me explain…
It's the holidays, it's crazy busy, we have kids. I want to be able to do my grocery shopping when I want, from the comfort of my home, without having to wrangle up our little three ring circus. Better yet, pick it up and have it brought out to our car! We hadn't heard of this being possible until Walmart contacted us and asked us to try out Walmart Grocery Pickup.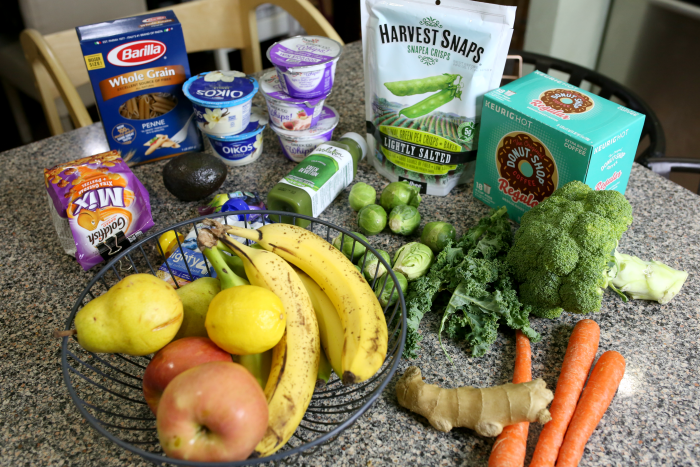 We picked up some groceries for the week, including Evolution green juice (did you know Walmart had this?! I didn't, but I'm glad they do! Love it!), Greek yogurt (my faaaaave), Snappea crisps (such a good, healthy snack! Sam devours these!), fresh produce and of course COFFEE. Always coffee. ;)
We also picked up all of the things we needed for an easy dinner that night (recipe below).
We were met in the designated pick-up area by a super nice Walmart employee who had all of our groceries on a cart. She went over everything and loaded them into the back of our car. We got a lot of produce and dairy products and it was all very fresh and the expiration dates were far away. It's literally exactly how I would have picked them out.
So, want to know what we made for dinner? A delicious and super fresh shrimp stir-fry, using all ingredients that we got from our Walmart Grocery Pickup!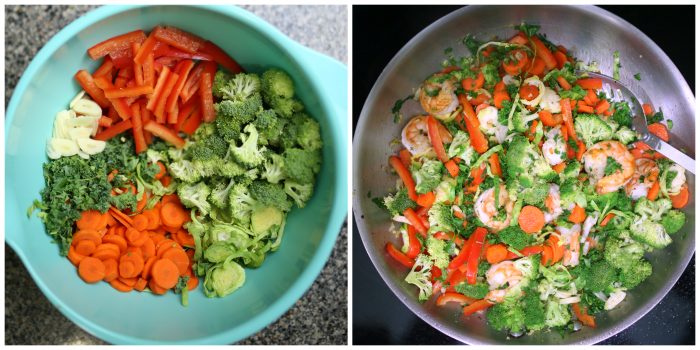 SHRIMP STIR FRY INGREDIENTS:
1 bell pepper, sliced
4 cloves of garlic, very thinly sliced
1/2 inch of ginger (or 1 Tbsp minced)
1/2 head of broccoli, chopped small
3 carrots, peeled and sliced
1 large shallot, halved and sliced
Handful of kale, chopped
5 brussels sprouts, sliced thin
1/2 pound of raw shrimp (we used peeled, 21/25)
SAUCE RECIPE:
(double if having over rice)
2 Tbsp brown sugar
4 Tbsp low sodium soy sauce
1 tsp rice wine vinegar
1 tsp cornstarch
1 Tbsp + 1 tsp water
Mix together vigorously and hold aside.
DIRECTIONS:
one. || Heat pan to medium-high. Add 1 Tbsp oil. When oil is hot, add shrimp and cook for 2 minutes. Sprinkle with salt and pepper.
two. || After 2 minutes, flip shrimp, dump all veggies on top and leave them alone. Drizzle an additional Tbsp of oil on top of veggies and sprinkle with pepper and continue leaving them alone. Let cook for 2 more minutes, then stir. Let cook for an additional minutes.
three. || Add sauce mixture. Cook for an additional minute or until shrimp is cooked through.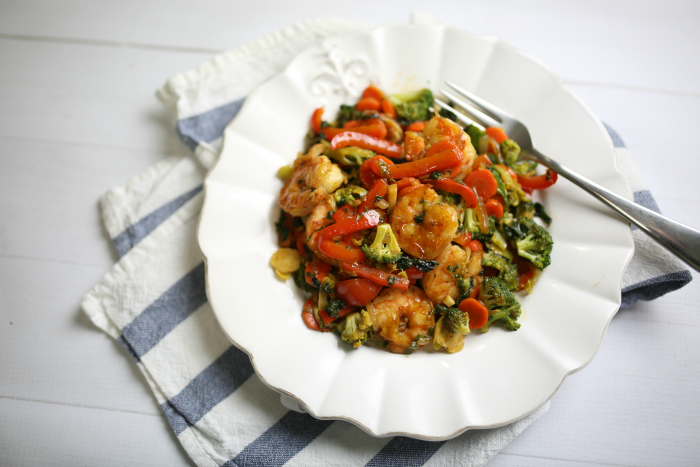 Devour.
SO GOOD. SO SO GOOD.
This is seriously the coolest experience and I would recommend it to anyone looking to save time and money! To be able to shop for your groceries from home and then just drive to the parking lot and have them delivered to your car, so you don't have to unload the kids and trek through the store? The biggest time and life saver ever! I don't think I'll be able to grocery shop normally again. ;) This was too easy!
Zack and I literally sat on the couch the night before and shopped from the super simple app. We got a huge variety of items, and it was all very easy to find and add to our order. I mean, it's Walmart- they literally have everything!
Plus, with this service, you don't actually have to go inside of Walmart! Jackpot! Pay Walmart prices without having to drag the kids around the store, wait in a checkout line and load everything back up into the car? Yes please!
This is going to come in especially handy this holiday season when we are extra busy and grocery stores are super crowded. We're hosting at least one holiday dinner party and this will definitely make things easier!
I am so excited about this service! Anything that can save me time at this point in my life, count me in!
Have you ever done a grocery store pickup before? HOW GENIUS, RIGHT?!
xo
Read More on Katie Did What