It's the mooost wonderful tiiime of the year! Finally. FINALLY. Guys, the holidays are my favorite time of year, and I know I'm not alone in sharing this sentiment. So I've been kind of really giddy to start posting holiday content here! I've held out for as long as I can!! Thanksgiving is this week, so it's time to start thinking holiday shopping!
First up is gift guide for BABY! Sophie is 10 months, so I've put things on here that she either has and loves, or that are on her own list! I hope this helps you if you've got your own little one(s) to shop for this year!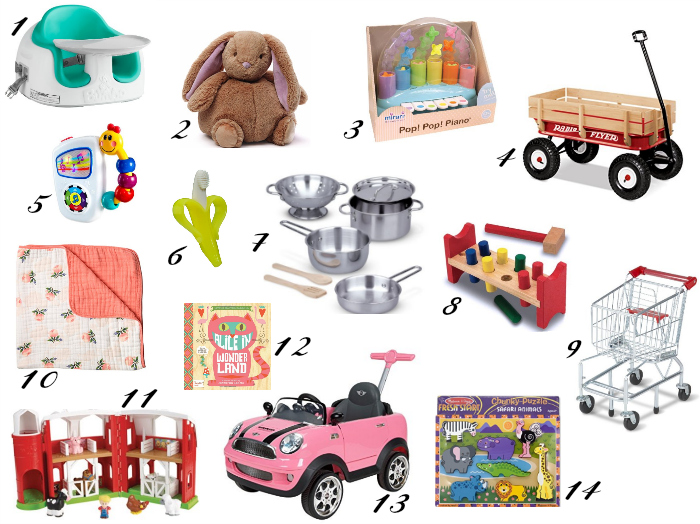 1. Bumbo seat || We use this all the time! It's perfect for outside or on the go!
2. Plush Bunny || The softest bunny that your baby is sure to love cuddling up with. :)
3. Pop! Pop! Piano Toy || We saw this in store, and it is super cute. Sophie was mesmerized too. Definitely on her list!
4. Red wagon || Classic. Every kid needs a little red wagon!
5. Toy Radio || Both of our kids love this, so much that we have two. It makes for a great car toy!
6. Banana toothbrush || Sophie is literally obsessed with this thing. It makes learning to brush her teeth FUN, and she uses it as a teether, let's be honest. It's the best.
7. Pots and pans || Because kids love to pretend, and what's better than playing with mom and dad's pots and pans? Having their own mini ones, duh! They fit perfectly in their toy kitchen, too. ;)
8. Pound-a-peg || A fun and satisfying toy for babies! Teaches colors and coordination!
9. Shopping cart || Teach 'em young, right? ;)
10. Blanket || A soft, beautiful blanket for your baby to snuggle with, sleep with, and be cozied up in is a must!
11. Fisher Price Farm || Such a cute farm set! We have this and the littles love it. Sophie crawls around carrying the little people and animals with her, it's the cutest.
12. BabyLit board book || We own so many of these, and absolutely love them all! They are super fun and colorful and simple, but ring true to the classic stories on which they're based. Definitely recommend these!
13. Ride on car || How freaking cute is this?! She'll be riding in style…
14. Wooden puzzle || We have a few of these puzzles and both of our little ones love them! They're chunky and easy for little hands to pick up.
Hope this gives you some fun ideas for the babies on your holiday list!
What are you getting for your littles?
xo