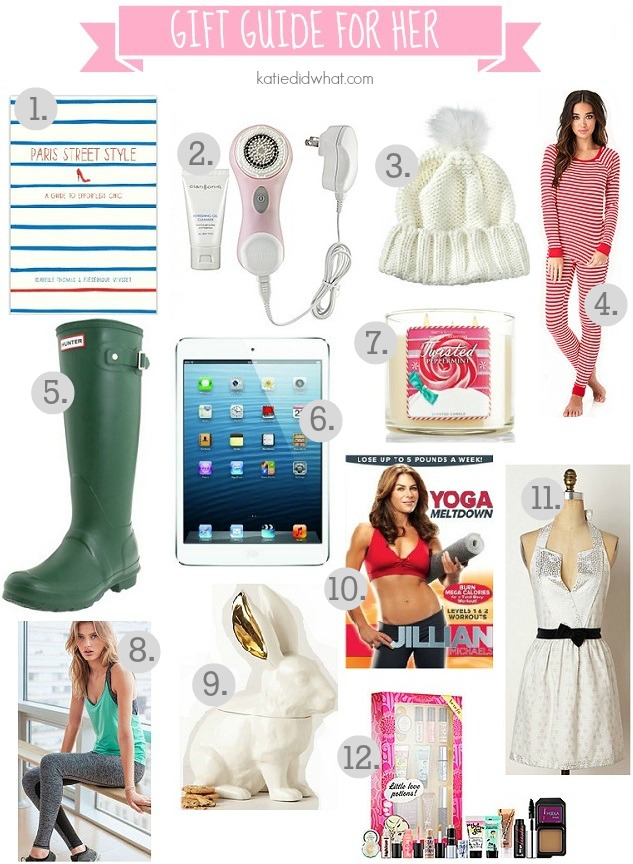 1. Paris Street Style book
2. Mia Clarisonic (in pink, duh)
3. Pom Beanie
4. Christmas Jammies
5. Hunter Wellies
6. iPad Mini
7. Bath & Body Works holiday candle
8. Victoria's Secret VSX workout clothes
9. Whimsical Cookie Jar
10. Jillian Michaels Yoga Meltdown DVD
11. Cute Apron
12. Makeup Gift Set
If you're having trouble thinking of gift ideas for the girls in your life (or if you yourself need some ideas for your own list!), I put together a few fun gifts for Christmas! I made sure to put a range of prices, too, to make it accessible whatever your budget may be! And I'm just sayin', I wouldn't mind finding any of these things under the tree this year. ;)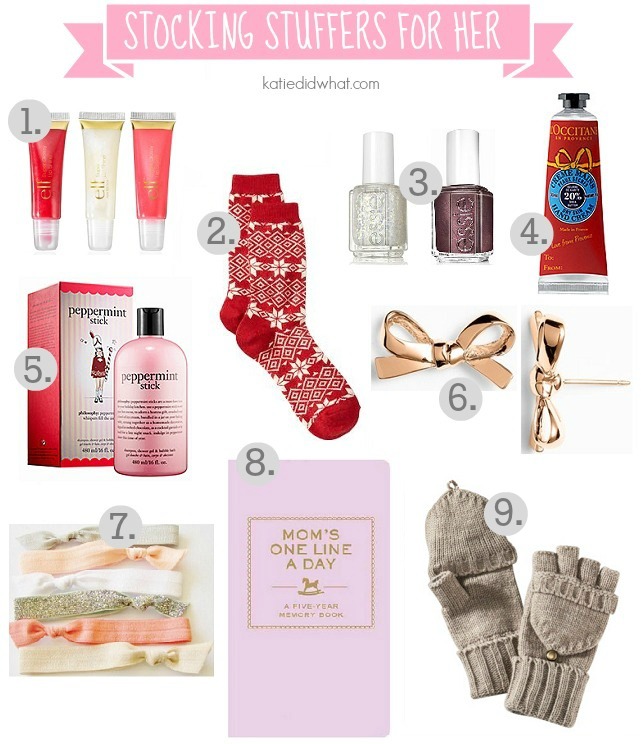 1. e.l.f. Lip Gloss
2. Fair Isle Socks
3. Nail Polish (pictured are Essie's Sparkle on Top and Sable Collar)
4. L'Occitane Hand Cream
5. Philosophy Bath Products
6. Kate Spade Skinny Mini Bow Stud Earrings
7. Elastic Hair Ties
8. Mom's One Line a Day Journal
9. Cute Gloves
Stockings: the best part of Christmas, if you ask me. Each year, we'd get up in eager anticipation of what Santa brought the night before, and we always got to open our stockings first thing. I just love how creative and fun you can get with stocking stuffers, and how magical the experience is, for children and adults alike! You never ever grow out of opening your stocking on Christmas morning, this I am convinced of.
I hope these fun guides help inspire you!
What's on your wish list?
RELATED: Gift Guide for Him
xo