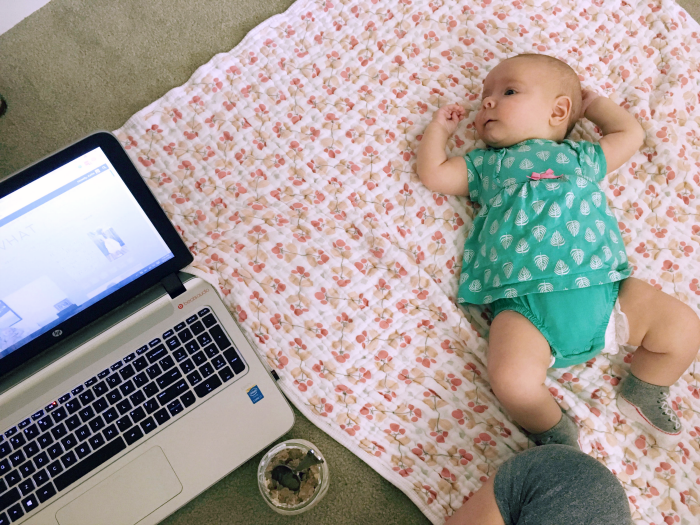 So today's post is a little different than most. I've gotten a few questions about how I manage the work/life balance, especially as a mom who works from home. And let me tell you, it is NOT easy. I mean, but really, nothing any of us does is easy, right? Being a mom isn't easy. Working from home isn't easy. Working away from home isn't easy. Being a human being in this world isn't easy. Period.
But life isn't meant to be easy, right? It's only meant to be lived. And so, we should all strive to make that living the best that we know how. And balance definitely helps, I think. So here are my thoughts on managing the work/life balance. I hope you find this helpful!
If you already subscribe to our email list, this might look quite familiar, as it's one of the emails we send out! For all of our best blogging tips and advice, be sure to sign up at the bottom of this post! :)
Let's talk about balance.
​
Blogging for an income requires a lot of time. The term "full-time blogger" in my mind means that you blog as a full-time job. Meaning 40 hours/week, give or take.
So, I consider myself a full-time blogger. I spend at least 40 hours every week on my blog. Some weeks it's closer to 60 hours, and some weeks it can dip to 10-15 hours. Consistently, I think 35-45 hours a week is what I give to my blog.
It's tough to talk about balance and knowing when to "turn off" because everyone is different. For me, my unwind time is checking out Instagram and Snapchat (username: katiedid_what) for a while. Well, some wouldn't consider this 100% off time because I am actively networking and interacting with readers or potential readers while doing that. Still, for me, I consider it off time, because it is relaxing and virtually mindless.
That being said, you shouldn't let blogging stop you from doing other things in your life. If you're having trouble stepping away from blogland or social media, it might be time to set some rules for yourself.
Set aside a chunk of time (you should determine how much) to read other blogs and comment on them. Set a separate time slot for interacting with others on social media. I recommend having a few shorter time slots for social media throughout the day, as you're going to want to stay current.
Usually, in the beginning stages of blogging, time spent reading and sending emails is not really an issue. However, there will come a time when you'll need to give yourself some ground rules when it comes to email, like setting certain time slots throughout the day to read and respond to emails. You'll be amazed at how efficient your email activity becomes when you are limiting your time spent in your inbox. This is something I'm still working on. ;)
A Typical Blogging Day for Me
Every morning I re-read my latest blog post and make any necessary changes. It's already live on my blog because I always schedule my posts ahead of time. Consistency in posting time is important and using the scheduler available in WordPress ensures that my posts go live at the same time every single day. Then I promote my post on various social channels. This takes about 15 minutes.
Next, I check my email and respond to whatever is necessary. This takes an average of half an hour. These emails usually include pitches from companies, questions from readers, daily/weekly reports from social networks and a whole lot of back and forth with various brands/companies regarding terms of work.
Then I will take a look at various reports outside of my email from the previous day for things like affiliate sales, traffic, social interaction, advertising stats and more. This takes about half an hour. I like to take notes on what is working and what isn't.
Next, I'll blog surf and comment on other blogs for a while and then check a second round of emails that usually comes in. This is another half an hour.
After that, most days it's time to start work on the next day's post. This will generally consist of reviewing agreements/contracts/requirements for posts (if sponsored), taking product shots inside the home, or traveling somewhere for some outfit photos or other product shots. This process takes about 2 hours. It used to take one before we had kids! :)
Later in the day, it's time to sort and edit the photos from the shoot. This takes about an hour. A typical photoshoot for a blog post will have 50-100 photos, of which I will use 4-6.
Then, it's time to write the post, create affiliate links, upload images, proofread and save to drafts. This usually takes another hour.
Somewhere in there, add an hour for Instagram, Twitter and Facebook networking and creating Snapchat stories. Also add another 15 minutes for responding to comments on my blog.
So that's 7 hours.
I know you're saying, "that's not full-time!"
Well, in any given week, the following things are generally tacked on somewhere in there:
– creating, sending and following up on invoices
– reviewing contracts and offers from companies
– adding a 6th day for a weekend blog post
– adding an hour or two of social networking each weekend day
– pitching companies that we want to work with
– updating my media kit
– reacting to various reports (example: I have heat map software that tells me where people are clicking – so I move things around on my site accordingly)
– creating pinnable images for promoting older posts on my blog
– much more
There is really an endless amount of things that I could list above, but what you see are the main ones that take up my time.
With all of that going on, it's important to have some structure as to where I spend my time. I also make sure to split up my days- actually, the babies make sure to do that for me. ;) When they're awake, I'm focusing on them. And if there is a deadline that I need to get done ASAP, I'll make sure they are occupied and engaged in something fun so I can get my work done. This is definitely a challenge, and sometimes I just wait until nap time (glorious nap time!) to hustle. I also always set aside time each day- whether it's first thing in the morning or after dinner- whenever I can!- to work out. Exercise is a huge part of my lifestyle, and something that keeps me sane. I find when I schedule it in- like physically write it into my schedule- it makes it easier to not skip. Plus, it makes me happier and a happy wife/mama is a happy life for everyone! Right? Right!
It really is up to you to set your own boundaries and find a balance between blogging and life. For me, it's quite easy since blogging is such a big part of my life. I don't have a problem putting in some extra time if necessary. Sometimes (most of the time!) that means the work/life lines blur, and really to me that means I'm doing what I love! Enough that it comes naturally and also doesn't feel like work. And I still make time to do fun things like play dates and girl's nights out, or family adventures. I just end up working at unconventional hours then. And that's okay! I actually prefer it. Not having to wake up to an alarm and commute to work every day is worth every extra minute that I have to put into my blog.
And if you want to see a typical day (when Zack is off at work), check that out here!
This is an excerpt from my email series- full of my favorite tips on blogging! Sign up below to receive them all! :)
Also, if you are thinking about starting a blog, be sure to check out this post! And let me know if you'd like any more tips on anything else.
Happy living, friends!
What are some ways that you manage your own work/life balance?
xo