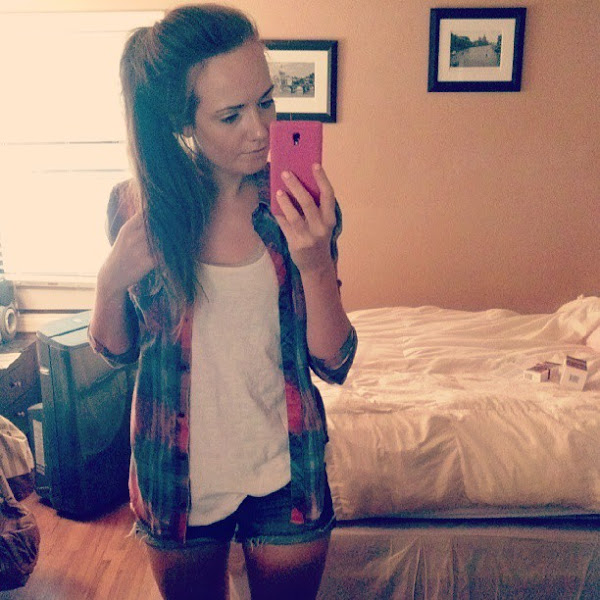 flannel: pacsun (similar
here
)
tank top: h&m
shorts: ae

1.// What is one of your silly quirks? Or something silly that you get excited about.
Oh, boy. What isn't one of my silly quirks? I mean, really though. I like to dance and make up songs while I cook/bake/am in the kitchen doing anything. I am obsessed with kettle corn and red vines, and pretty much have to have them whenever watching a movie. I constantly quote Clueless in my every day life. Whenever I'm at Sushi, I eat the ginger straight. And a lot of it. Because it is delicious and also did you know, a palette cleanser. It cleanses the palette. I will rarely just eat a piece of pizza as-is. I must always dissect it properly, usually involving taking the mushrooms/onions/beef off of it. I also like to add pineapple to my pizza. Try it, it is delicious. Oh, wow. Just re-read the question and it said "ONE of your silly quirks" and oh well. I'm a quirky person. Moving on.

2.// Favorite movie, song, or tv show?
Movie: Clueless. Princess Bride. Indiana Jones trilogy.
Song: Moonlight Sonata by Beethoven. I'm not kidding. Bet you wouldn't have guessed that one, huh? ;)
tv show: Gilmore Girls.

3.// Tell us something we don't know about you.
Oh, gosh. Read my answers in the first question. I think that was enough random facts about me.

4.// What's your favorite or go-to outfit? (pics please)
Leggings, boots, chambray. Easy, comfy, done.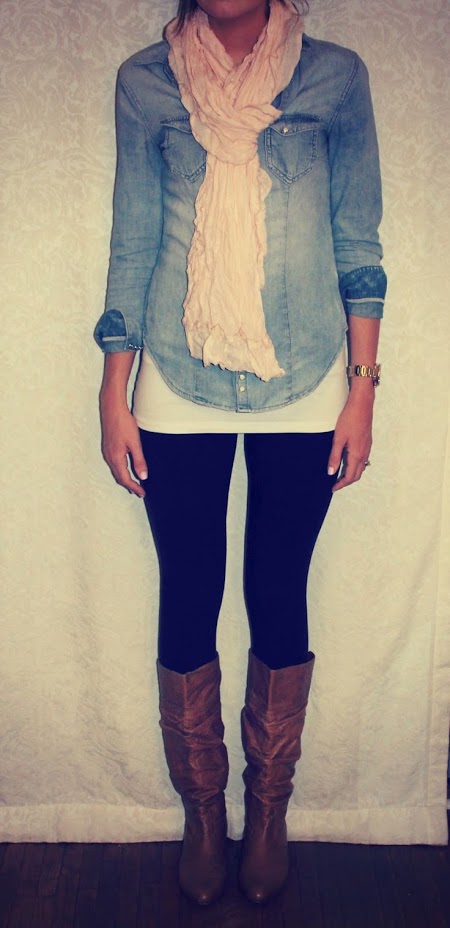 5.// Who or what inspires you?
I get inspired by so many things. Seriously, there's inspiration to be found in everything, if you look hard enough. Kind people, a beautiful sunset, cold weather, warm weather, the beach, the mountains, my faith, the strong women in my family (my mom, aunts, grandmas, sister-in-law, mother-in-law, cousins), my dreams, my hopes, smiles, laughter, tears, heartache, joy. Everything.

6.// What's your favorite part of marriage? Or what have you learned since getting married?
My favourite part of marriage is having sleepovers every night. I mean, that never ever gets old. Especially for someone like me who haaaaates sleeping alone/being alone. Since being married, I have learned just how big my heart is, and that I love my husband more and more each day, and isn't that crazy and awesome and scary all at the same time? I love it. 

I was tagged by the loveliest Shio from Sweetnessaboos! 

If you want to play along, just pick any 6 of the questions below and answer, and leave a comment with your link! I'd love to read yours! :)

1.// What is one of your silly quirks? Or something silly that you get excited about.
2.// Favorite movie, song, or tv show?
3.// Any funny stories to share that have happened recently?
4.// Tell us something we don't know about you.
5.// What's your favorite beauty secret or product?
6.// What's your favorite or go-to outfit? (pics please)
7.// What's a personal trial you had to overcome?
8.// What's a current dream that you are hoping to achieve?
9.// What's the coolest thing you've made? (food, craft, anything)
10.// Who or what inspires you?
11.// Share one of your favorite pics. Tell us why it's your favorite
12.// What's your favorite part of marriage? Or what have you learned since getting married?

xo
p.s. I'm hosting a fun giveaway with some awesome ladies! We're giving away a $100 Target gift card, $100 Nordstrom gift card, $50 Starbucks gift card and ad space on 18 blogs! Sweet, right? Check it out and enter below! :)