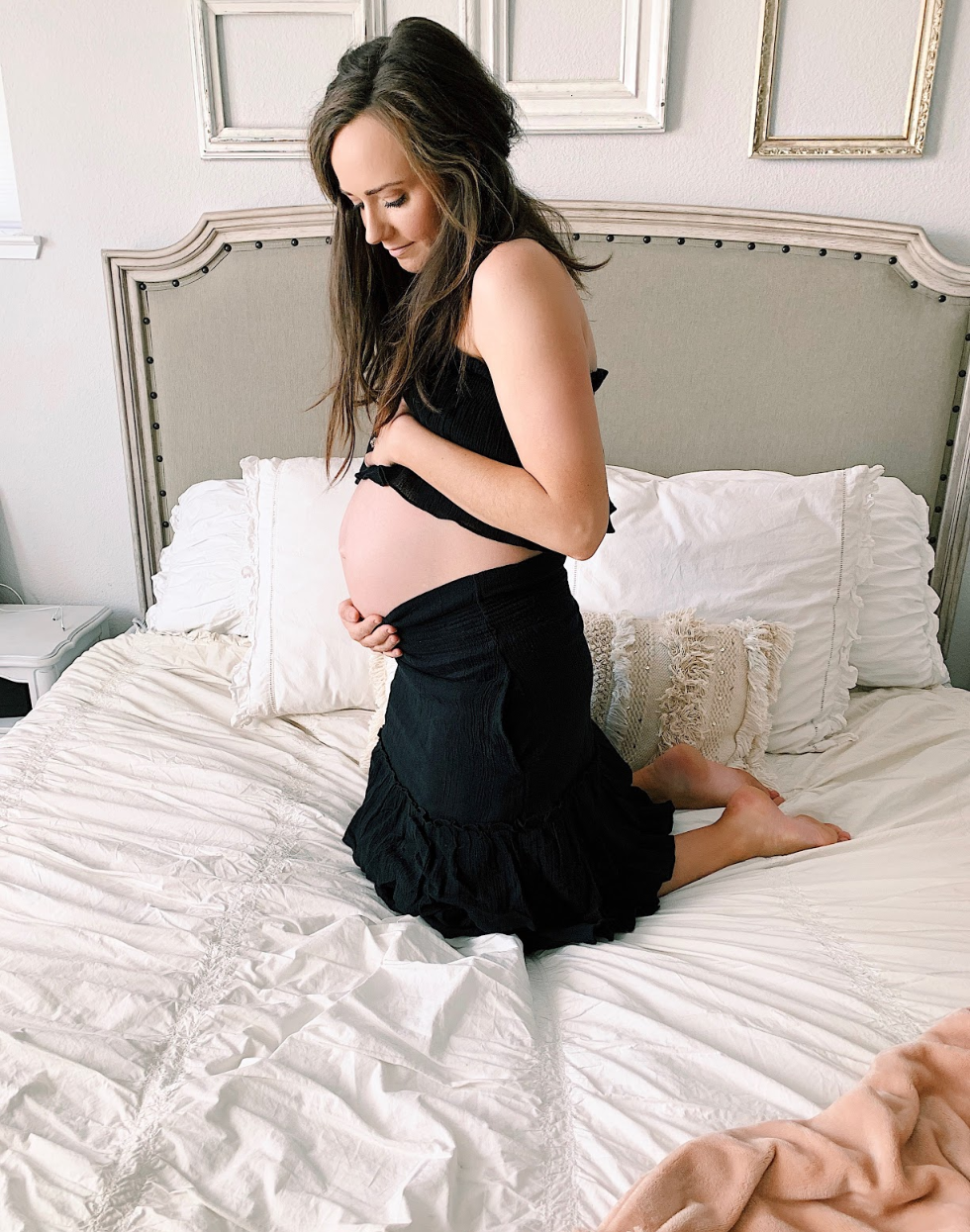 TWO PIECE SET
Okay, now that I'm in my third pregnancy, I feel like I've seen and done it ALL. lol. I also feel like I'm somewhattttt of an expert. I mean, not an expert by any means (I'm still winging it most of the time and have no clue what I'm doing, ha!) but ya know. I been around this crazy hormone-fueld block a couple of times, and I've figured out a few things that really work for me! And that, my friends, is what I want to share here today! My pregnancy must-haves, the 3rd time around. These are my tried and true, number one stunnas, the things I CANNOT LIVE WITHOUT while I'm growing a baby. Let's get into it, shall we?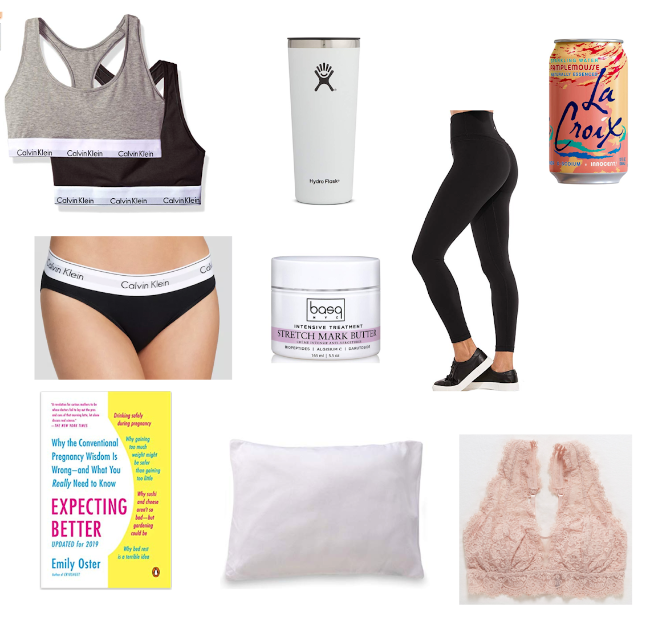 COMFY UNDIES AND BRALETTES.
Literally, you can take your stringy little thongs and shove them you-know-where, all I want are the comfiest undies you can find. For me, Aerie and Calvin Klein are THE BEST, hands down. When pregnant, I size up one because, ya know, everything is expanding. Especially those hips. ;)
Favorite undies: Here, here and here.
As for bralettes, again, COMFORT IS KEY. I don't want any underwire, nothing that digs into my skin or makes me want to rip it off the moment I walk in the door (although I suppose that has it's perks, haha). For that reason, my most-worn bra and the one I reach for time and time again throughout pregnancy, has been THIS ONE. I also LOVE these (again, Calvin Klein knows what they're doing!) and this pretty lace bralette! And again, with the whole expansion thing (this is actually one of the areas I'm all for expanding, and a huge perk for my naturally-tiny self!), you'll want to order a size up for the end of pregnancy/nursing period. So far (I'm 30 weeks now) I'm still comfortable in my regular size, but am planning on also ordering a size up in a few of my faves.
Favorite bralettes: Here, here, here and here.
LEGGINGS.
That's it. I'm pretty much living in leggings, and have been for the whole pregnancy. They're great for the awkward bloat stage at the beginning, and they're great for the growing belly and thighs, they're great for EVERYTHING. My favorites? I have a couple. Blanqi Maternity Leggings. They are SO comfortable and stretchy and the belly support is everything! They also don't dig into you, anywhere, which is what my normal beloved holy grail leggings have started to do (fair enough, they are not maternity after all). Some more favorites are the Lululemon Aligns– I sized up one and have been LIVING in them, too. I like them because they are completely opaque (not at all see through!), super stretchy and make the booty look fantastic. I also ordered this pair from Amazon that were promised to be Lululemon dupes (and at just $24!) and am happy to report, they are a fantastic alternative, at a fraction of the price! GET THEM. You won't regret it. Again, size up for the bump! These Aerie leggings are another amazing Lululemon dupe, and also under $25- and my regular small has fit me throughout my pregnancy- the stretch is so good! They don't have as much compression as the Amazon ones, but are more comparable to the Lululemons in the seamless waistband and overall comfort! These are my favorite everyday leggings! Also not see-through. A great maternity style are Zellas! Not see-through and just as amazing as the regular ones, that are my all-time favorite and most-worn leggings ever!
Favorite Leggings: Here, here, here, here, here and here.
SKINCARE.
I loooove making my own glow serum with just jojoba oil, frankincense and lavender essential oils. SO simple and gentle for all skin types and leaves your skin GLOWING!! I make my own with Young Living essential oils, that I absolutely love- the only kind I use! You can grab your own here! I also love this body butter (I alternate between the oil and this) every single night. If I'm feeling extra dry, I'll apply in the morning too, but let's be real. That doesn't happen very often. This stuff is just HEAVENLY, guys. I love that the cream is unscented, and it's just this whipped up fluffy goodness that I want to just roll around in, no joke.
Another great stretch mark prevention secret that I use? Just regular coconut oil! I recommend that if you're on a budget or don't want to deal with all of the creams and whatnot. I think coconut oil is fantastic! And you can get a gigantic tub here!
Favorite skincare: Body butter, essential oils glow serum, coconut oil.
PILLOWS.
I can't stress this enough. PILLOWS ARE LIFE. I literally sleep with a body pillow, one in between my legs and one behind my back. Being surrounded by random pillows helps prop things up and make things comfortable. It takes a while sometimes (especially now in the third trimester!) to find the right position, but it's worth it to get some sleep! I'm loving toddler pillows! They are the perfect size, and soooo soft!
Favorite pillows: These, and this one looks amazing and has great reviews! This one also looks great and this one is more like the one I use.
SPARKLING WATER.
Skipping the champs, but it makes me feel like I'm drinking something fancy. I can't get enough of sparkling water! We buy the flavored ones from Costco and I pour into a wine glass to feel extra fancy. ;)
Favorite sparkling waters: San Pellegrino, La Croix and this flavor is the bestttt!
TUMBLER.
This is crucial in making sure you stay hydrated! I refill mine multiple times a day, and always have it with me! This ensures that I am never without water- which also means lots of trips to the bathroom, but in the third trimester, that's happening no matter what! ;)
Favorite Tumblers: Here (with this straw attachment), here and here.
BELLY BAND.
I have a few that I love. I use one similar to this one when I work out, for extra support. I use this one when I want to wear my pre-pregnancy jeans, and it's been amazing! I've also heard great things about this one.
Top picks: Here, here and here.
BOOKS
This book was a first-time read for me this time around, and I wish I'd read it my first pregnancy! It is SO good, and full of facts and statistics to help you form your own opinion on everything you want to know! Highly recommend for any expecting mama! I'm currently reading this one and love it- hilarious and an easy read!
Favorite pregnancy books: Expecting Better, Bringing Up Bebe, The Girlfriend's Guide to Pregnancy.
Hope this post is helpful! Please share with your expecting mama friends! And let me know of any of YOUR pregnancy must-haves in the comments below!
xo