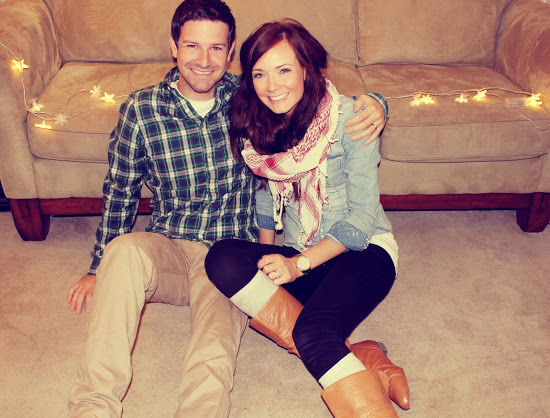 Scarf: French street vendor
Chambray: h&m
Pants and Socks: Forever 21
On him, Top: A&F, Pants: Levi's
1. So that cold fall weather I've been coveting?  Well, I think it's safe to say it's here!  Annnnd our pilot light hasn't been lit yet, so that resulted in a night of freezing and being wrapped in a cocoon-like blanket, but now thanks to my parents I have my new best friend in the shape of a Heat Dish, and it is glorious.  And I'm taking this sucker with me everywhere.
2. I was so overwhelmed by the sweet comments you all left on my last post.  Thank you so much to all of you for your sweet words and your prayers for my mom.  You made my heart so happy and full, it could burst!  I'm one lucky girl.  :)
3. Zack and I went to bed at 9:00 last night.  On a Saturday night.  A Saturday night at 9:00.  Yes, we are crazy party animals.  No, but really, there was a good reason.  He had to be at the news station at 5:30 am.  So, here I am.  It's almost 6am on a Sunday morning, and I'm drinking my coffee and eating my oatmeal and waiting to see my husband on the tee-vee.  You know, life could definitely be way way way worse.  ;)
And today I'm thankful for… Flannel sheets.  I told you, it's cold, guys.
xo
twitter // facebook // pinterest // instagram @katie_did_what
Read More on Katie Did What