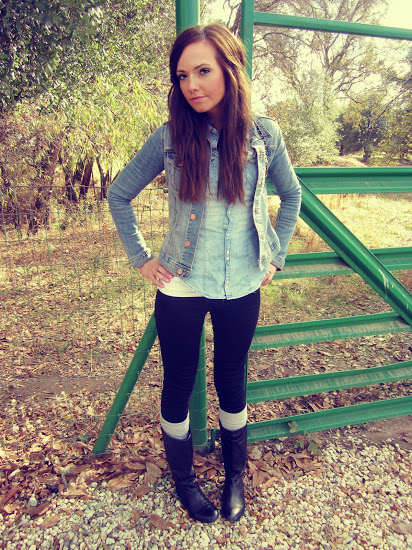 pants and socks: Forever 21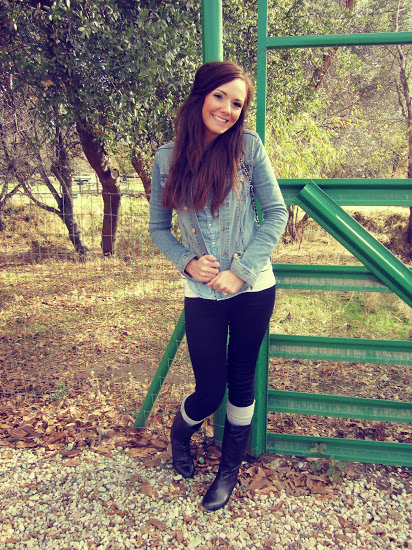 So, I broke one of the cardinal sins of fashion, in my humble opinion, and that is the no denim-on-denim rule. That's right.  The "Canadian Tuxedo" is my favorite thing to call it.  But really, this rule has been broken quite frequently in the past few years, I've noticed.  And this isn't even a true C.T., as my denim on denim occurs solely on the upper part of my body.  So, there's that.  But really, it was shocking to me how much this actually works, and doesn't look like I have no fashion sense whatsoever, as I feel like it should, you know?
So, all this to say, we went to a luncheon on Saturday at a vineyard that my parents have a membership to, and the food was delicious and the cookie spread was even better, and Zack had some Capri Suns and I wore denim on denim.  And I liked it.  To quote Katy Perry, kind of.  And it was absolutely freezing, so what you may not know is that I was wearing my super warm amazing leggings underneath those pants, and two pairs of socks and two tank tops plus a long sleeve top underneath all that denim.  I am the layering queen, this is the truth.  And I am here for all of your layering needs, if you'd like.  I should teach classes.  It's a gift. ;)
And today I'm thankful for… My dad.  You know, he came over last night solely to turn our pilot light on.  That's love right there.  We have heat now!  Oh, happy day!
xo
twitter // facebook // pinterest // instagram @katie_did_what