So, I hit up Sephora.com (alwayyyys a dangerous thing to do- mainly because of how easy they make it to simply click the lil' "add to cart" button) and I thought I'd share my purchases with you lovelies, and do a few reviews on products that I believe are AMAZEballs.
1. St. Tropez Self Tan Bronzing Lotion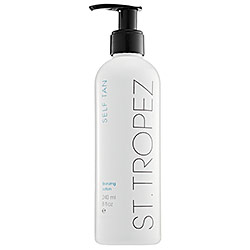 This stuff is, in a word, AMAZING. It is my holy grail of self tanners. Seriously. I swear by it. I have tried millions of self tanners in my day (including, but not limited to, L'oreal sublime bronze, Jergens, Neutrogena) and they all are sticky, streaky, smelly messes compared to this. It delivers. FINALLY, a self tanner that does what it claims it will do! It's easy to apply, it doesn't smell terrible, and best of all, it leaves you with a natural looking, BROWN -NOT ORANGE!- tan!! Yay! For people like me (self-proclaimed tanorexics who are deathly afraid of tanning beds and are naturally pale) this stuff is like heaven in a bottle. And for the $40 price tag? TOTES worth it. (On a side note, I also own and have regularly used the St. Tropez Bronzing Mousse, and it is amazing too, but I personally prefer the color that the lotion gives.) Also, I don't understand that 4 oz. is $30, but for only $10 more you get double the amount (8 oz.) Really? Please tell me no one ever buys the 4 oz bottle…
2. Clarins liquid bronze Self tanning lotion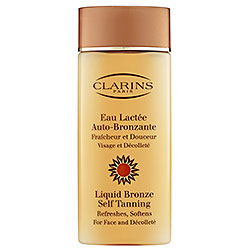 I read in some magazine (probably Cosmo or Marie Claire- can't remember) that lots of celebs use this as a face tanner. Well, obvs, I had to give it a go, since as great as my beloved St. Tropez is, it just isn't really suitable for the face. So far, I love it. I only use this on my face and "décolleté" as the bottle suggests, and it gives me a nice tan glow on these places where it's harder to do so. It's much more subtle than St. Tropez, but it makes it so that I don't HAVE to pile on the powder bronzer to try to match my skin to my face… skin. If that makes sense. (But it usually doesn't stop me from doing so anyway.) The price tag is pretty hefty, at $30, but I know it's going to last a longggg time, since I only use it on a very small area.
3. Make Up For Ever HD Foundation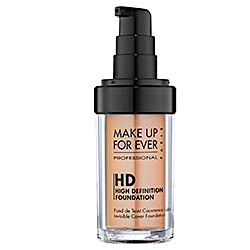 Okay, I have tried lots and lots of liquid foundations, big and small, expensive and cheap, and in my search for a good "wedding day coverage" foundation to last all day and make me flawless for pictures, I stumbled upon Make Up For Ever HD. Okay, okay, so I didn't exactly "stumble" upon it, as I've used it before, and knew I loved it. Instead, I decided to "come back" to it, because it really does look great in pictures and provides excellent coverage. Plus, it's sooo smooth and velvety on the skin, yum. I got the color 125, and plan on blending it with my Clinique Superbalanced foundation for an even, hopefully flawless-looking coverage all day (and night!)
Speaking of the wedding, it's exactly 2 WEEKS FROM TODAY!!!! Eeeeek! Everything is still falling perfectly into place. We meet with our venue today to give them our final numbers and go over last minute details, I have my final dress fitting on monday, we're putting our favors together next week, and we are in the process of printing our programs! (We're doing them ourselves, so it is a bit of a process.)
I really can't believe how close we are. Any advice from seasoned brides?
And did you like my reviews? Should I do more posts like this? Let me know, loves!
Read More on Katie Did What