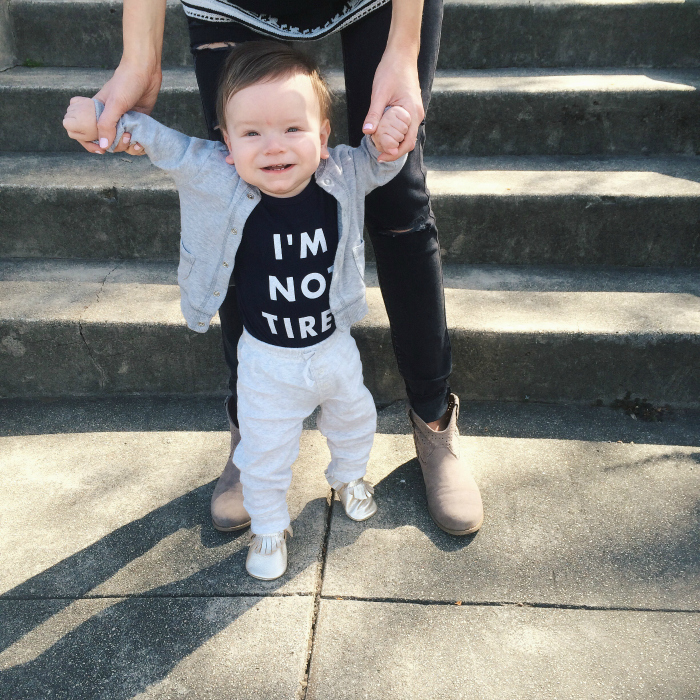 I feel like I've had ants in my pants (…and I want to dance! Had to!) all weekend. You know the feeling? Wanting to just go go go, having a million things on your to do list, not because they must be done, but simply because you want things to do? Yes? And thus, it was an eventful weekend! We did things! A lot of things! So yay!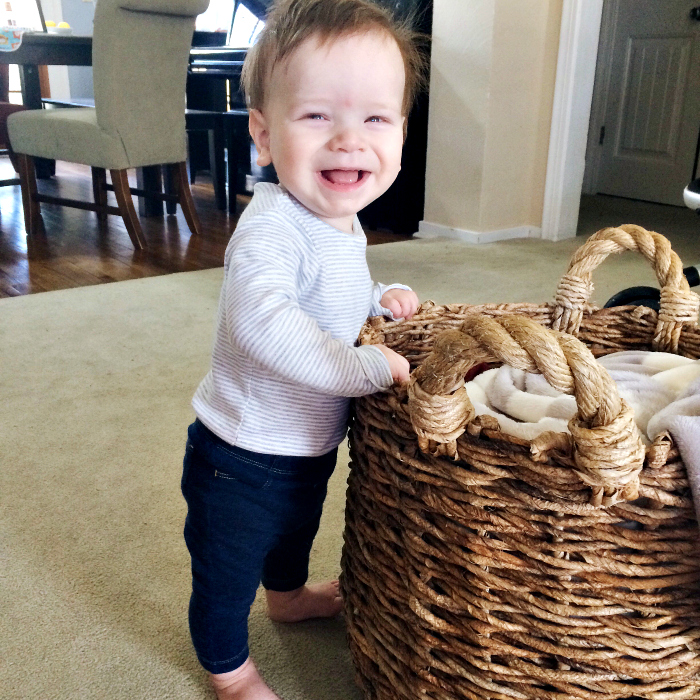 I've been on a bit of a basket kick lately. Like, give me all of the baskets, please and thank you. I've been searching for THE PERFECT BASKET and I found it! Well, I found three to be exact! And they all serve their perfect basket duties quite nicely, I'm pleased to report. And if anyone else is having a "basket moment" as well, I will share my Basket Haven (err… my everything-home-related haven, really): HOME GOODS. Thank me later.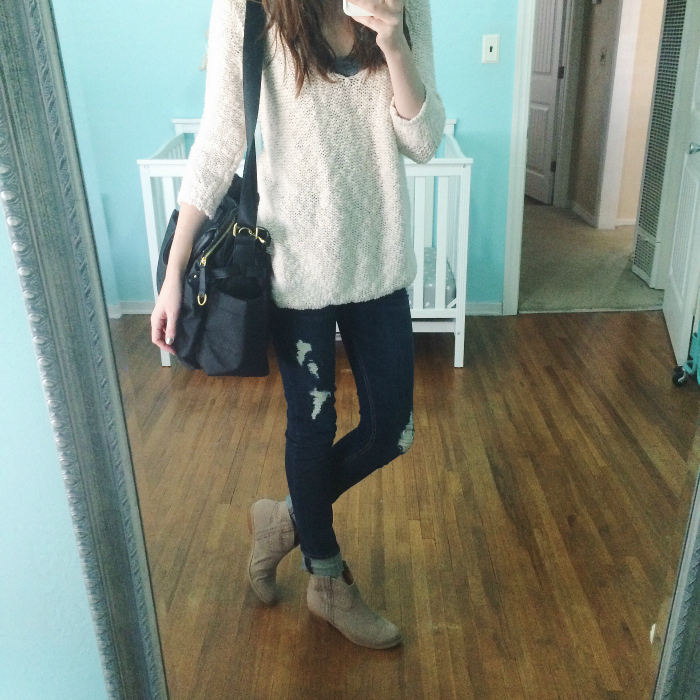 sweater: zara via thredup // jeans: hollister (I KNOW, BUT THEY FIT SO GOOD OKAY) // boots: target (last year, sadly, but similar here!) // bag: skiphop (I love this bag so hard!)
ThredUP has done it again, folks. This sweater is from Zara and I don't want to take it off. Best part is I got it for like a pittance of the regular price, and it's like brand new! ThredUP has my heart, forever and ever amen. (use this link if you've never ordered there before for $10 free!)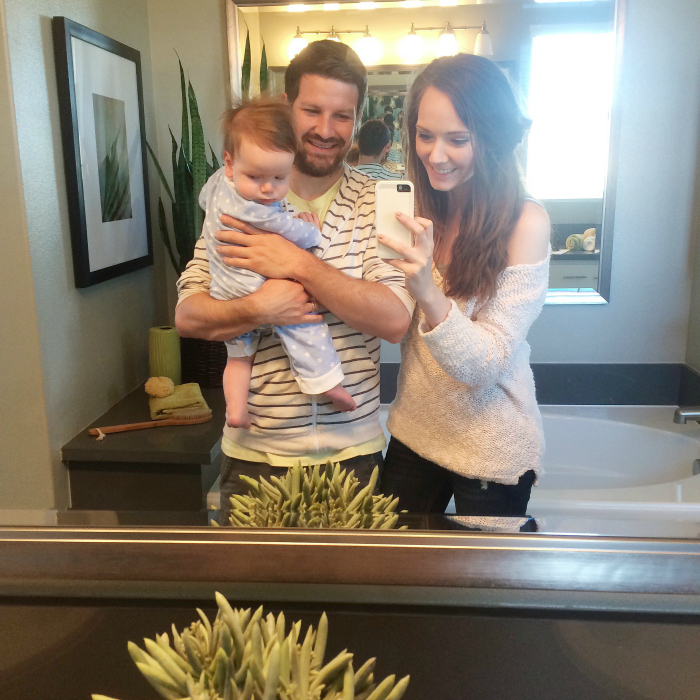 On our way home from Home Goods (ha!) we decided to stop by some new home developments and walk through, pretending to be in the market, because WHY NOT. Growing up, we used to tour model homes a lot. It was a fun and free family activity to do on the weekends, and I remember like begging my mom and dad to go look at model homes. How silly, right? So we did that this weekend too. And it was fun. Sam was a fan. I think we're ready to move in! ;)
In addition to my beautiful new baskets, we also got a pretty little table for our entry! I've been in a huge redecorating mood lately (nesting!) (but no I'm not pregnant!) and am slowly adding things to make this house feel more like my own. It's fun. And this has just reminded me, I totally need to get a house tour up on this blog! It's longggg overdue, and now that I'm pretty happy with how it looks, I think I'm ready to share.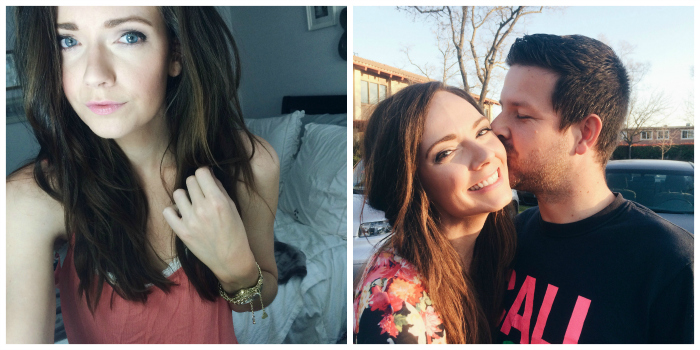 I attended my first crab feed, which I wasn't sure about, because I don't even really care much for crab. And funny side note: I kept saying "crabs" instead of "crab" and Zack made sure to correct me, because as he so correctly put, nobody likes crabs. So anyway. Zack's parents watched Sam and we made it a date night! It was a crab feed for the school where Zack works and so we hung with the fellow teachers and ate copious amounts of food and it was actually really fun! And surprise: I like crab! Like, it was delicious! It also helped that my dashing prince charming did all of the hard work, and I just got to reap the benefits aka eat delicious crab. Yeah, I know I'm lucky. :) And of course after a few hours we were both so ready to get home to Sam-a-lamb! We even joked that we kind of wished he was still awake just so we could kiss him. And he was! Because, of course he was. We weren't mad about it. ;)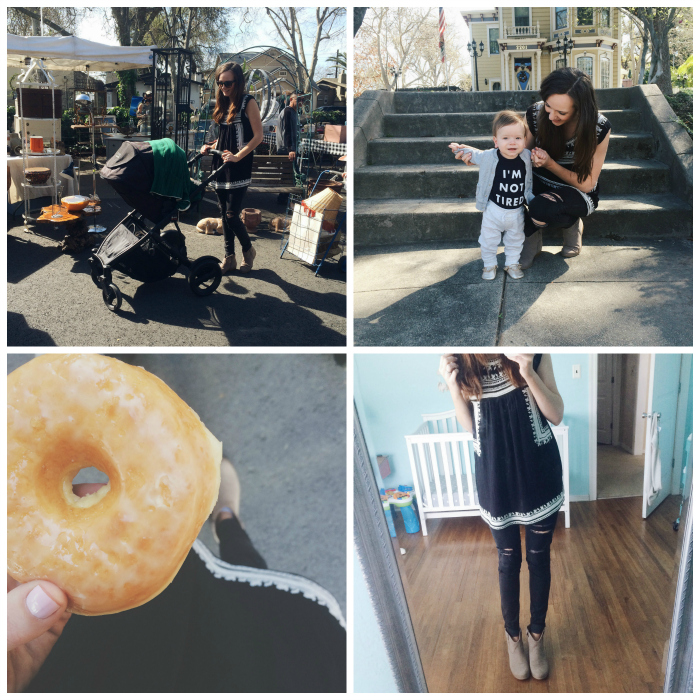 top: forever 21 (old, but similar!) // jeans: american eagle (BEST EVERRRR!) // boots: target // sam's onesie: c/o hello apparel // sam's shoes: c/o stitches and soles
We also went to the antiques fair on Sunday! The weather was GORGEOUS and it literally felt like summer. We walked around, hmm-ing and ha-ing over a million things and then of course all we bought (at the antiques fair) was a donut. I'd say that was money well spent! But we got lots of ideas! It's like my mama always said, look at Restoration Hardware, Anthropologie, all of the super crazy expensive but beautiful places, and draw your inspiration, and then go elsewhere to make it come to life. Same goes for antique fairs, apparently.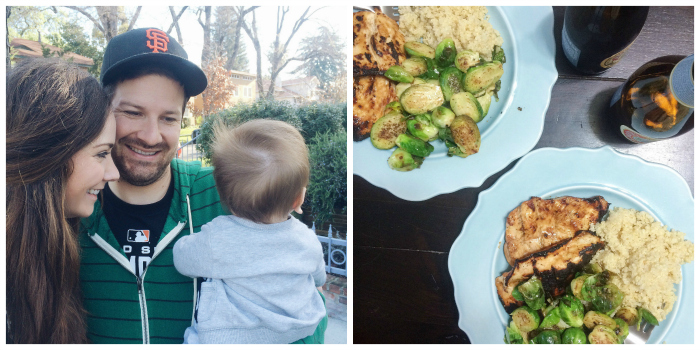 Also, it was daylight savings time, which is SO POINTLESS, but surprisingly Sam did great with the time change! Didn't even notice it! I'll maybe be singing a different tune tomorrow, but for now, I'll take it! And that extra hour of daylight is pretty great, let's be honest. We ran to Target (I told you, I COULD NOT SIT STILL yesterday and Zack, bless him, catered to my every wish) and then had a BBQ in our backyard- chicken, brussels sprouts and quinoa with lemon and garlic! It. Was. Glorious. Oh sweet springtime, I can feel you. And I couldn't love it any more.
I hope your weekend was beautiful! Now let's make this week just as good. I know we can.
xo