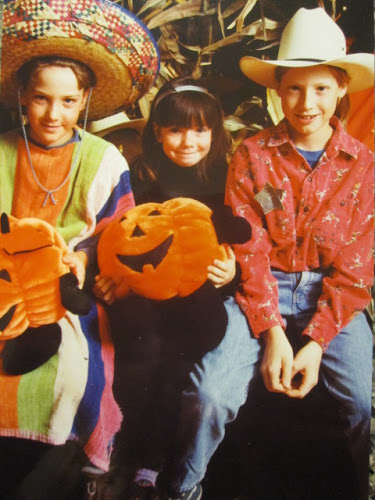 Happy Saturday!  I just love Saturdays, don't you?  This Saturday is going to be spent relaxing, listening to various Pandora stations (The Eagles is on right now, and it is pretty great), writing a packing list for Tahoe (in 3 days, wooooot!) and hangs with Zack's brother for dinner.  They bought 40 lbs of chicken between the two of them.  Yeah, I don't know.  Sometimes I just let him do his manly thing.  I think it's healthy for a marriage, right?  Right.
So, this picture today is from Halloween a few years ago (ha) and involves my brothers and me in really awesome costumes.  I mean, just check out the brother on the left (that's Josh) in his beach towel.  Yes, that is a beach towel.  And my brother on the right (Jeremy) in his Levi's.  And then there's me with my black outfit and little cat ears.  I love that every single year, we were encouraged by my parents to get creative with our costumes.  My parents never ever bought us costumes from the store.  Never.  I mean, I guess that was mostly because they were too expensive and we weren't the wealthiest family on the block, but I love that we were taught to be creative and to use what we already had.  And to this day, that is always what I have done each year, and I plan on doing the same thing with my kids.  Plus, homemade costumes are just wayyyy better than the store-bought ones, you know?  Especially when they involve beach towels.
What's your favorite costume that you made yourself?
xo
Read More on Katie Did What