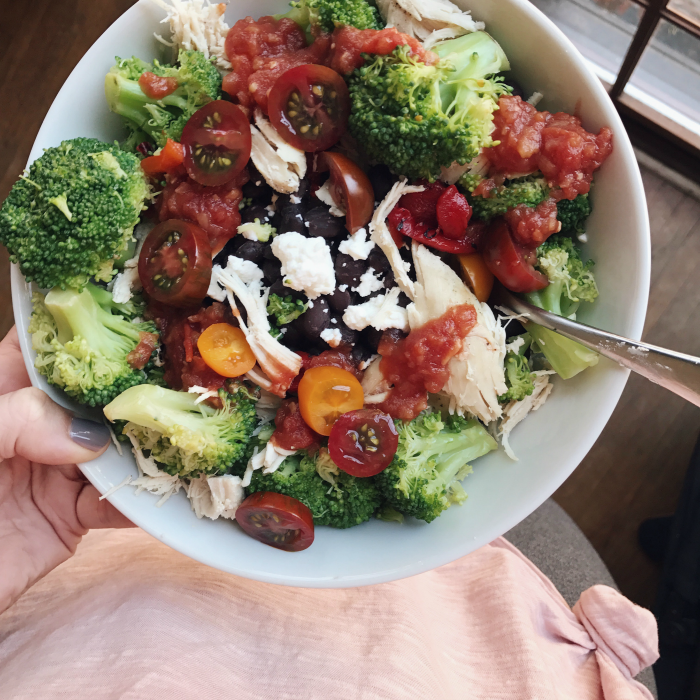 Hey guys! So, today I wanted to share some favorite current things I've been eating, because food is life. ;) If you follow my IG stories a lot, you may notice I try to share what I'm eating on a regular basis, and you might also start to notice a trend with my lunches: I literally eat slight variations of the same thing every day for lunch. It's just how I roll. So today I thought I'd share some of my favorites from recently with you!
Okay, so let's talk lunch. It is the hardest meal for me, usually, for some reason. It's mid-day, I'm tired after a busy morning of dropping Sam off at preschool and working out and then doing some sort of playgroup activity or play date with Sophie, so by the time 1:00 rolls around, I'm looking for something quick and easy, but also healthy and filling. So some sort of bowl always hits the spot. Here are my current faves…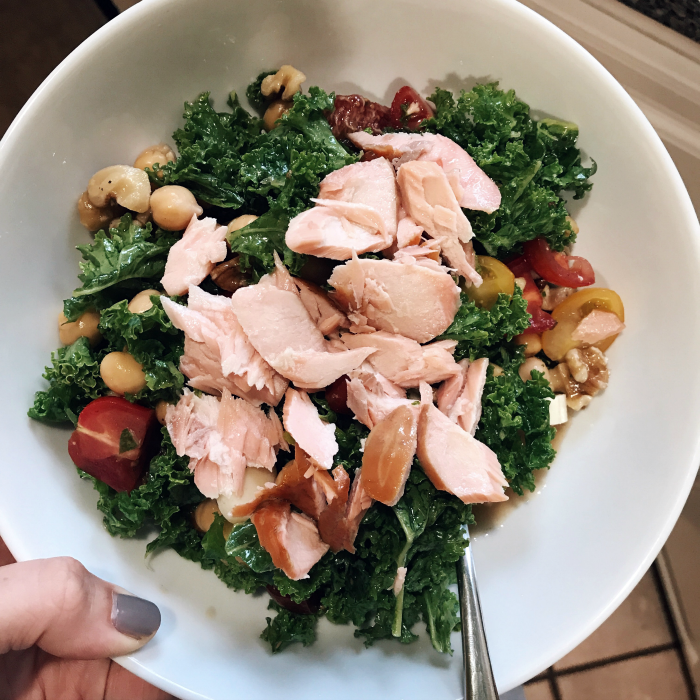 SMOKED SALMON SALAD
kale (Zack says red is best) washed and ripped into small pieces
smoked salmon (we pick it up at our farmer's market and it is not cheap but incredible!!)
tomatoes (small sweet ones are best, either halved or quartered)
goat cheese
garbanzo beans
walnuts
dressing: 1 Tbsp maple syrup, 1 Tbsp red wine vinegar, 1 Tbsp olive oil, s + p (shake it all in a little tupperware container, until well mixed!)
This was so good we had it one day for lunch AND dinner. Seriously. Amazing.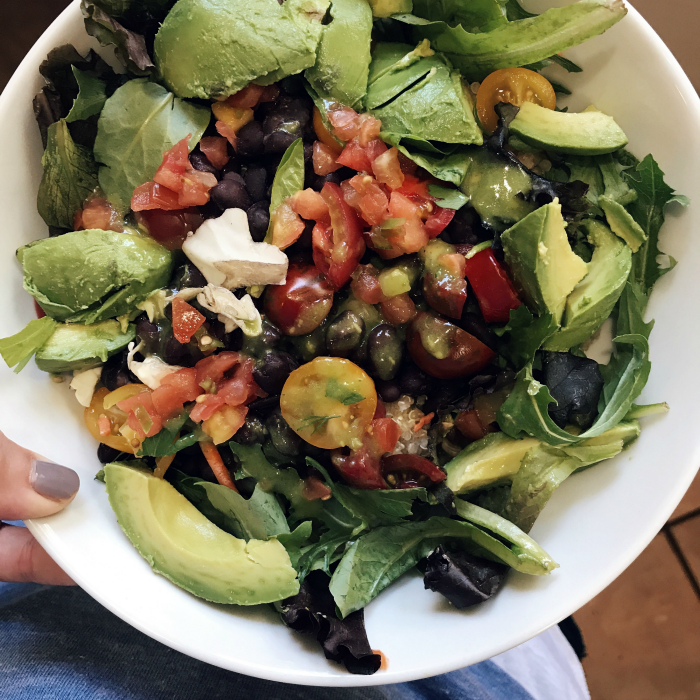 MEXI BOWL
I make some variation of this basically every day for lunch. It's usually a combination of quinoa (or brown rice), black beans, chicken, broccoli, tomatoes, salsa, avocado (makes everything better) and greens. I also love using plain greek yogurt as sour cream (tastes exactly the same, but much healthier!).
AVOCADO TOAST WITH EGGS
So this isn't a bowl, obviously, but this is another go-to of mine. Two pieces of whole grain toast with avocado and tomatoes on top, topped with two eggs (slightly runny) and Trader Joe's Everything But the Bagel seasoning (life-changing!!!).
And, not a food, but I am currently loving this kombucha for an afternoon pick-me-up. It is so yummy!
What are some of your favorite meals right now?? Any go-to that you love and want to share with me? :)
xo