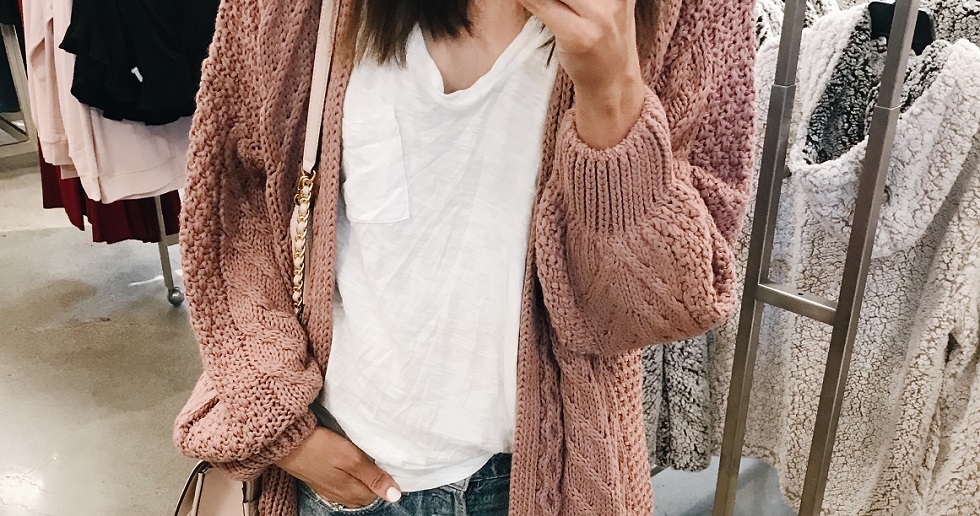 I'm no expert, but I do have a passion for fashion and am always looking at what's new, popular and trending in the world of fashion and what's missing the mark.
With that in mind, I've created this post with my top 5 fall 2018 fashion trends.
Having heavily covered the Nordstrom Anniversary Sale, which basically lays the groundwork for fall fashion every year, I feel like I have a good grasp on this year's trends!
A note about the links in this post: I receive a commission when you use the links here to make a purchase. Your doing so helps support my family, so thank you so much! Also, I link most of the items to Nordstrom. I do this because when it comes to online shopping, free easy returns is SO essential- and Nordstrom has the best return policy. Buy something and try it on, if it doesn't work out for you, just box it up, go online and schedule a (free) USPS pickup and you never have to leave home!

Skinny Jeans are Still In
This year, more non-skinny jeans were released during the Anniversary Sale than recent years and most of them stayed in stock while the skinnies flew off the online "shelves" almost immediately. Dark washes are, of course, a fall favorite, but lighter washes are becoming more popular year round.
Here are 7 of my favorite pairs of skinny jeans that are perfect for fall.
Numbers correspond to the picture above from left to right.
1. Madewell dark wash
2. rag & bone that are 40% off (if you're reading around 9/15)
3. Articles of Society (under $65)
4. Wit & Wisdom (under $65)
5. AG Farrah (5 great washes available)
6. KUT From the Kloth high waist
7. Frame black raw hem
One non-skinny style that is picking up a lot of steam are boyfriend jeans. Specifically, this Kut from the Kloth pair is very popular right now because of the perfect fall wash and the flattering fit. This wash is also quite on-trend for fall 2018.
You can see brands (like Madewell in this collection) trying to embrace the idea of non-skinny jeans more and more, but it just hasn't caught up to the skinny fit quite yet.
For a perfect fall outfit idea, try a pair of skinny jeans, booties and a top with a cardigan. This is pretty much my fall uniform starting from the first day in the 70s!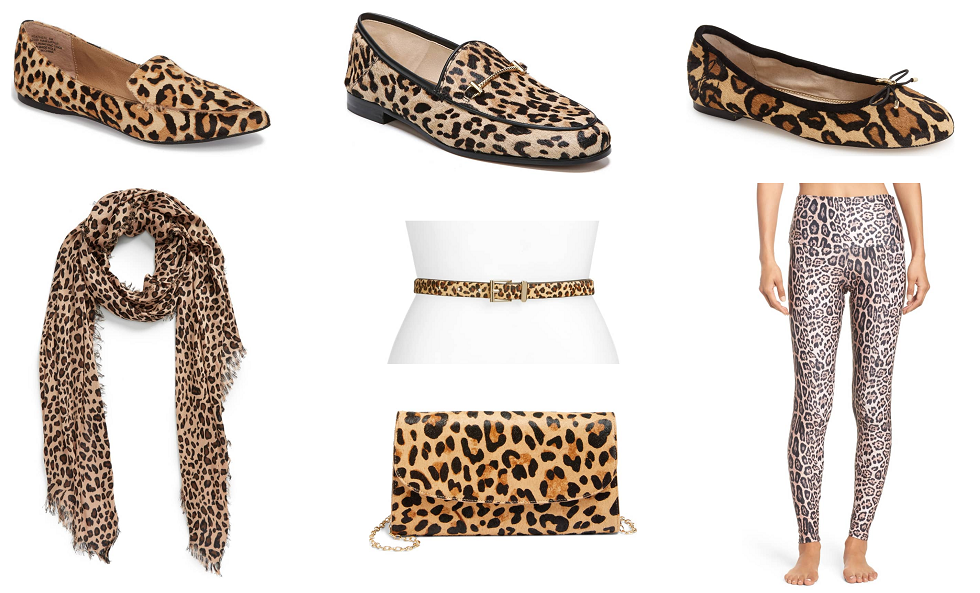 Animal Print- Specifically Leopard- is HOT
Leopard print has been a "thing" for years now, but this year, some new products have taken leopard print's popularity to a whole new level.
There are a couple of ways that you can approach the leopard trend: be subtle or go all-in.
For those looking for a more subtle approach, leopard loafers are just about the hottest trend in leopard. I love these, these and this pair of flats.
For another more subtle approach, go with a small leopard-print bag. This will carry you through 2018 fall fashion and beyond. A small leopard bag is pretty much always in style! I like this one, this Kate Spade one and this Madewell one.
This belt also serves as a subtle leopard piece. To take your subtlety up a notch, try a scarf. This one and this one are inexpensive, simple options for you to add leopard to any look!
If being subtle isn't your game, try these leggings or this sweatshirt.
However you choose to add leopard to your fall wardrobe, be sure to be confident and own whatever look you go with!

Booties with Something Extra
I don't know if you can call booties a trend. That's like saying sweaters are trendy. They're more of a necessity. That said, the 2018 fall trend seems to be booties with a little something extra. Nothing too wild, but maybe a notch here or a stud there.
These two-tone booties with a slight metallic toe are a perfect example of what we're talking about. These split-shaft, open toe booties are definitely not a basic bootie. If you're looking for something a bit more subtle than that, these split-shaft booties are mega-popular. This pair with a buckle also takes a basic pair up a notch.
One trend that is picking up steam are sock-booties. These mostly look best with skirts and dresses. This is a more toned-down pair, while this one really embraces the "sock" idea and this one is more of a sock-pump.

Oversized Chunky Knit Cardigan
I feel like every year this style of cardigan becomes more and more popular and this year is no exception.
Possibly the hottest item at the Anniversary Sale and for fall 2018 fashion was/is this chunky Topshop cardigan in rose color. While that one still has a limited sizing availability, there are 4 other great colors that work perfectly with the chunky style.
The Free People Saturday Morning cardigan (more colors here) came out last year and the popularity has carried over into 2018 fall fashion.
Here's a less chunky knit option. And some more options here, here and here.



Burgundy is THE Color for Fall
It's no secret that darks are always on trend for fall, but this year, burgundy has emerged as a favorite in the fashion world. The popularity of burgundy/wine color is evident in what's sold out. The burgundy/wine color of the popular Leith dress, the BP buckle booties and Spanx faux leather leggings are all sold out.
Not to worry though. There's still a lot of burgundy items still available that will put you on the fashion forefront this fall! And if you're tired of burgundy, here's 7 colors that Glamour says you can wear for fall instead of burgundy.
Pictured above from left to right, we have:
Marc Fisher Booties | Free People Cardigan | Madewell Tote | Halogen Oversized Tunic Sweater | Madewell Drawstring Tote | Barefoot Dreams Cardigan
A tote or bag is such a great way to embrace this color! It goes with dark wash denim or black leggings so well. I included my two favorites above.
These are just some of the hottest fall trends. What's your favorite trend for fall?
xo