[they see me rollin'…]
So if I had to sum up our weekend, it would be "successful." But if I had to use another word it would be "emotional." But then, there's also this word: "hopeful." Yeah, that sounds about right. :)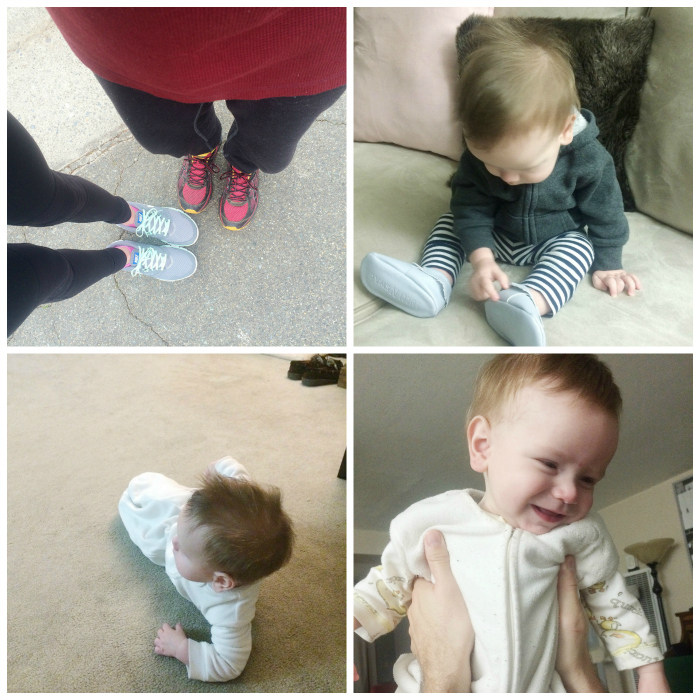 Sam is still absolutely refusing the bottle. We even had his grandparents come over on Saturday to hang with him and try to give him a bottle, while Zack and I went running and on a coffee date, waiting for word from them. Well, it was not a success, he is continuing to close his mouth tight and push the bottle away whenever it is offered, which is SO WEIRD because not a month ago he was chugging it like a champ and even holding it himself! We think the one time that we tried feeding him formula from the bottle has ruined it for him, since he is a breastmilk man har har. Ever since that one incident, he has refused the bottle. Anyone else experience this?
Well, even without the bottle, feeding has been on an uphill! He's still nursing every 2-3 hours (this mama's pretty exhausted, lemme tell you) but we've also introduced other foods and he's actually starting to eat them! HUGE improvement! I gave him some of my yogurt Sunday morning and he was loving it! Like, he grabbed the spoon in my hand and kept guiding it into his mouth, until half the carton was gone! I was like, WELL OKAY THEN! Eat up! Halfway through we added coconut oil (he needs all the extra fat he can get, and that is an excellent source of healthy fat) in the yogurt and he guzzled it up. Then for lunch he had more yogurt/coconut oil and was still hungry so he ate some bananas (real and baby food versions). So things are looking very hopeful! He also chowed down on some avocado mixed with formula, another favorite combination of his. And more healthy fats! High fives all around.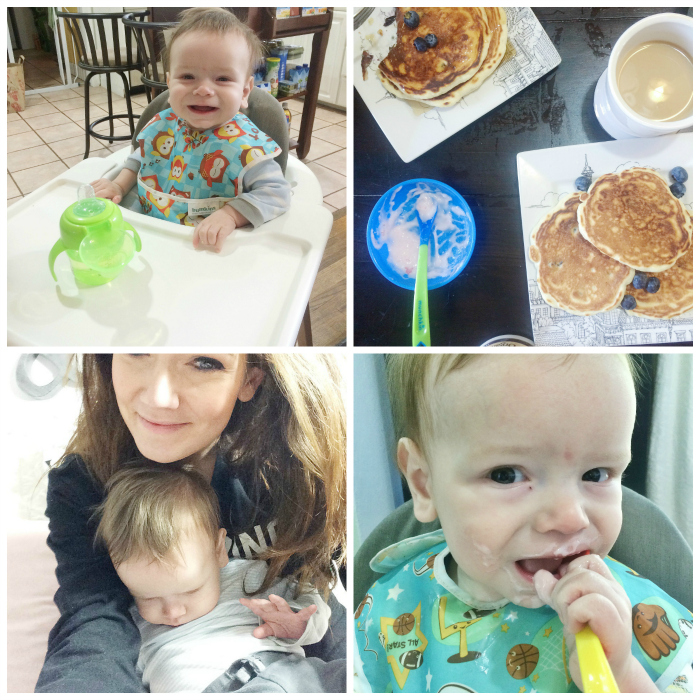 And for the record, I've been reading and re-reading all of the comments from this post. You all seriously blew. me. away. and I'm still reeling from it, to be honest. I have been an emotional wreck the past week and reading the sweet words of love and encouragement has been such a comfort to me. So really, thank you again (and again and again) for everything.
I have a prayer request, if you do that sort of thing, that I can't just let go: My family suffered an unfathomable loss this weekend. Please please send a little prayer up for them. An amazing young soul (just 23) made his way to heaven much too soon…
With my already emotional state over Sam, and then the heartbreaking news from my extended family and some other news about other family, it has been a rough few days. But I'm staying hopeful and laying all burdens on Jesus. And there's so much comfort in that. Plus, my husband is incredible and reminds me to be easy on myself and also treats me like a damn princess, for which I am stupidly grateful (and of which I am so undeserving sometimes). Thanks, boo. I luh you.
And to end on a happy note, tonight is the Bachelorrrrr! I'm more excited than I should be for this. Come back tomorrow for Man Quotes! ;)
xo