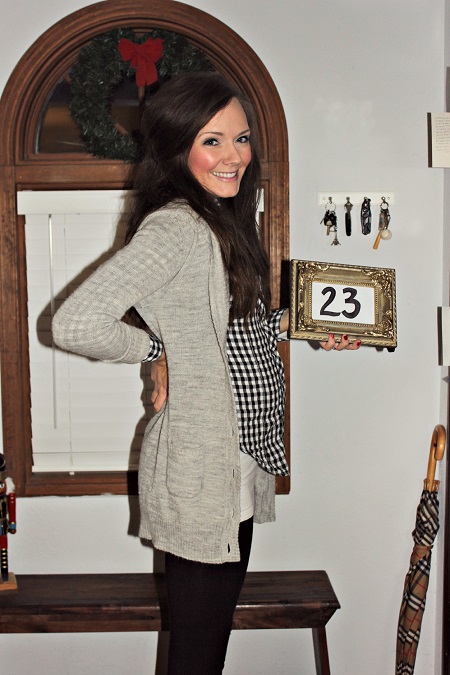 This week has flown by and really all of the days are flying by lately, it seems. Like, Christmas is in 2 days, which is just mind-blowing to me, because wasn't it just last Christmas?? Anyway. It's crazy.
Things in the pregnant homefront have been good this week! No news to share, really. 23 weeks feels a lot like 22 weeks, to be honest, so you know. I've been meaning to exercise every day, but sometimes cuddling under a warm blanket with the heater on full-blast and a cup of hot chocolate and a bunch of caramel corn and cookies just wins. Priorities and all. ;)
My belly button is making a slight migration toward the mid-to-outer area, so that's an interesting phenonemon. It actually really freaked me out the first time I looked down and saw that, because I mean. When you're used to your innie and then see a kinda-maybe-sorta-almoooost-but-not-quite outie, well, it can be a shocker, to say the least. Pregnancy does some weird things, friends.
My brother being in town has been so much fun. I just love spending time with him and am excited for my other brother and sister-in-law to get here, too! They should be pulling up the driveway any time this evening!! They made the trek cross-country safe and sound, so thanks for all your prayers and well wishes! :)
We went to a few Christmas parties this weekend, which were a blast! Pictures to follow, le duh.
I hope you all are enjoying your holidays and soaking in the time spent with loved ones. Go ahead and eat those extra cookies and drink that egg nog- no guilt allowed. 'Tis the season to be merry!
xo