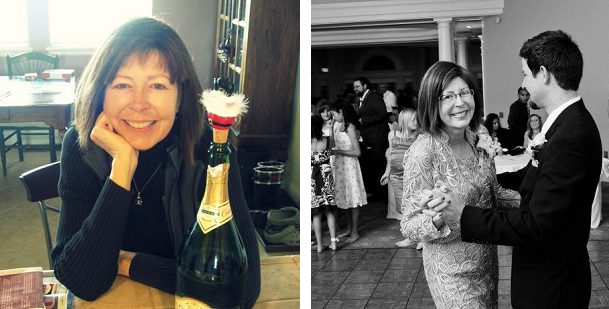 It is with a heavy heart that I (Hubby) am posting again on Katie's blog.  Katie's mom lost her courageous battle with cancer yesterday. February 15 2013.  She was only 56 years old.  We were blessed to be able to be by her bedside until the end.  She is undoubtedly in heaven where I'm sure they celebrated her arrival.
Michelle was kind, loving, dedicated, proud, accepting and had a true zest for life.  If you met her, you loved everything about her.  Katie is truly her mother's daughter. 
While it is difficult to do, we're trying to celebrate her life as opposed to thinking about her passing.  Since her initial diagnosis over 12 years ago, Michelle saw high school and college graduations from her kids, 2 of her kids' weddings, explored Europe with Katie and did countless other things.  We all have memories of Michelle that would have not existed had she not beaten that diagnosis 12 years ago.  
Those memories will live on forever.
Katie loves this blog and truly enjoys hearing from every single one of you.  I don't imagine it will be very long before she posts again, but this was one post that she just couldn't write.  She's written about her mom's health a lot lately and she wanted you all to know what is going on. 
Your comments make her smile all of the time and she needs that more than ever right now.
Thanks for reading and please, celebrate life today and every day.
Read More on Katie Did What