This post is sponsored by Skip Hop. All opinions are 100% my own.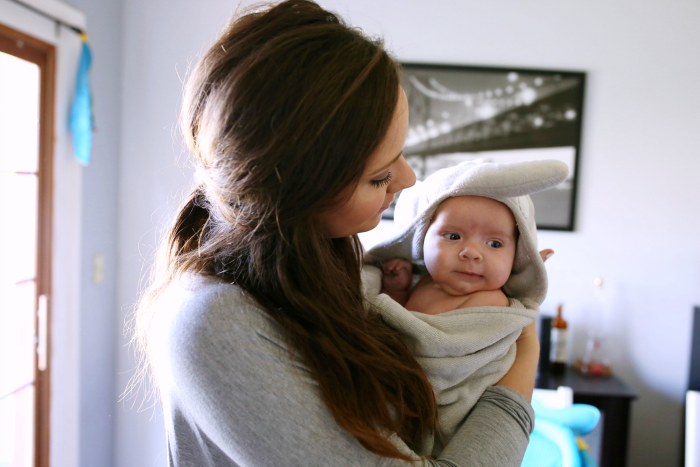 Ahh, bathtime. One of my very favorite times in this house. Mainly because my baby LOVES it, so how could I not?! Plus, we all know a freshly cleaned baby is pretty much the most heavenly thing on this planet. There's just something sweet and heaven-sent about a baby fresh from the bath, all warm and snuggly and soft and yummy.
I have been bathing Sophie in our kitchen sink, but girl is getting just a little too big for that, and I knew the time would come to move her to her own little tub. And guys. As sad as that could have made me, it didn't, for the simple fact that this new tub we got for her is SO stinking cute!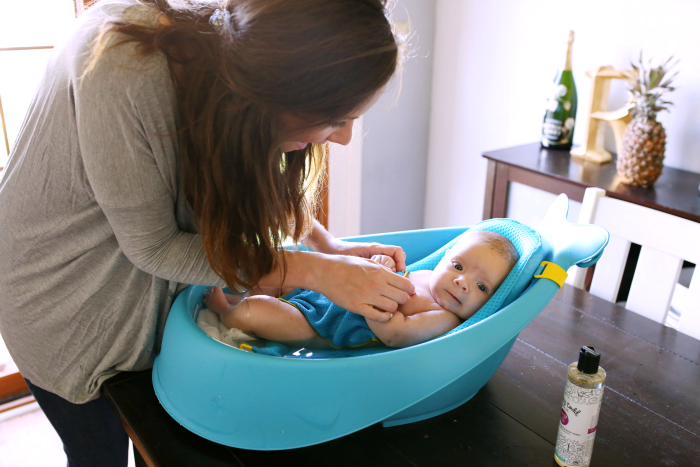 I mean. A little whale?! I die.
Let's talk about this bathtub. It's the Skip Hop Moby Smart Sling 3-Stage Baby Tub, meaning it goes from newborn (with the sling- what we are currently using) up to toddlerdom. Perfect. I love that it's compact (we have a tiny bathroom!) and fits perfectly in our bath tub for easy storage. This really is a must-have made better! And the little whale shape is not only cute, but makes for an easy bathing experience, too. The tub has a slight curve up that is so comfortable for bathing a baby!
As you can see, right now we like to bathe her on the table, as it's easier to not have to kneel down and reach over our big bathtub when she's so little. The sling in the tub is such a nice addition, too, so I don't have to hold her head up the entire time or worry about her slipping down. She's pretty comfy in there, too, which I'm sure she appreciates. ;)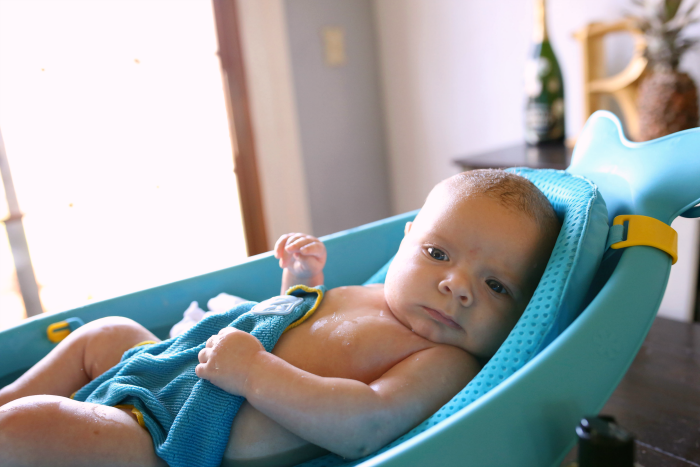 We also got the Moby Warm-Up Bath Cozy, which is an absorbant cloth that keeps Baby warm during bath time. We were using a washcloth before, but this is nice and big and fits over her completely. It even has a little patch on it that turns white if it gets too hot or blue if it's too cold. So helpful! And we all know, a warm baby is a happy baby!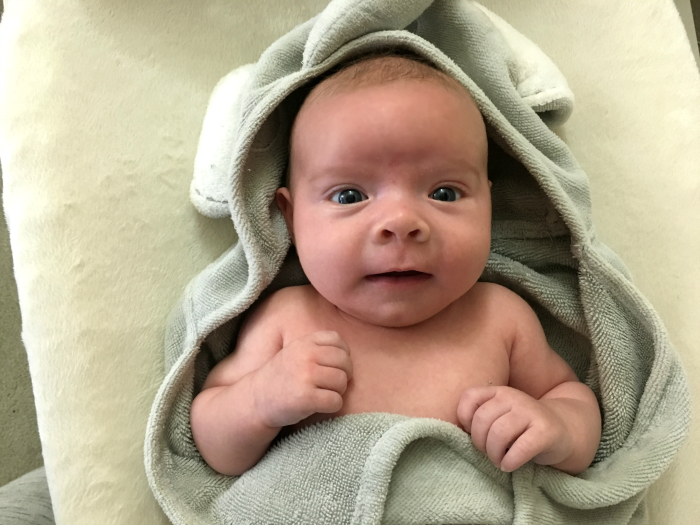 Is there anything cuter than a chubby little baby taking a bath? Didn't think so.
What are some of your bathtime must-haves?
xo