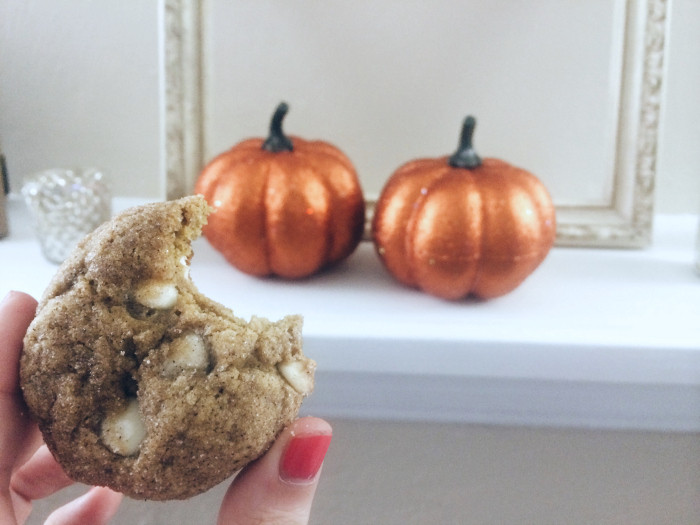 When Zack was at work yesterday, I decided to be a good wife (ha ha) and bake up some WHITE CHOCOLATE PUMPKIN SNICKERDOODLE COOKIES OMG (recipe HERE). But then, other stuff got in the way, like playing with the baby and working out and writing articles for the other sites I work for… so… oops. Once Zack got home though, Sam decided to nap, and then I threw my apron on and got down in the kitchen. Just me, some mixin' bowls and an oven. And I made these bad boys. And they are delicious. Even if they weren't quite as much of a surprise as I was hoping them to be. ;)
Seriously though. These cookies are heaven sent. No exaggeration there. Make them. Today. Tonight. RIGHT NOW. JUST DO IT OKAY. I made one batch, which was only 18 cookies, and I say "only" because I literally could have eaten them all in one sitting. And for the record, I don't even like white chocolate. I'm a dark chocolate girl, through and through. So I thought I was making these as a sort of sacrifice for my husband (who prefers white chocolate to all other chocolates, the crazy man) and I was being all Joan of Arc-ish over here (slightly dramatic?), and yet here I am, scarfing them all down. I'm already planning on making more and freezing some and making sure that they are available every single day this fall. Also, if you know me in real life, just know that you will probably be tasting the gloriousness of these cookies soon. Get excited.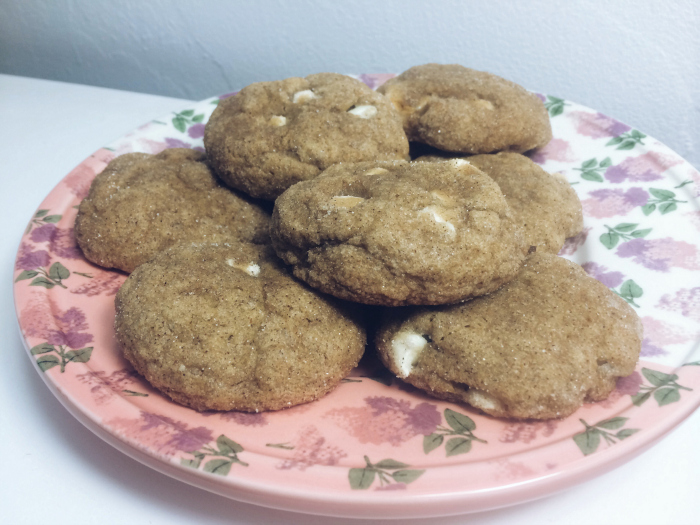 Also, I got a new plate, so clearly I wanted to show it off. Thanks, Anthro! Did I tell you, I'm starting a plate collection. My mom collected blue and white dishes and also egg cups. Totally unrelated, but also totally perfect. I've been pondering what I want to be my thing that I collect, and I settled upon side plates. Because I never really use the big dinner plates anyway, and it's fun to have a mis-matched collection, don't you think? Anyway. So this is my newest plate. One day maybe I'll show my whole collection. You know, when I have more than three plates in it.
Now it's the weekend, and "Gone Girl" came out today, and I reallyyyyy want to see it, so I'm hoping we'll get our first real "Post-Sam Date Night" (like, real date night) next week to go see it! I just remember thinking the entire time I was reading the book, This needs to be made into a movie. And now, here it is. So yeah. That needs to happen. Now just to convince Zack's parents to babysit.
Hm. Wonder if they'll mind…?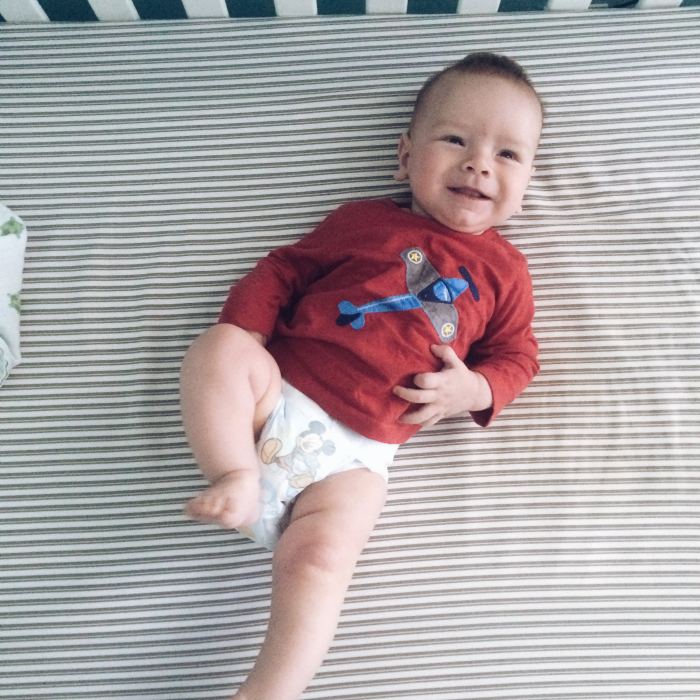 BEST COOKIE YOU'VE EVER HAD? GO.
What's the last movie you saw in theatres?
xo