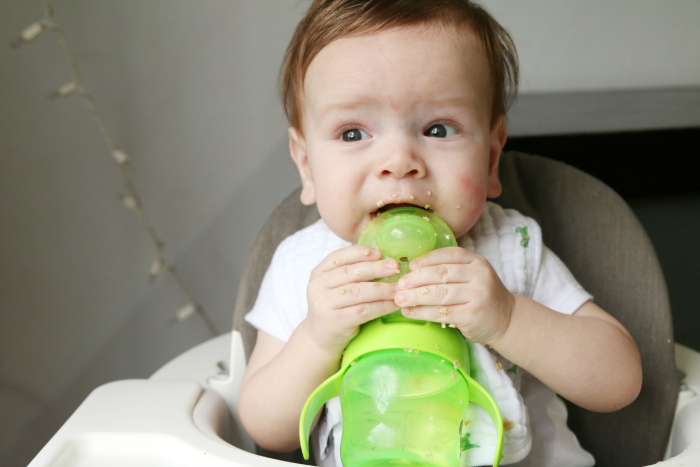 Awww look at happy baby Sam, sitting in his high chair, chewing away. This was after eating his food, he decided chewing on his sippy cup was a fun idea. ;) He has turned a corner, my friends! He no longer scoffs at food and closes his mouth so tightly nary a hint of a morsel of food can enter. Oh, no! Now he is all over it! As long as, of course, he is the one in control. Which, hey, I get. I really do. I'm actually working on a whole post with an update on Sam and all of the tricks we tried recently that have helped him eat better and gain weight! So YAY! Watch for that this Thursday!
///
Last night was The Bachelor on ABC, as per every Monday. Did you watch? We did. "We" being me and my husband, and hey, even baby Sam joined us for part of it, because who is he to actually be in bed at bedtime and miss out on the fun that is watching The Bachelor with his parents?! (Yeah, the eating thing is drastically improved, but now it's the sleeping thing that is on the downhill once again. Babies. It's always something, eh? ;)) Be sure to catch up on last week's quotes here! Done? Okay, good. Now we may begin…
Katie: Annnnd Kelsey continues to be crazy. What else is new.
Katie: RUN, CHRIS, RUN.
Kelsey: "…and I fainted."
Zack and Katie: Ummm, you didn't faint.
Whitney: "I trust Chris, I trust Chris's choices."
Katie: I don't. He makes terrible decisions.
Katie: Well, I have no idea who this Samantha chick is, but I want her dress.
Katie: Shirtless shaving!
Chris: "And then Kelsey had a bit of a fainting episode…"
Katie: Well that's one way to put it.
Chris: "I'm not here looking for drama, I'm here looking for a wife."
Katie: Then you should probably get rid of Kelsey ASAP.
Chris: This is the Wild West!
Katie: Is Madonna there?
Kelsey: "I'd better get a rose. I've worked hard."
Zack: I know you've worked hard. You've made up a bunch of B.S.
Zack: You know the camera men have to be afraid at this point.
Zack: Kelsey's playing the Bachelor like it's Big Brother.
Chris: "She's the only one I haven't kissed."
Katie: …So I brought her on the one-on-one so she would kiss me.
Zack: And if she doesn't, I'll send her home.
Kelsey: I didn't start laughing.
Zack: Yes, you did. You're just literally insane you don't remember.
Kelsey: "I don't remember saying that."
Zack: Because I black out, because once again, I'm certifiably insane.
Becca: "Some things I wouldn't even laugh at until he starts laughing, because I'm laughing at his laugh."
Katie: Ummmm I LOVE HER.
Chris: "So, you're in San Diego, where do you see yourself in 5 years?"
Katie: Iowa.
Zack: On a farm in Iowa.
Becca: "How many kids do you want?"
Chris: "4 to 6 would be cool."
Zack: But I could go 9 to 12.
Becca: "Chris makes me feel happy."
Zack: Chris gives me the feels.
Becca: "I want to kiss him, but I'm a virgin."
Zack: Your mouth isn't a virgin! We've already been over this. Kiss him already.
Jade: "It's hard for me to do something that I'm not really good at."
Zack: That's the case for everyone, girl. That's called a challenge.
Big and/or Rich (not sure which one) starts running down the street with Jade to loosen her up so she can write a song: "I'm taking this girl with me! See y'all later! I've found me a 25 year old that's willing to run with me!"
Jade: "Seeing Chris kiss Britt just brought me right back down where I was again."
Zack: Time to run around again!
Chris: "I'm probably not going to stop smiling for a solid week and a half."
Katie: Until you see Kelsey.
Whitney: "Where were you?"
Britt: "We went to a Big and Rich show…"
Zack: Talk about twisting the knife.
Kelsey: "I'm prepared to be a wife because I've been one."
Katie: Wait, what?
Zack: It doesn't work like that…
Zack: You might want to get a restraining order, Ashley.
Ashley: "I'm not from Pleasantville, I'm from 2014."
Katie: Okay, that was awesome.
Zack: Ashley's coming up in the world!
Chris: "I don't think you're ready for my lifestyle."
Ashley: "So you think Britt is ready for your lifestyle?"
Zack: Get the bus ready. Just throw everybody under it.
Zack: He should leave the rejected one out there on the bed and just leave.
Zack: The double bounce! I called that from the moment the date card showed up.
///
Okay, so. Britt handled that super awkward situation the most graceful way possible. It was in no way her fault. But also, if Chris is so smitten, just END IT ALREADY. I feel so sorry for all the other girls! When they walked back in after being gone over an hour at the concert, it just felt like he had broken up with all the other girls and chosen Britt. And I'd have a LOT more respect for him if he had. #justsayin
xo