I absolutely LOVE doing these posts, and realized I haven't done one on my own blog in quite some time. SO. Since last night was the biggest night in music (or something) aka the GRAMMYS, I decided to share my picks for the very best and very very worst dressed from the night! Because these are fun. And yes, snarky commentary included. Le duh. ;) I also totally went crazy live tweeting- you can read all those here if you're so inclined.
B E S T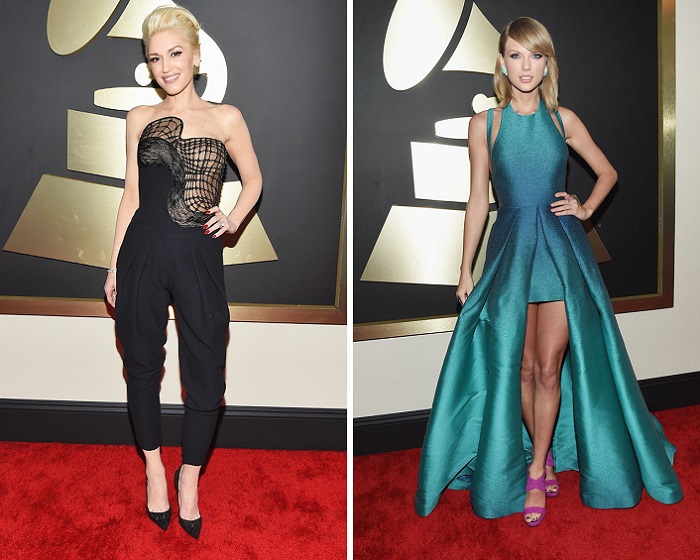 Ho-ly crap. Bow down. Gwen Stefani is literally perfect. I want this jumpsuit. And I also want to look like that when I'm 40 something. Thanks.
T Swift is killing it in this amazing emerald stunner. Classy hair, fun and unexpected dress and adorable purple heels. Seriously, I want this outfit. She NAILED it.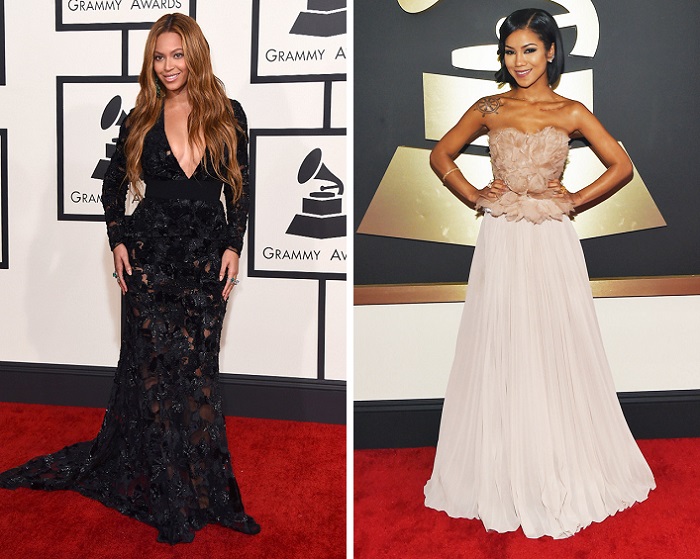 Queen Bey rocked the black lace with panels throughout and the long hair. Love her look!
Love love love this pretty little blush and cream number. I would so wear this.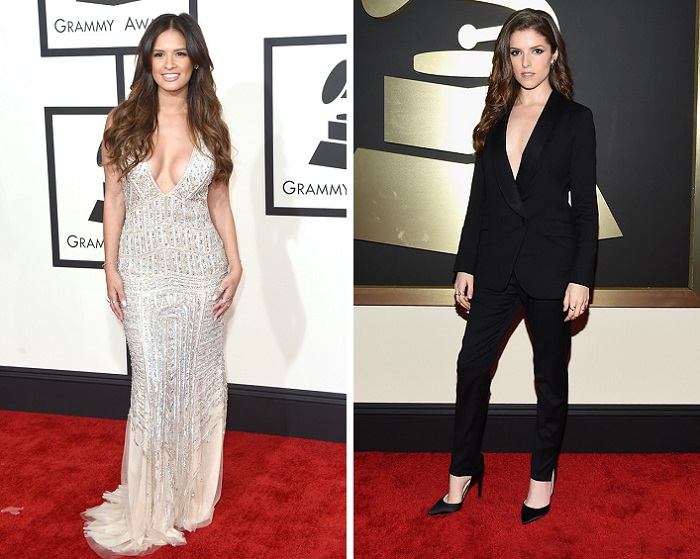 Rocsi Diaz is absolutely beautiful. Gimme this dress now. Gimme gimme gimme.
Anna Kendrick nailed sophistication in her sleek black pant suit, with pretty soft curls and the perfect smokey eye. This is how menswear is done.
W O R S T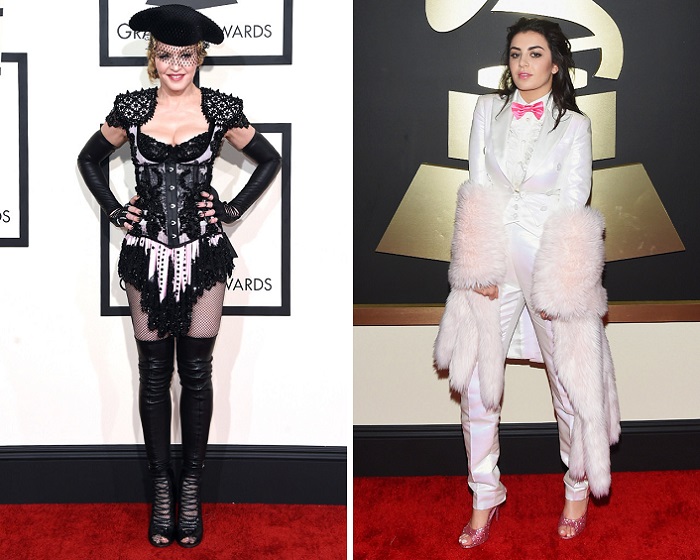 Madonna is dressed like she's going to a saloon in the Wild Wild West. Or a cabaret. And then, also is wearing a beret. I think she's just a little bit confused? She's got me confused, that's for sure.
Charlie XCX must be a blogger, because she decided to bring her white fur rug along with her to the Grammys!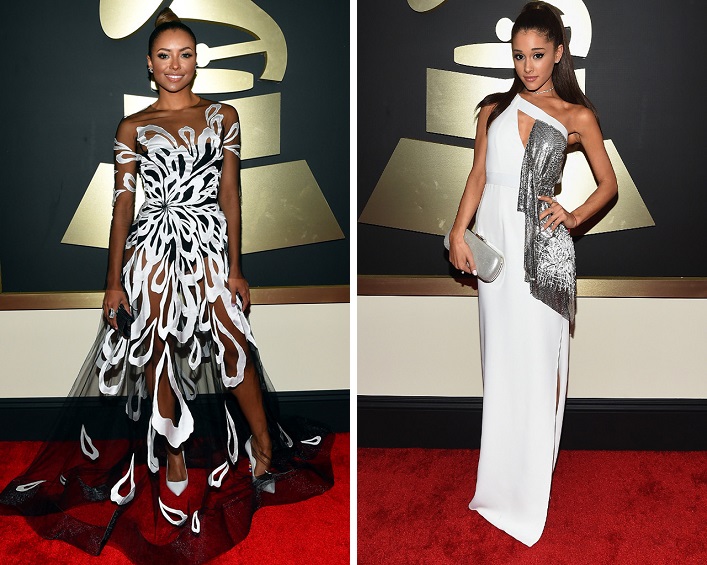 Not sure what's happening with Kat Graham's dress here, but um, no thanks. The see-through factor. The weird swirly flower. This just doesn't work.
Wait so Ariana Grande's dress looks like she just found her old shiny ice skating skirt on her floor and was like, YEAH, LET'S JUST TAPE THAT TO THE FRONT RIGHT THERE.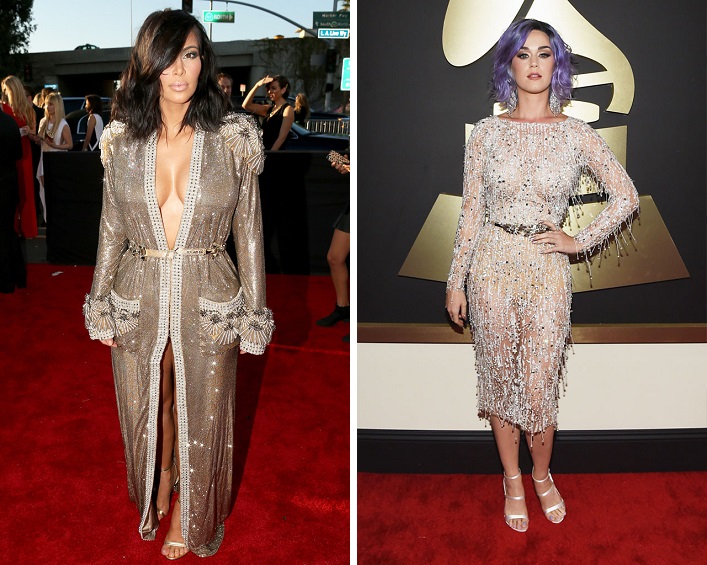 Kim Kardashian. Is that a bejeweled bathrobe?
Katy Perry's shag. Hm. Good for a rug. Not so good for a dress.
Why is this even happening? Jeannie Mai, this is a bigggggg #fail.
Lisa Harriton I don't know who you are, but this dress is ALL WRONG.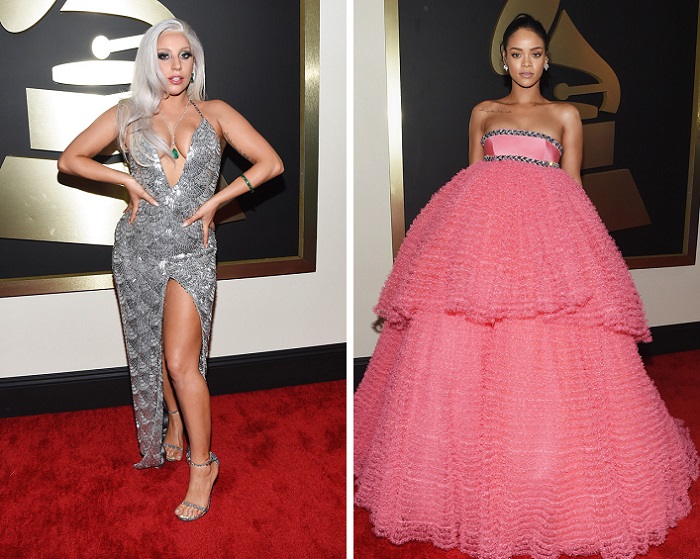 Lady Gaga seems to have taken a wrong turn on her way to the Playbody mansion… It sealed the deal when she showed up with Hugh Hefner.. I mean, Tony Bennett?
Oh, I almost didn't see Rihanna behind that gigantic lamp shade!
///
Also I just have to say, I am SO CONFUSED that Beck won album of the year. He was up against Ed Sheeran, Sam Smith, Beyonce, Pharrell… People who you literally couldn't turn around and NOT see them the entire year, everywhere, and the winner is… Beck? Who I never even heard of at all this year. Is this 1995? Literally do not understand. I didn't even know he had an album this year? Or any year after the 1990s? Tell me I'm not alone on this.
And a few of the highlights from my live tweets

:
Ugh I really dislike how much Nick Jonas loves himself. Ick.
Kanye just seems like SUCH a lame person. He's actually making Kim K seem likable.
It never gets old when people say "I'm really excited" in the most monotone voice possible.
My favorite ginger is my brother. My second favorite ginger is Ed Sheeran.
Ryan Seacrest introduced Adam Levine and Gwen Stefani. Weirddddd. Idol vs. The Voice.
Wait. Is Pharrell fo'real? #glittershoes #thathat
It makes me ragey that Paul McCartney allowed Kanye on stage with him. He is SO not worthy.
Just in general, this year's Grammys were kind of a downer and also pretty boring, to be honest. So, there's that.
Thoughts?
What were your favorites/ least favorites?
xo
[photo credit to eonline]