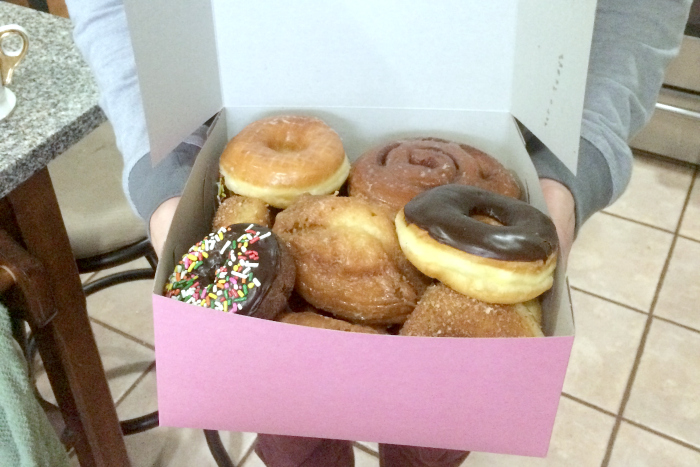 A man that goes on a donut run on a Monday morning is a good man indeed.
Another week, another installment of The Bachelor Man Quotes! I watch The Bachelor with my husband each week and write down our commentary. If you missed last week's, read them here!
NOTE: We missed the first part (#babyprobs), so there aren't any quotes for that, but we'll be back with the full episode next week! :) In the meantime, here's from what we did see…
///
Katie: Costco? Apparently, The Bachelor is reallyyyy on a budget this season. FREE SAMPLES!
Katie: Okay, now a date to Costco. That's something I can get behind.
Zack: This is the best date The Bachelor has ever had.
Zack (During 1-on-1 date with Whitney): Matching pink shirts!
Whitney: "YOLO."
Zack: Really?
Katie: Who crashes a wedding in a denim vest?
Whitney: "I've always dreamed about my wedding since I was a little girl. And now I'm crashing a wedding.
Katie: …Wait, what. How do those two things corollate?
Zack: Did you dream about crashing a wedding? She was grasping at straws there.
Whitney: "My fingers are a little swollen…"
Zack: …Why are your fingers swollen?
Whitney: "Chris is a great dancer… He was doing the shopping cart, the lawn mower…"
Katie: Uh, no.
Zack (about the crashed wedding): This has too much of a set-up feel.
Zack: Jimmy Kimmel just made this episode.
Chris: "I'll be right back" (runs away)
Zack: She runs the other way.
Whitney: "This would be amazing if we somehow wound up getting married and everything worked out. We should somehow incorporate this day."
Zack: Well, you'd be having a wedding and wanting to tie in a wedding, so it seems easy to me.
Katie: of course he's going to choose a pool party instead of a cocktail party.
Girl: "Chris is looking great today"
Zack: Well, he was just doing his ab workouts.
Zack: Nothing like a bathing suit heart-to-heart.
Katie: THOSE SHOES. Jade, honey, it's supposed to be a pool party, not the swimsuit portion of Miss America.
Katie: What's the deal with blocking out Jillian's butt? It's just a regular bathing suit… I think?
Kim Kardashian girl: "Getting alone time is really important to me."
Zack: You're not going to get a lot of alone time when you bring other girls.
Katie: There's always that girl on the show that has NEVER seen the Bachelor. Like, you should know what this show is about, right? You want alone time, you fight for that alone time, girl!
Chris: "Are you laughing or crying?"
Kim Kardashian: "Both."
Katie: RED FLAG!
Zack: That's the kind of girl who will laugh as she's killing you.
Katie: Why's he keep keeping the crazy girl?!
Zack: She's got to be sleeping with him already.
Both of us, constantly, throughout the entire episode: Okay, where did she come from? I've definitely never seen her before.
Welp, we both picked Tracy, but she's gone. Honestly, she disappeared into oblivion after the first episode, so it wasn't surprising. So now, from our first week picks, Zack still has Britt and Jade and I'm still going strong with Jade and Kaitlyn! Are your top picks still around?
xo