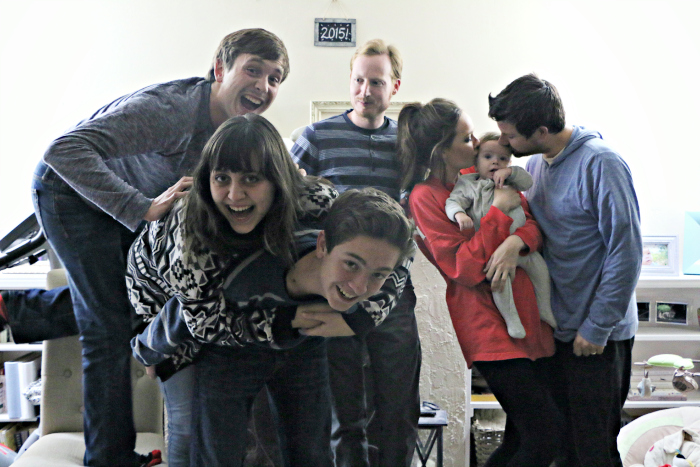 We had my cousins over on Sunday night for some pizza and a game night. It was the last night my brother was in town, too, so we took advantage of that to hang out! It was so much fun! I'm such a sucker for a good game night. I could have one every week and I'd be happy.
———————————————————–
It's that time! The time for The Bachelor to return, and with it everybody's favorite: MAN QUOTES! Or… At least my favorite. I seriously was almost more excited for the return of Man Quotes than I was for the actual show itself. Crazy, right? But really, not that crazy because, Man Quotes.
I guess I should give a brief explanation, for anyone who is new around these parts and is just staring at the screen in a state of confusion right about now. Man Quotes are this fun little thing we came up with a few years ago here at Katie Did What, where my husband Zack watches The Bachelor with me and I jot down the silly things he says during the viewing and share them with you here on the blog. They never include spoilers, they are enjoyable even out of context and without having watched the show and they're just an all around good time. Zack literally always makes me laugh so hard I cry when he watches this show with me, so I thought it was only fair of me to share that happiness with my beloved readers! :)
So this season is one I've been particularly excited for, because Chris the Farmer was one of our favorite contestants all of last season! We even totally called that he would be the next bachelor, pretty early on. He has already not disappointed. Alright, let's get into them, shall we?
———————————————————–
Chris: "I live in a small town in Iowa."
Zack: Small town… Big ass house. Your house IS the town!
Zack: Oh, we have our first love analogy.
[They're fishing in a tiny pond]
Zack: What are they fishing in? They could probably just catch those with their hands.
Chris: "We have a pretty good heritage with high quality farmers."
Zack: He's looking for another high quality farmer.
[Chris is hanging out in a bar with a table full of older men]
Zack: Check out the rest of the farmers in Iowa… And then there's Chris.
Zack: Macklemore in the house!
Nikki: "I don't quit" (referring to her relationship with Juan Pablo)
Zack: Don't get a relationship with this girl! "Sit down! We're not done here!"
Katie: Britt's got great hair and she's really pretty…
Zack: Yeah, but that hug? Things just got real awkward.
Girl: "It's not a real heart. It's just a joke."
Zack: That's good, cus you'd be in jail if it was.
Zack: Claire! Sacramento in the house!!
Girl: "It's like Christmas morning, except your presents are girls."
Katie: Did she really just say that?!
A note on Chris the farmer: He. Is. Hilarious. His commentary and one-liners are just ON POINT. Example: "I wish I was a polygamist right now." Best. Bachelor. Ever.
OUR TOP THREE PICKS:

Me- Jade, Kaitlyn, Tracy (Honorary mention: Becca)

Zack- Britt, Tracy, Jade
Yeah, they're similar picks, but you know. We'll seeeeee what happens. That preview was INTENSE. So many emotions. So many tears. So much drama. I. Can't. Wait.
A few things:
1. I want Britt's hair. It's amazing.
2. Chris picked all the crazy super drunk girls. I'm questioning his judgment here…
3. I only liked a handful of the dresses. I just don't get the need to dress like it's prom. No.
4. Kaitlyn was hilarious and I hope she sticks around a long time. Her jokes were perfect and she actually seems normal, so there's that.
Any thoughts to add?
xo
p.s. Don't forget! Man Quotes will be posted every Tuesday! Share with your Bachelor loving friends! :)