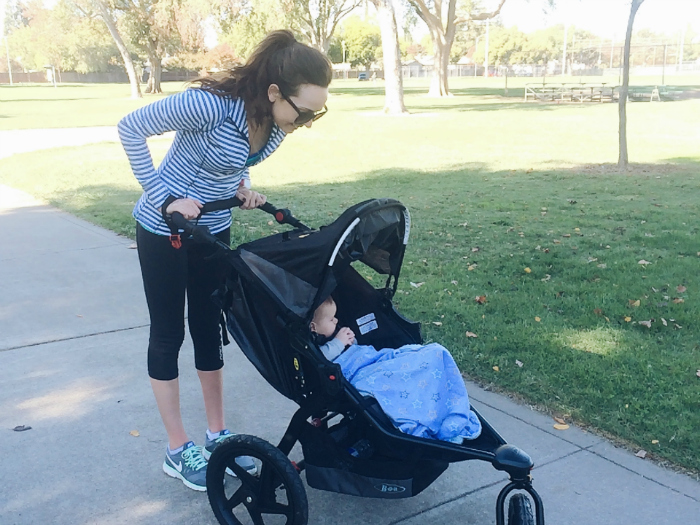 I've discussed the importance of me time before, but now that it's a new year with all of its hope and fresh beginnings, I feel the need to stress it even more. This is our first year as a family of three(!). This is the first year I'm beginning with a baby of my very own (!!) and it is absolutely even more important to me than ever before to be the best version of myself that I can be. Yes, it's for me, but more than that, it's for my little one, too. He looks to me for everything. He's looking to me to set an example for his life. That's kind of a big undertaking, don't you think? And so, this new year, I'm really focusing on bettering myself. My heart, my health, my relationships, my reactions to things that are out of my control. This year my focus is shifted to being better for those around me. And that always starts with me. That starts right here, right now. Because if not now, when? And if not me, then who? So I have made a few resolutions for a few little ways to refresh myself in the new year, from the inside out. Because little things can make a big difference, and being a new mom means it's easy for me to let myself be the last person I think about. But I'm important, too. And I need to take care of myself in order to be better for my darling baby and my sweet husband. These resolutions go far beyond the new year, though. They're resolutions for life- for every day of every year.
Each day I want to set aside time for me. I want to wake up refreshed and ready for a new day. I want to start my day by spending some time just me and God, in prayer and stillness.
Each day I want to make someone smile. Even if it's just a stranger. Because a smile from a complete stranger is comforting sometimes, isn't it? And who knows whose day I can make brighter just from a simple smile.
I want to focus less on material things and more on what really matters. My baby's sweet grin. My husband's happiness. My friend's laughter. These are the things that keep me going and that I'll remember in years to come.
Each day I want to do something that gets me moving. It might not be a targeted workout (this ever moving and growing baby makes that difficult to do sometimes!) but I want to make sure that I get moving and get that heart pumping in some way, every day. Going on walks with Sam, getting some yoga in before bed, doing my favorite workout video. Something, anything, to just move! (I'll be sharing my more specific fitness resolutions soon!)
I want to take better care of my skin. Long gone are the days where I come home from a fun party and just crash in my bed, with all my makeup still on. And I am certainly not mad about those days being gone! ;) But I ain't getting any younger, and now that I'm in the later part of my 20's, I'm starting to realize that skincare is so important- maybe the most important part of any beauty regimen! And I want to do it right. This is why I have been using (and loving) renewed hope in a jar by philosophy. It's a skin renewing moisturizer that leaves your skin soft, dewy and smooth all day long. It smells amazing and it gives my skin a re-energized and glowing look, too! Um, hello new favorite moisturizer! What better way to feel renewed in the new year than by literally renewing your skin?!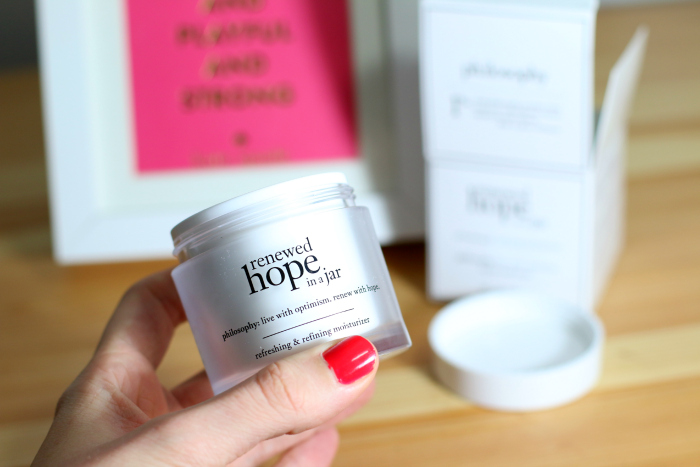 Check out philosophy on Twitter, Instagram and Facebook!
And now it's giveaway time! To enter for a chance to win a $100 off offer code to philosophy.com, leave a comment below with how you plan on renewing yourself in the new year! xo
Sweepstakes Rules:
No duplicate comments.
You may receive (2) total entries by selecting from the following entry methods:
Leave a comment in response to the sweepstakes prompt on this post
Tweet (public message) about this promotion; including exactly the following unique term in your tweet message: "#SweepstakesEntry"; and leave the URL to that tweet in a comment on this post
Blog about this promotion, including a disclosure that you are receiving a sweepstakes entry in exchange for writing the blog post, and leave the URL to that post in a comment on this post
For those with no Twitter or blog, read the official rules to learn about an alternate form of entry.
This giveaway is open to US Residents age 18 or older. Winners will be selected via random draw, and will be notified by e-mail. The notification email will come directly from BlogHer via the [email protected] email address. You will have 72 hours to respond; otherwise a new winner will be selected.
The Official Rules are available here.
This sweepstakes runs from 1/5/15 – 2/23/15.
Be sure to visit the philosophy brand page on BlogHer.com where you can read other bloggers' posts!
Read More on Katie Did What