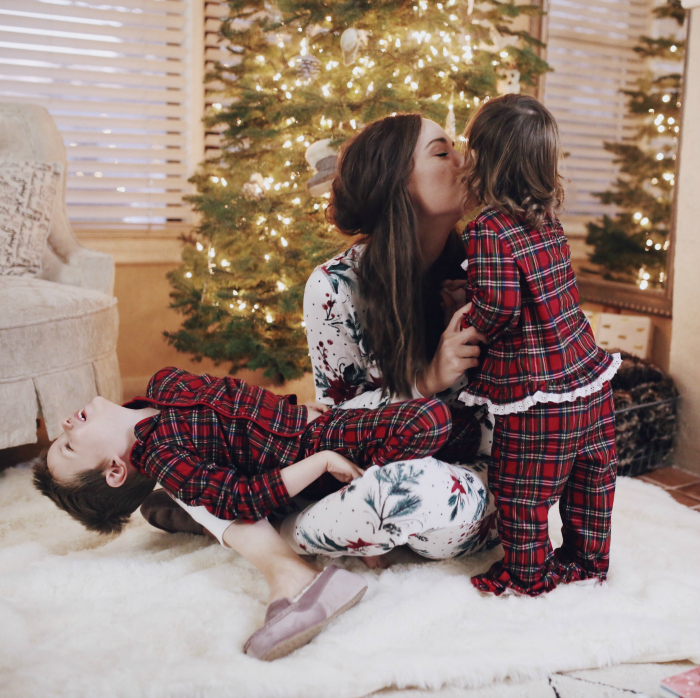 MY PJS | MY SLIPPERS | SAM'S PJS | SOPHIE'S PJS
First, here is our reality: it's messy, and crazy, and chaotic, and it's far from perfect. But it's mine and I couldn't love it more. And it's perfect in it's imperfection.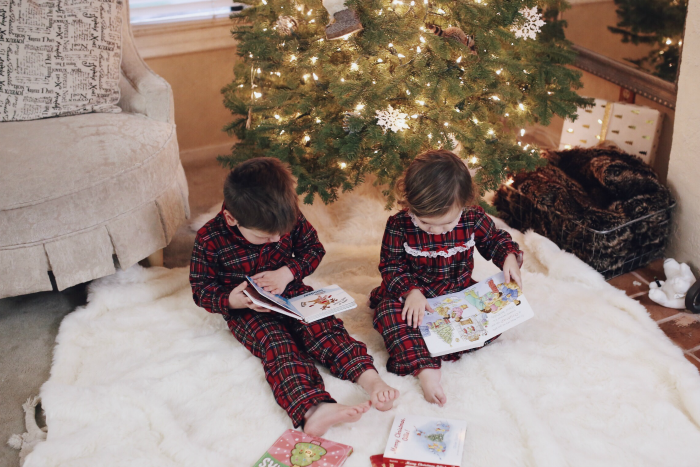 Also, how stinking cute are the kid's matching Christmas jammies, from Little Me?! OBSESSED!!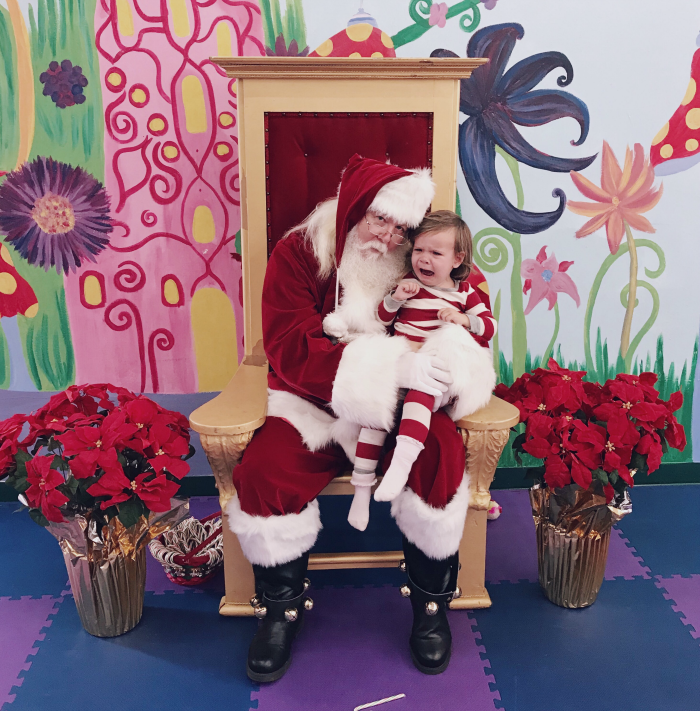 Well, we saw Santa. I thought mayyyybe we had a chance of no tears this year, since we were literally googling pictures of Santa and showing Sophie, she knows who he is, she even says "Ho! Ho!" (just two, mind you) and happily answers "Yes!" to the question "Do you want to see Santa?" but then when she was clinging to me as we inched our way closer in the line, I knew there was no way this was going to end in anything BUT tears. And sure enough, same exact face as last year. Sweet thing.
In all honesty, I kind of love the crying pictures. And she was fine as soon as she got off of his lap. ;)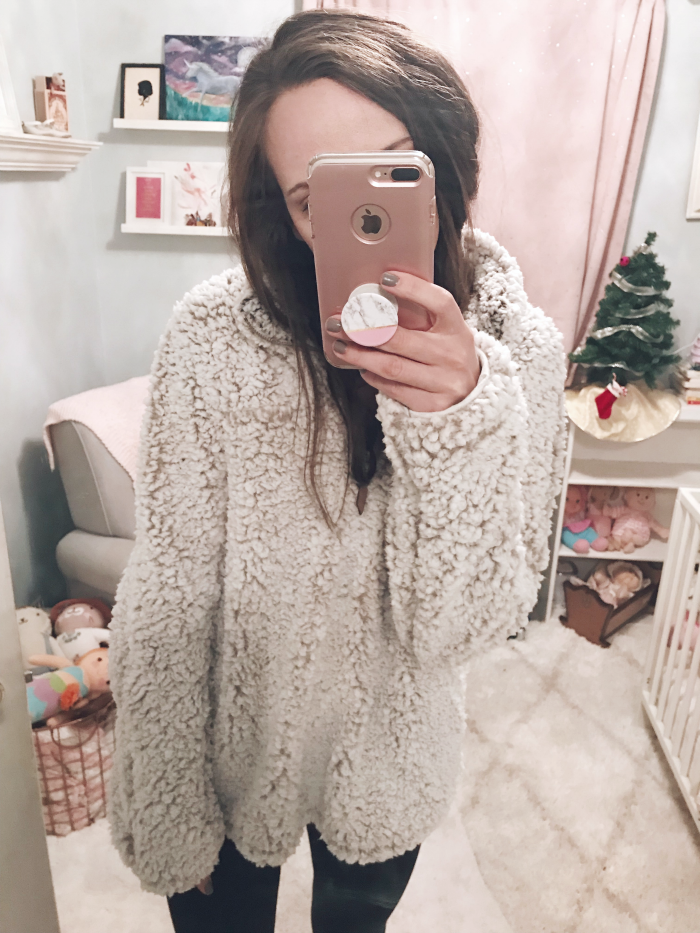 SWEATER (like a teddy bear- soooo soft and warm! I sized up to medium) | LEGGINGS
I am SO behind on our Christmas cards this year. And I am ALWAYS on top of them (it's one of my favorite parts of the holidays, and something I look forward to every year!), but this year, I don't know. I'm feeling all sorts of frazzled and out of sorts. I need to pull myself together, because I just glanced at my calendar and starting tomorrow, it's all systems GO as far as Christmas festivities. Literally, something EVERY single day for the next 9 days. NINE DAYS. IN A ROW. I'm stressed just thinking about it. But it's fine. Breathe, Katie.
Although, the homebody in me is like WHY DID I DO THIS TO MYSELF. The fun lover in me is excited for all of the goodness. :)
Speaking of pulling myself together… I have to share this. I hope it maybe helps another mama who's struggling out there know that you aren't alone. Sometimes, it can seem like I have it all together, but I assure you, I absolutely do NOT. And here's a story to prove that…
Sam's school is having a Christmas concert. We were unsure whether he would even be able to be a part of it, but he's been doing well in practices and we thought it would be all good. The plan was to have one of his aides (who is with him in his class every day) up on stage with him to provide support and guidance. But this week, we got a call that the rehearsal did NOT go well. At all. Like, major meltdown. And that it doesn't seem like a good idea to have him be in the concert. So, we made the decision to pass on the concert. And instantly, I felt so sad. This was one of those "normal" things that I was so beyond excited for Sam to be able to participate in! I mean, that's huge! But then, autism reared it's ugly head and reminded me that this wasn't going to work out.
And I mean, it's fine. I should have expected it. But I think that's why it hit me so hard: I am so used to keeping a tough shell when it comes to my son and what we can and cannot do. I am so used to setting my expectations low so as not to be disappointed (I could write an entire essay on this, and I probably will). So this one time, when I let that guard down, when I allowed my hopes to get high and to expect this to actually happen, and then have it not work out after all? It's just another thing to painfully remind me that we don't get this super normal experience- that we miss out on what everyone else takes for granted. And that's hard, to be honest. It's so hard.
But it doesn't mean we don't keep our hope. Time and time again, our journey with autism has taught me above all, that HOPE is everything. And perseverance. And goodness, things have come up in the past that we "couldn't" do, and guess what? We CAN do them now! It all just takes time. It takes persistence. It takes consistency. And above all, it takes hope. So sure, we don't get a preschool Christmas concert for Sam. Not this year. But there is always next year. And I have a feeling I'll look back at this then and read this with different tears in my eyes. This boy, he is so smart and so sweet and he has grown SO much in such a short amount of time. I know he will move mountains.
Anyway. This weekend is going to be a GOOD one. And Sam still gets to go to school today, which is all he cares about. ;) I love how much he loves school! And Zack and I have a date tonight to see a Christmas show, and then tomorrow is a girl's shopping day with my aunt and cousin, which is going to be so fun! Life is what you make it. I'm making sure it's good.
Oh, and I ordered our Christmas cards last night, so #winning.
I hope you have a great weekend, too, friends!
xo
Read More on Katie Did What