I think it is imperative that I get one thing out in the open right now: I LOVE planners. Making to-do lists (and checking them off!) and writing down my life in a little planner is one of my favourite things to do. One could say it's an obsession of sorts. But hey, I guess if being organized is wrong, then I don't wanna be right. ;)
So you can imagine my excitement when I found out about the adorable planners that Lilly Pulitzer makes. UM, HELLO. Why didn't anybody tell me about these before?! I know, I know, I am totally late on this one, but still. Just, look! So cute. And I am happy to say, I ordered one (yeah, I had an amazon.com field day) and it is coming to me shortly in the mail!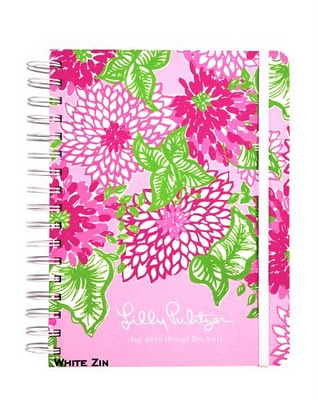 Ain't it presh?! LOVE the bright colors (yay pink!) and the pretty designs, and I am so excited to look at this pretty little thang every day (so much better than the boring ugly black thing I've been using that I got from the DOLLAR TREE, OKAY.)
I seriously am probably, like, waaaayyyyy too excited for this.
Love me?