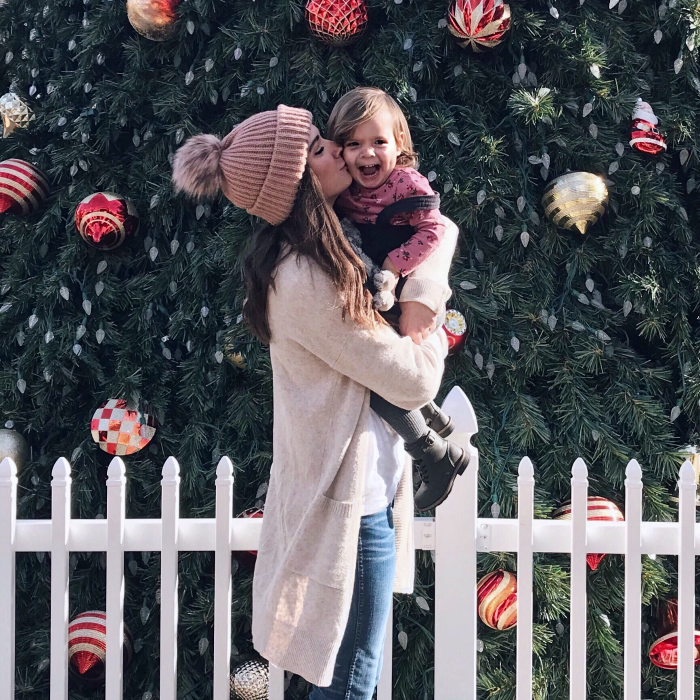 BEANIE | CARDIGAN | TEE | JEANS | BOOTIES
Okay, wow. Guys. The comments on Friday's post?? I was just sitting here at my computer, with tears streaming down my face. You are all so sweet to me, and what's more, SO very encouraging. Exactly what I needed to hear after missing out on Sam's preschool concert on Friday.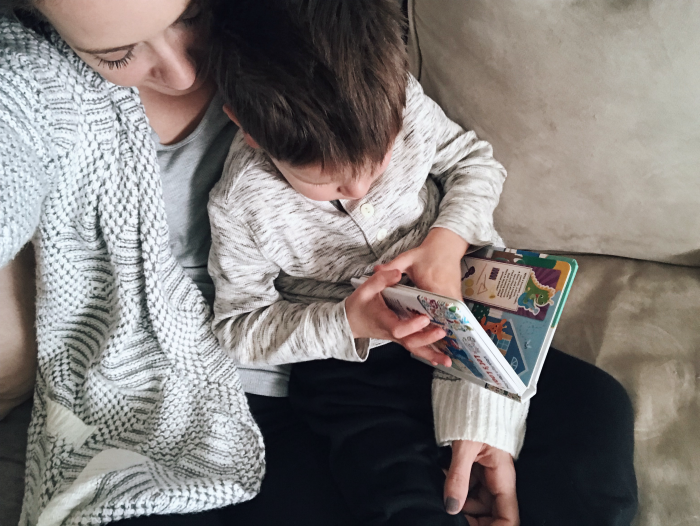 CARDIGAN
And guess what? He had a great day at school, and Sophie woke up with a fever that morning, anyway, so it actually all worked out just fine. As it always does, right? And also, one of my sweet friends brought me Starbucks and a sweet little present, because she knew I was feeling "down" and goodness guys. I am so blessed to have amazing people in my life- real, true friendships, and so much LOVE. Feeling all the feels this weekend. :)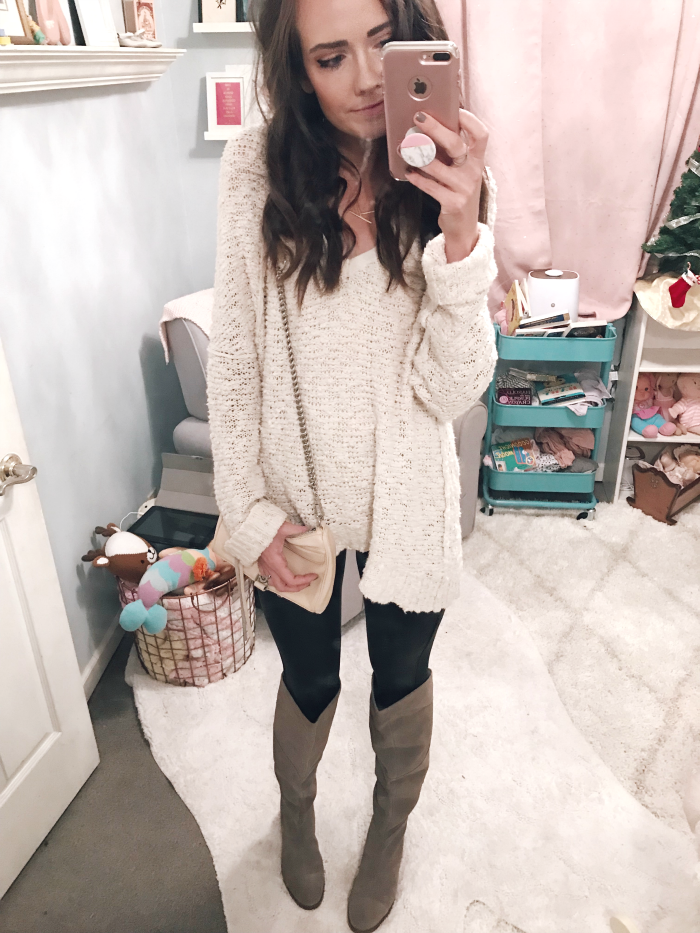 SIMILAR SWEATER | NECKLACE | BAG | LEGGINGS (size up-
I'm in a medium) | OTK BOOTS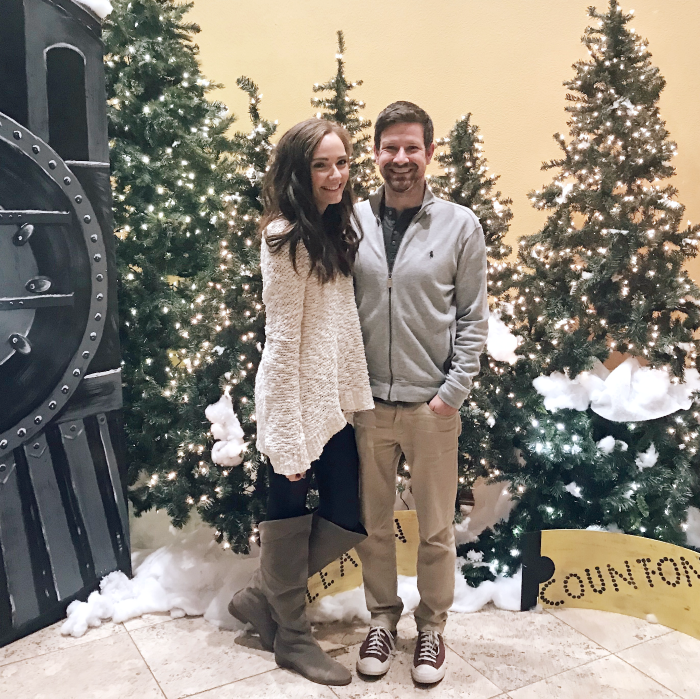 Friday night, Zack and I got away for a nice dinner and a Christmas show at our church. It was so much fun.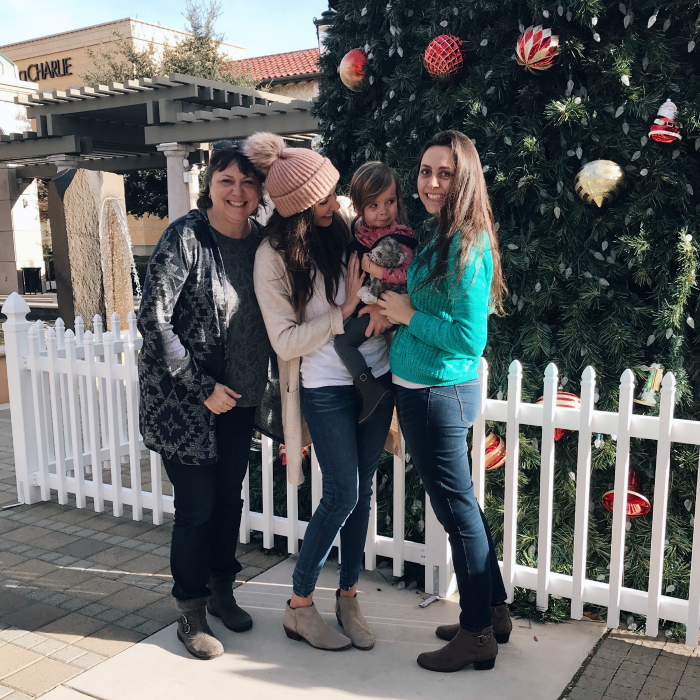 Saturday was our annual girl's shopping day with my aunt and cousin, and Sophie girl hung in there SO well, considering we totally just skipped her nap (which, I mean, never happens- girl LOVES her sleep, bless her!!). We shopped til we dropped and had lunch and this is one of those traditions we do each year that is just so special to me. My mom would have loved it too. I know she was with us, though. She always is.
Okay, please look closely at sweet Sophie's face. After her visit with Santa (she is NOT a fan, by the way lol), seeing anyone walking around in costume now is immediately a big NO from her. There were these two people dressed in snowman costumes, walking around the shopping center we were at, and right when we asked a stranger to take our picture in front of this tree, of course these two snowmen show up and Sophie instantly got the biggest pout and started crying and saying, "No!!!" soooo this is the best we got. ;) Sweet girl, looks like Disneyland is far away in our future haha! Not that we were planning that any time soon anyway (talk about a sh*t show with our toddlers right now!!! I can't even…) but now it's solidified.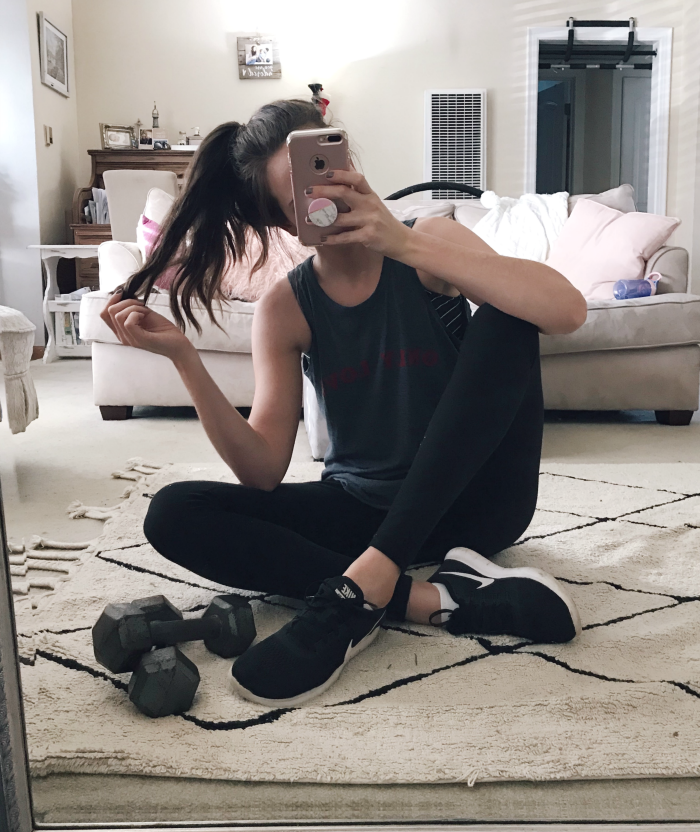 LEGGINGS | SHOES | Cute workout tank from my monthly Wantable box- try it out for yourself HERE!
I'm participating in the Tone It Up Holiday Hustle workout challenge, and doing the daily moves every single day, on top of my regular workouts. You can see them here, they change every day. Do them with me!! :) Because I have found out, with all of the madness and unpredictability of LIFE, one constant that always makes me feel better is working out and being healthy! Exercise is my therapy, truly. I'd go crazy without it. 100%.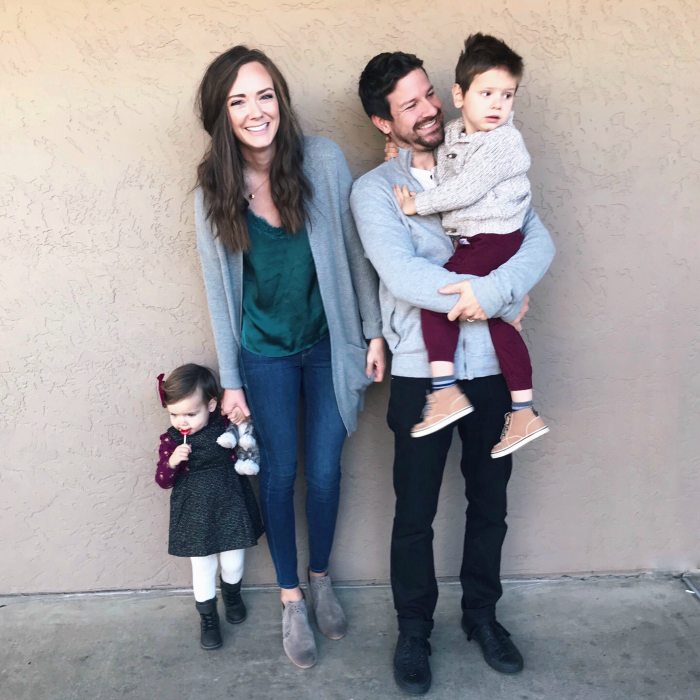 CARDIGAN | JEANS | BOOTIES | SIMILAR TOP and HERE
Tonight we're walking around to look at Christmas lights with friends- another favorite tradition of mine! I'm so excited because I know the kids are going to LOVE it too! Can't wait!
Also… I finally started wrapping presents last night, sooooo here's to having them done by Christmas Eve haha. ;)
Are you done with your shopping or do you still have more to buy? I am soooo not done. But that's fine!! Because today's Green Monday and there's lots of sales happening, so be sure to follow along on Facebook for some great deals all day long!
xo