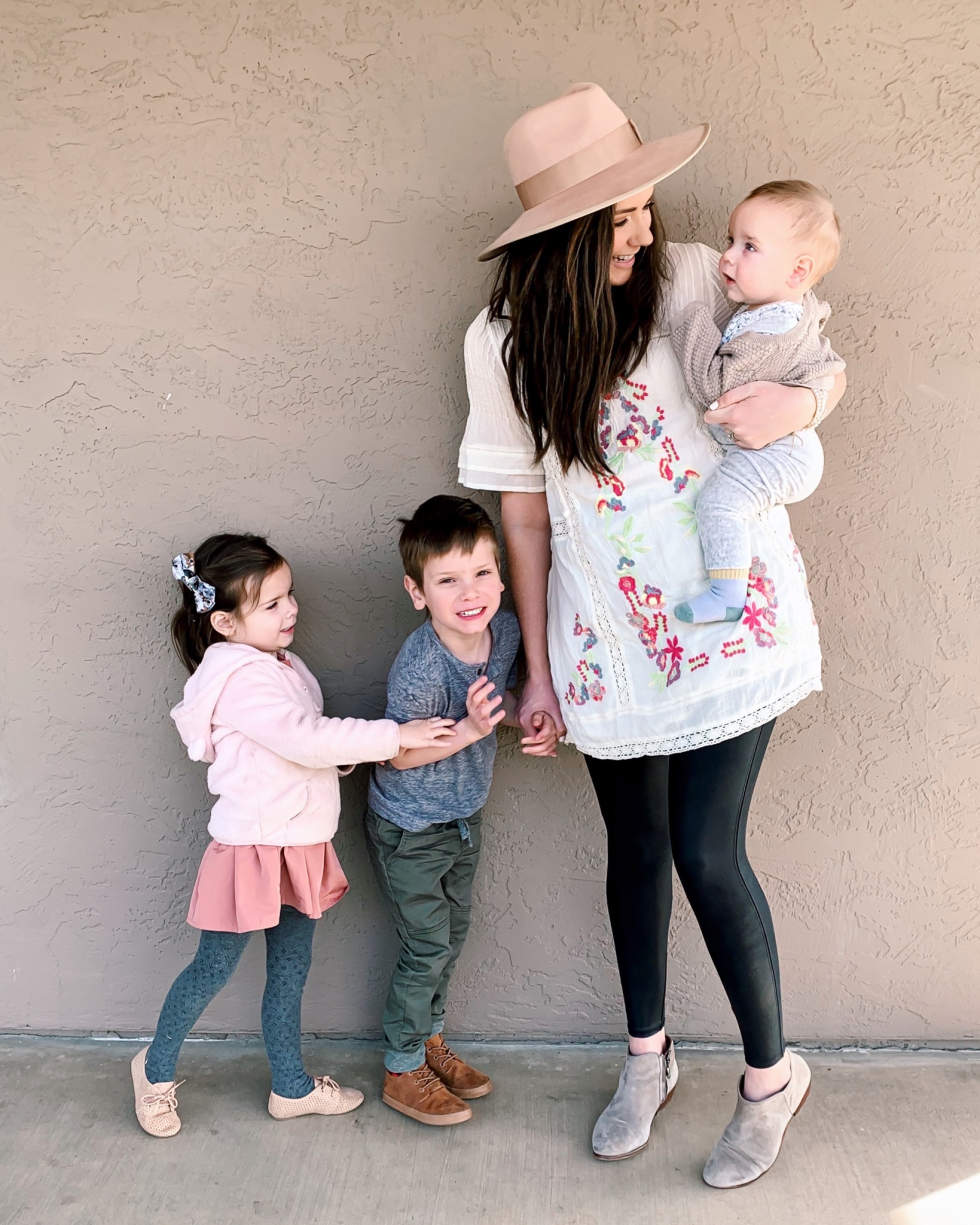 SAM EDELMAN BOOTS (major sale and limited sizing here) | SPANX LEGGINGS | SIMILAR DRESS | SIMILAR HAT | OLLIE'S OVERALLS | SOPHIE'S DRESS + TIGHTS
So. I never ever ever in a million years thought I would be saying this, buuuut…. I'm thinking of homeschooling the kids. Or maybe just Sam to start. And maybe Sophie too, but maybe not. You see, autism is tricky, and the public school is tricky and the system is so very flawed (all systems are, right). And I've been feeling ALL of the emotions lately. We're trying to figure out where Sam is going to be going for Kindergarten next year, and honestly? We have no idea. NO idea. We know the options available to us. Basically boiling down to a 1. Special Needs School, 2. Public School Special Education Class, 3. Private School with an Aide, or 4. Homeschooling. We have his IEP meeting (to determine public school placement) in a few weeks, and we'll really know for sure what the district will offer us.
And I. Am. A. Mess. I literally feel so all over the place. I have honestly been trying so hard to think where I WANT him to be? And I just go back and forth. It's SO hard to know the "right" place. And that's coming from me (and Zack)- who know him the best out of anyone. If even we aren't sure, how are the "professionals" who don't know him at all (save for whatever information they have on a paper and from short assessments performed) supposed to be? It's nerve-wracking. It's all-encompassing lately. And I feel a bit lost.
However.
We met with a friend who homeschools her boys (one of whom is on the autism spectrum, like Sam). She showed us her set-up, she explained their schedule, how he gets Speech and OT and ABA and goes to enrichment classes and they are free to explore and she can make sure he gets the sensory input he needs throughout the day (something they can't do at school, not to the extent at which he should get), and there is just so much FREEDOM. And they get together with other homeschooling families, so there is lots of social interaction as well. And moreso, since they can really facilitate great play groups and activities that will cater to the specific child. As his mom, this sounds absolutely AMAZING.
As his mom, I am so invested in his growth. I want him to be independent. I want him to learn and thrive and show us his abilities- of which he has SO many. Because I am so invested though, this also scares me a little. I am SO emotionally invested in his growth, which I feel like with homeschooling, could be both a blessing and a curse? Like maybe I am TOO invested?
I don't know. This is literally just all of my thoughts being poured into this blog post. Forgive me if I'm a little all over the place or not making much sense. That's kind of how I feel right now, so I guess that is fitting.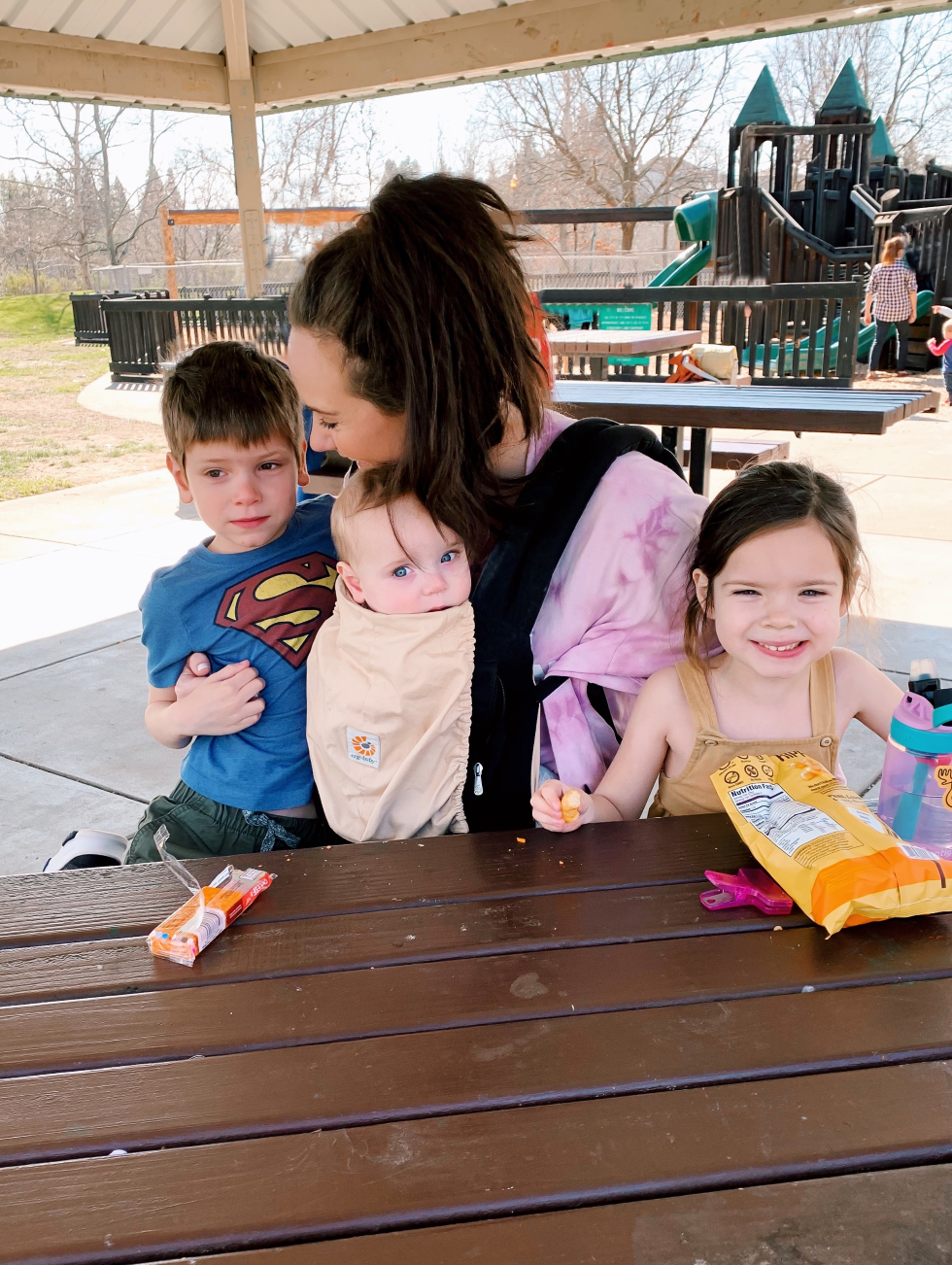 TIE DYE SWEATSHIRT | LEGGINGS | ADIDAS SNEAKERS | ERGOBABY CARRIER
Deep breath. SO. We will see where the district decides to place him. We will tour the placement and keep an open mind. We may even try it out and see how it goes- give it a shot- but honestly? Zack and I have been talking a lot, and praying about it, and I'm feeling more and more led to homeschool. Never thought I'd say that in a million trillion years, but here we are. Funny how life works, huh?
Nothing is set in stone, but it's on the plate. And looking better and better the more research I do, the more I think about it and the more I pray about it. That's the most important piece, right? We know what's best for Sam, to succeed. To become independent. To grow and thrive.
And now we are just waiting and seeing where the Lord wants our journey to lead.
I would love to hear from any of you- do you homeschool? Do you teach special education? All of it, any of it. Please share your experience, your words of advice, your thoughts. I'm all ears.
xo