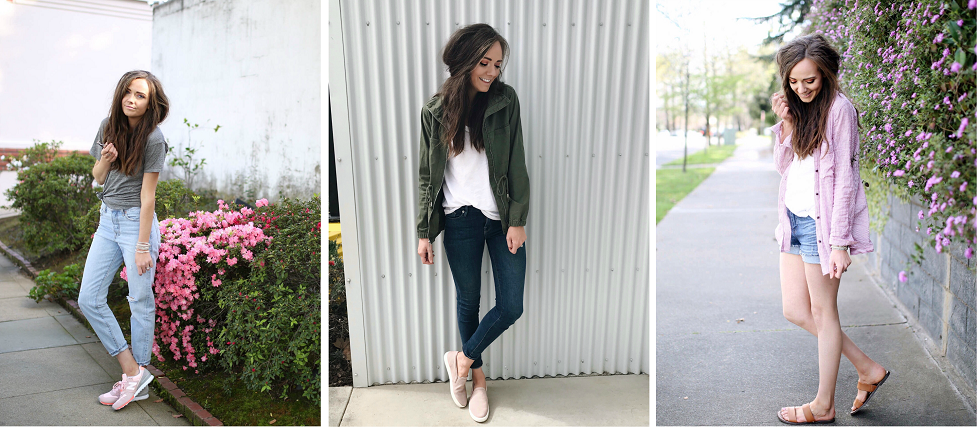 Spring is in the air! Well, here in Sacramento, it's basically been spring since January. We have (unfortunately) had NO RAIN in February and have been enjoying 70-degree temps.
It has made me scramble to get my spring wardrobe ready! To help myself, and you- I've created this list of 16 effortless spring outfits. Most of these would work right into summer as well
You'll see looks for errands, being cozy around the house, coffee dates, real dates and more!
16 Spring/Summer Looks
1. Warm spring/summer uniform.
Cute and casual vibes for every day. You'll be reaching for these pieces over and over!
2. Elegant night out.
Got a wedding this spring/summer? This would be the perfect look for any fancy occasion!
3. Put-together errands.
The perfect color palette for spring! And remember: layers are everything!
4. Cozy at home but not embarrassed to be seen.
We all know I'm a sucker for all things cozy. This look is perfection for lounging.
5. Boho vibes.
Ditch the striped shirt underneath- not a fan of that styling. BUT! The top is perfectly flowy and that BAG. All of the heart eyes.
6. Coffee date.
Cute and basic with some dainty gold jewelry. LOVE.
7. Warm days.
How fun are these earrings?! And this romper is one of those wear over and over pieces!
8. On vacay.
I feel like this clutch is a MUST.
9. Spring date night.
Give me all of the floral dresses for spring! And dream bag, of course.
10. Errands all day.
Comfy and cute. DONE.
11. Casual summer day.
Stripes forever.
12. Easy does it.
Throw on and go.
13. Layered chic.
Spring = layers. The more the better, in my opinion. This includes necklaces.
14. Spring chic.
I love mixing bold colors for spring just as much as I love a good neutral look. Mix it up and have FUN!
15. Ready for anything.
A twill jacket is one of those "must haves" for your spring wardrobe!
16. Ready for spring showers.
Is there a more classic look than a trench, skinny jeans and loafers? I think not.