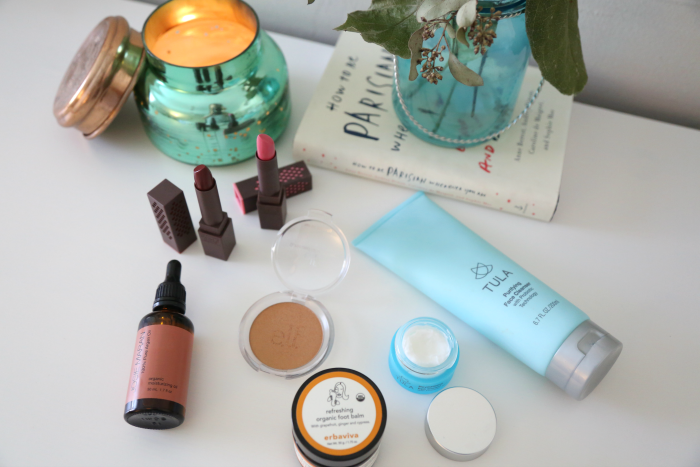 So I try out a lot of new products- I'm kiiiind of a beauty/makeup junkie, if we're honest. Zack totally always makes fun of me whenever a package comes- "Oh, I hope it's another face cream!" Completely sarcastically, because ya know, we don't have enough of those already. ;) But! Seriously! It's fun to try new products, and it's even funner (not a word- I know.) when they end up being really amazing and ones that I turn to time and time again.
SO. Long story short, I thought it'd be fun to share some new favorites with you! And maybe make this a monthly thing? Because makeup is fun! And beauty is fun! And isn't it nice to find out what other people are loving, so maybe you might end up loving it too? Anyway. Here's a few of my current faves, beauty-wise…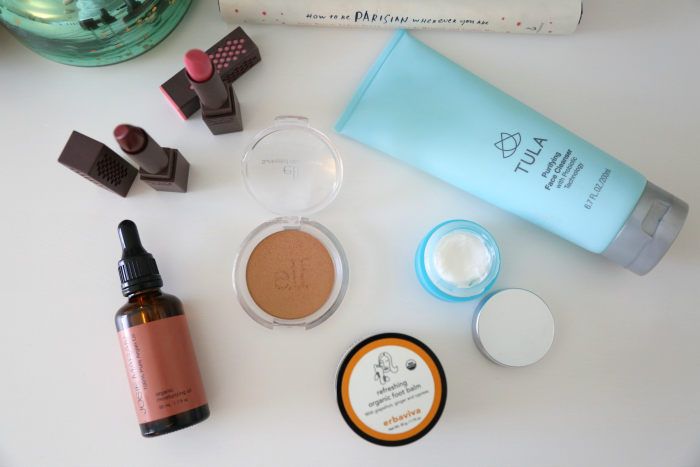 Tula face cleanser and eye cream. Okay, so I've talked about Tula here before, and now I think I officially have everything from their line, and guuuuyyyys. IT'S SO GOOD. I can't get enough of it! The products are all fabulous and feel so luxurious, but more than that? They work. They leave your skin feeling refreshed and looking so nice! I definitely have seen a difference in my skin. Pregnancy kind of effed it up a bit (who can relate?!) and since I've been using Tula products regularly, I've noticed that my skin is brighter and more "fresh" looking, if that makes sense? Plus, the products all smell lovely and are GOOD for your skin! AMEN HALLELUJAH.
e.l.f. sunkissed glow bronzer. Okay, I have tried a looooot of bronzers. I'm kind of obsessed with finding the best one. I used to really love Nars Laguna, and I still do! But the price tag isn't my favorite (cha-ching!). I'm always on the hunt for a bargain bronzer, and I had been using NYC "Sunny" which is fine, but is definitely a little orange-y. I was actually sent this new bronzer from e.l.f., and definitely had reservations at first. But you guys. I LOVE it. It is the perfect shade of tan, has a hint of shimmer (which I love for the summer!), works great for contouring, a little goes a long way, and bonus! It's super friendly on the wallet! ;) SO YAY. Buy it. You'll see.
Burt's Bees lipsticks. Yes, you heard that right. And yes, they are just as moisturizing and amazing as you'd imagine, coming from Burt's Bees. I love that they give off color, but it's not TOO MUCH, in your face, because I'm really not all about that life. I also love that they feel like a chapstick, and are not at all drying, like most lipsticks (I've found, anyway). My favorite colors? Russett River and Iced Iris.
Erbaviva foot balm. Love. This. Stuff. Like chapstick for your feet, and hands, and cuticles. Ohhh this stuff is like a little spa treatment in a bottle. Plus, it smells divine, thanks to the essential oils it contains.
Josie Maran argan oil. This stuff is like, magic. I swear. Use it as a moisturizer to leave on your face overnight, use it under your makeup, use it in your hair to heal split ends, to condition dry hair (I apply it to just the ends, as the scalp doesn't need more oil!), use it on your hands and cuticles- seriously, it's amazing! And it's 100% pure oil, so you know it's good stuff.
So, what beauty items are you loving lately?
Have you tried any of these? What are your thoughts?
xo