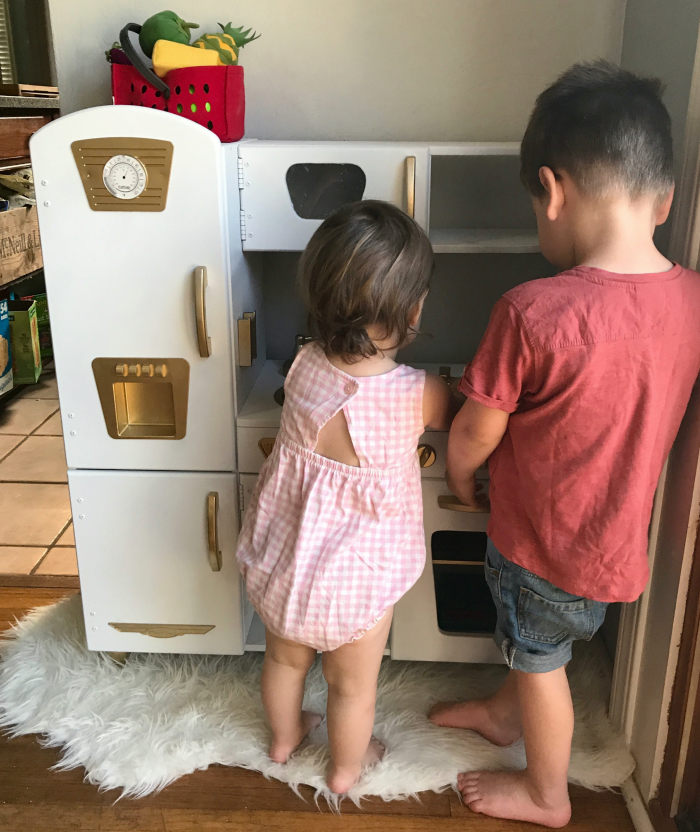 Hey friends! So, a little fun fact about myself: I love, I mean looooove, DIY-ing. Creating something is just so satisfying, and I thoroughly enjoy making things, or re-making things, as it were. Seriously, I have so many projects in my mind, and am always collecting old picture frames and pieces of furniture to paint and make beautiful. Seriously, you should see my picture frame collection. It's ridiculous.
SO. With that being said, I wanted to share my latest little (err.. big) DIY project with you! We were so generously given this KidKraft kitchen from my bestie, as her daughter had outgrown it, but I wasn't loving the red color. SO. I headed to Home Depot and picked up some spray paint, and with the help of my oh-so-loving and fantastic hubby, we took it apart, spray painted all of the pieces, and (he) put it back together! MAKEOVER!
BEFORE: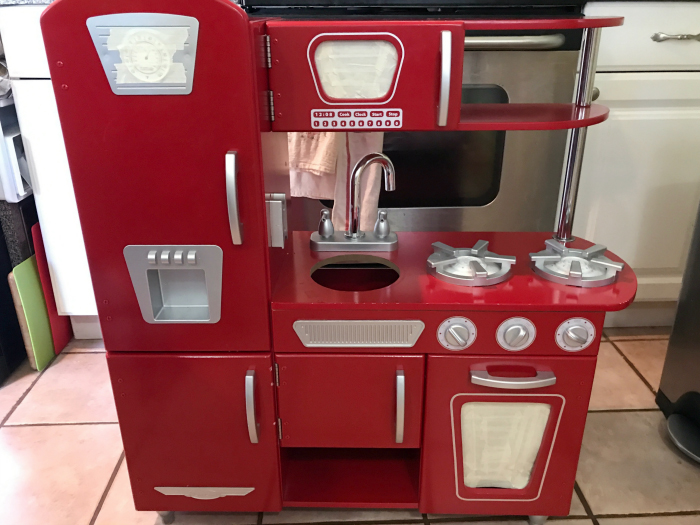 AFTER: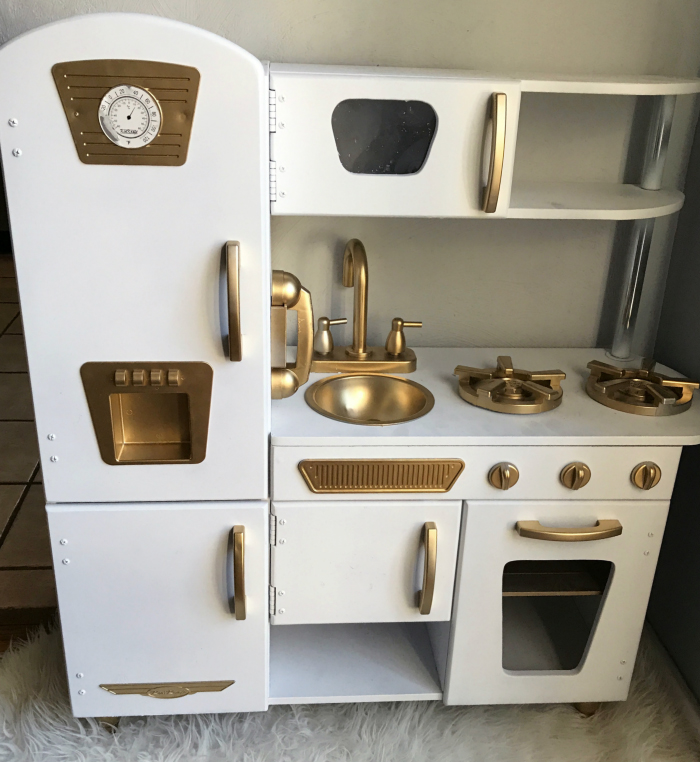 p.s. about the spray paint: a sweet follower messaged me and let me know about THIS life-changing spray paint! Definitely going to be getting this from now on, to save my hands! (Thanks, Nikki!)
Now, I'm not going to lie, it was a b*tch to take apart and put back together. It was a pro-cess. But definitely the only way to do it, if you ask me. I decided to do all of the hardware gold and the rest white.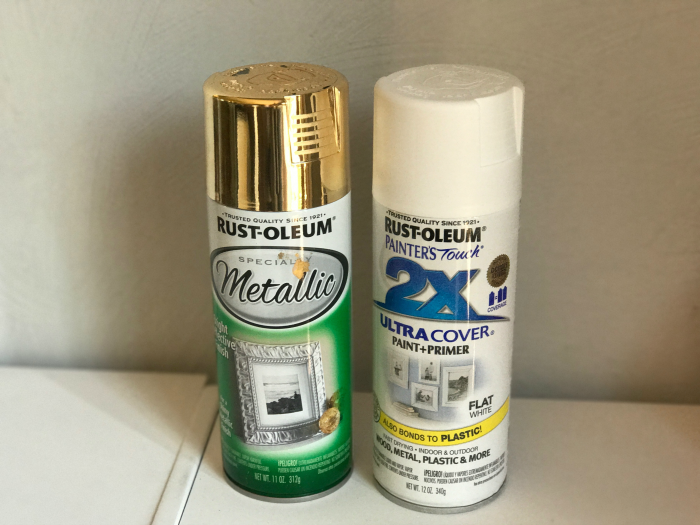 THE MATERIALS:
Rustoleum flat white paint
Rustoleum gold paint
Oh, and when you think you have enough spray paint- you don't. You never have enough. You need to buy like 50 more cans than you think you'll need. No, not really, but it took about 6 cans of white spray paint to get this whole thing done (but just one gold can). And a few days of the kitchen sitting on a tarp in our backyard. And killing the grass… whoops. Maybe don't do it on grass like we did! SO. Be warned! It takes patience, and time. But guys. LOOK at the final product… Soooo worth it!
THE PROCESS: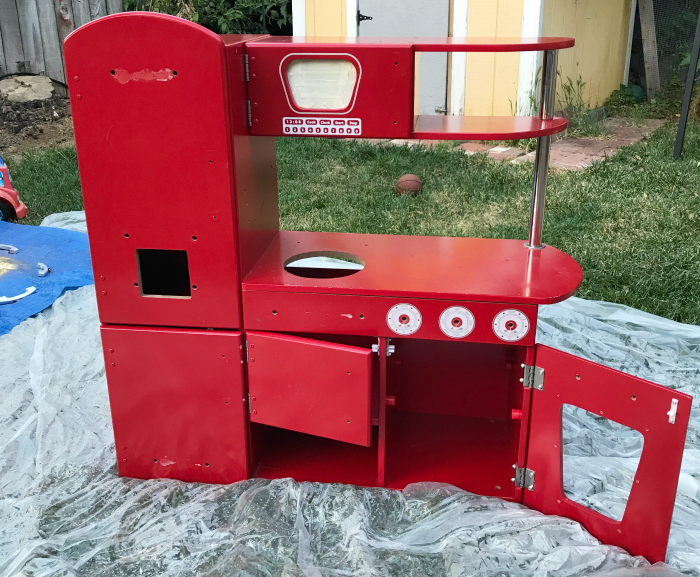 Can I just take a moment to say how DIFFICULT spray painting is? It is actually PAINFUL. Like, I could only hang for so long before my poor hands just couldn't do it anymore, so thankfully Zack took over and helped out a TON. Bless him!!! Then we put it all back together, and VOILA! A beautiful white and gold kitchen that I am SO proud of!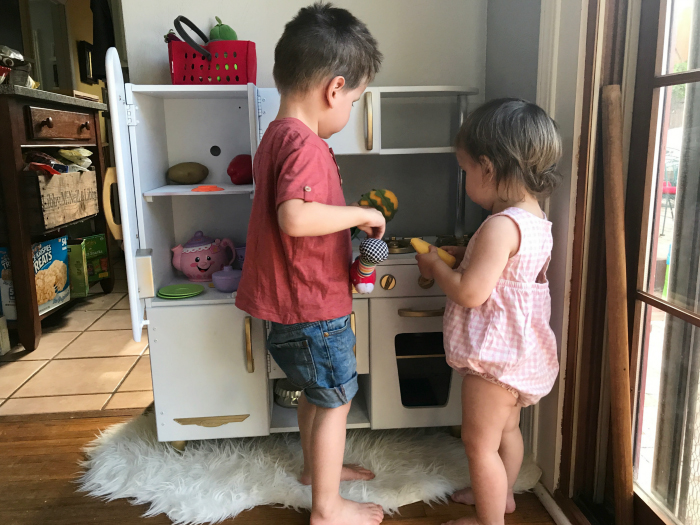 All of the heart eyes.
Alright. Any questions? Leave 'em in the comments! In the meantime, the kiddos will be enjoying their new kitchen. :)
xo